June 20, 2011 -
National Football Post
NFP Scouting Series: Michigan
For the rest of the summer, the National Football Post will be breaking down every team in the Football Bowl Subdivision to identify which players could warrant the most interest from NFL teams in the 2012 NFL draft.
Therefore, today we take a look at the Michigan Wolverines.
Offense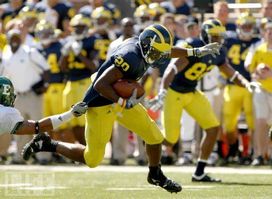 ICONShaw struggles with balance because of his pad level.
RB Michael Shaw: No. 20 (6-0, 187)
A tall, lean, leggy running back who possess a narrow frame and not much girth through the lower half. Looks tight in the hips, struggles to keep his pad level down and fails to protect his frame though the line of scrimmage. Runs hard and has a good first step, but takes his fair share of licks and simply doesn't break many tackles. Displays decent patience setting up blocks on perimeter runs, but isn't overly balance/shifty when trying to pick his way through traffic and accelerate up the field. Gets overextended with his footwork, doesn't create a burst for himself laterally and is more of a straight-line guy who needs to press space up the field quickly in order to be effective. Will square his shoulders once he finds a seam and does exhibit an initial burst allowing him to get north/south quickly. But isn't that elusive in the open field and again gets leggy, isn't real shifty and can easily be tripped up. Isn't a guy who will ever make anyone miss or break tackles at the next level and just lacks a dynamic quality in any area of the game.
Impression: Is narrow framed, runs high, isn't real shifty and lacks power in lower half. Doesn't look like an NFL back to me and is going to have a tough time every keeping his medical clean throughout his career.
WR Junior Hemingway: No. 21 (6-1, 224)
A thick, stout wide out who is a tough guy to bring down in the open field. Displays natural coordination as a receiver, plucks the football well off his frame and adjust well to the throw. Is at his best with the ball in his hands. Lacks straight-line speed and isn't going to outpace anyone to daylight at the next level. However, he's shifty and possesses a strong, powerful base. Is routinely able to shake off tacklers, keep his legs churning and create through contact. Shrugs off defenders well down the field as well, Isn't a legit vertical threat, but is a tough guy to bang and will outmuscle defender in order to adjust and go get the football at its highest point.
Doesn't have a great first step off the line. Is a bit slow accelerating into his route and isn't going to eat up the cushion quickly. Displays the footwork and short area quickness to cleanly re-direct on sharply breaking routes, but is still developing as a route runner. Exhibits a good feel vs. zone coverage, knows where to sit down underneath and is adept to working the middle of the field. However, has a tendency to consistently gear down before changing directions, is tighter in the hips and doesn't generate much explosion when trying to separate.
Will get after it in the run game. Possesses a willingness to block on the outside, a strong, compact frame and will win for you on contact.
Impression: Isn't a dynamic athlete, but possesses good strength and is tough to bring down after the catch. However, isn't anything more than fringe roster guy at best at this stage and is limited in what he can offer an NFL offense. Isn't worth a draft pick in my mind
TE Kevin Koger: No. 86 (6-4, 256)
A tall, athletically put together tight end prospect with a big set of hands, long arms and impressive range when asked to go make a play on the football. However, is still developing in all areas of the game and likely saw his growth/production stunted because of the offense that has been in place at Michigan since his arrival. Isn't the most natural benders when asked to sit into his stance, keeps his base a little high off the line and doesn't generate much explosion releasing into his route. Does a decent job initially trying to drop his pad level off the snap, but too often stands upright taking away from his forward momentum. Isn't real sharp of sudden as a route runner at this stage either, seems to drift into his breaks and looks more confident running away from defenders. Possesses average strider speed, but natural coordination, a big frame and can go up and make a play on the football off his frame. Displays impressive range when asked to go get the football. Plus, does a nice job extending his long arms and using his hands to routinely pluck off his frame.
Isn't a real balance blocker. Struggles to keep feet under him, lunges into contact and doesn't create much power as an in-line guy. Possesses a naturally strong frame, but his inability to gain leverage and maintain balance kills him at the point. Possesses long arms and strong hands that allow him to stick initially when he gets his hands on you, but is still learning the nuances of being a consistent run blocker.
Impression: Flashed on tape at times and does have some talent. However, is raw in all areas of the game and looks more like a low risk free agent only who could blossom as a senior.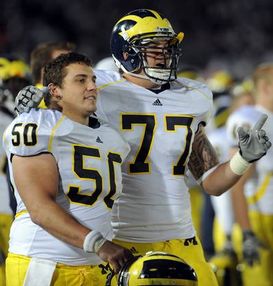 ICONMolk's size will limit him in the NFL.
C David Molk: No. 50 (6-2, 288)
A shorter, compact lineman who looks nearly maxed out physically, despite weighing 288-pounds. Looks a little tight hipped trying to sit into his stance, but has a quick first step and snaps and steps very quickly. Creates leverage for himself consistently, extends his arms and can easily reach and seal on the plays off his frame. Displays a compact, sturdy punch and can stun defenders at the point. Looks really natural when asked to quickly reach block on runs to the perimeter, as he's coordinated getting his feet around and can seal the edge routinely. Displays natural range/balance getting into blocks at the second level as well. Breakdowns well showcases the ability to routinely seal on contact.
Now, lacks the power to win as an in-line guy. Keeps base down, but doesn't have the lower body power to create a push inside. However, does do a nice job chipping at the line, re-directing and reaching secondary targets. Displays great awareness in the run game as well and routinely carries out assignments.
His tightness in the hips shows up more so in pass protection where he has the initial first step and foot quickness to reach defenders off his frame, but gets upright, isn't real long armed and struggles to gain leverage and anchor on contact. Can routinely be overwhelmed vs. the bull rush inside and needs to play in tandem. Possesses some natural shuffle and slide ability in space, extends his arms well off the snap, keeps his base under him and can mirror initially. But will struggle with leverage because of arm length and is inconsistent with hand placement hurting his ability to stick to his man. I can't see him holding up routinely inside one-one-one in the pass game vs. NFL caliber defensive tackles.
Impression: A perfect fit for the Michigan's run first spread offense where he consistently plays to his strengths. However, he's an overachiever who looks like a potential starter in only a zone scheme in my view.
Defense
DT Mike Martin: N o. 68 (6-1, 300)
A short, stout nose tackle prospect with a wrestling background. Is a naturally strong kid who displays good initial quickness off the snap, but doesn't generate a ton of snap into contact. Doesn't do a great job keeping his butt down into his stance and seems to really roll his hips into contact taking away from his power at the point. However, possesses a real passion for the game, displays a nose for the football and works endlessly in pursuit. Showcases good natural quickness when trying to avoid blocks in the run game as he cleanly side steps defenders in tight areas, extends his arms well and uses his strong/quick hands in order to keep himself clean. Possesses a solid initial burst in pursuit and can make plays off his frame in the run game and tackle well on the move. Displays slightly above average anchor strength for the position, but did get a lot stronger from a year ago and I expect him to do the same this year. Isn't real long armed, struggles with leverage at times initially off the snap and can be sealed from the football once a blocker gets their hands on him. However, he's a tough guy to really move off the line and always seems to locate the football and put himself around the action.
Displays some initial burst off the snap as a pass rusher. Isn't dynamic getting after he quarterback, but does have the burst to at least threat gaps inside. Does a nice job once he gains a step keeping his pad level down and working through contact. Also, does exhibit good hand quickness keeping himself clean with some lateral agility in high areas to work his arm over. Is tighter in the hips and will fail to breakdown at times, but the guy gives you everything he has chasing from the backside and consistently is around the action.
Impression: The kind of prospect you don't want to bet against. Is limited and doesn't have the kind of frame to get all that bigger, but I can see working his way into a rotation as a 43 nose in the NFL and being the kind of guy coaches love.
DE Ryan Van Bergen: No. 53 (6-6 283)
A tall, long armed defender with a big frame that will continue to fill out with even more time. Played mostly as a five-technique in the Michigan 34 front in 2010 while also seeing time inside on obvious passing downs in a four man front. Isn't a real natural bender sitting into his stance and gets too overextended with his footwork when looking to rush the passer. You can tell he's a tight-hipped kid who doesn't generate much explosion off the football in any area of the game. For his size he does a decent job dropping his pad level when trying to shoot a gap, but just really struggles to create leverage for himself in the pass game. At his best using his length to work the swat and keep opposing lineman from getting their hands on him while fighting his way up the field. Plays with a great motor, quickly locates the football and has some suddenness as a contact player. Will pull the rug out from blockers at the point and has a sneaky spin move he will work as a counter at times. However, isn't real gifted laterally, struggles to change directions/re-direct off his rush and isn't a threat by any stretch to reach the corner.
Does a much better job keeping his base under him in his stance when looking to play the run. Extends his long arms well and can create some leverage and anchor decently on contact. However, he's a limited athlete and really struggles to disengage initially and make a play on the football. Too often is sealed from the play when run at and is forced to track the football in pursuit once the ball carrier runs under him. Does a decent job playing the piano down the line, extending his arms and working toward the football, but struggles to maintain balance because of tightness and can easily be pushed past the play or ends up on the ground.
Impression: A long framed kid who plays hard, just isn't dynamic in any area of the game. Best chance would be to add some more weight and play as a 300-pound five technique. But needs to do a better job defeating blocks on contact in order to have a chance of making an NFL roster.
Follow me on twitter: @WesBunting