June 27, 2011 -
National Football Post
NFP Scouting Series: Minnesota
For the rest of the summer, the National Football Post will be breaking down every team in the Football Bowl Subdivision to identify which players could warrant the most interest from NFL teams in the 2012 NFL draft.
Therefore, today we take a look at the senior class of the Minnesota Golden Gophers.
Offense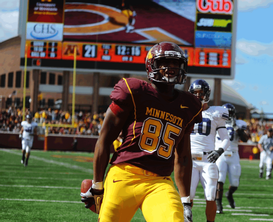 ICONLair is sneaky athletic in the pass game.
TE/H-back Eric Lair: No. 85 (6-2 238)
An undersized tight end prospect who plays both on the line and as a move guy. Lacks ideal size and overall girth. However, he's a long armed athlete for the position who extends well into contact and is somewhat heavy handed through the play. Does a nice job gaining inside hand position and can be tough to disengage from. Generates a burst off the line as an in-line guy and quickly gets into defensive ends at the point, but simply lacks the power in his lower half to create a push. Isn't the most natural of benders and allows himself to get upright through contact in all areas of the game. Looks a bit tight hipped when trying to sit into his stance and especially as a move guy doesn't keep his base under him into contact and is more of a sticky catcher than striker. However, showcases good agility getting out to the second level, breaks down well and routinely is able to seal on contact.
He's a deceptively good straight-line athlete in the pass game. Loves to work his rip off the line in order to beat the bump, but gets upright and doesn't generate a great burst consistently into his route. However, when he has a clean release, does a much better job staying low. Snaps his head/body around quickly when working the underneath pass game, but doesn't set up his routes that well and isn't overly savvy in tighter areas. At his best when split out and can use his straight-line speed to outpace linebackers/defensive backs vertically. Does a much better job sinking his hips on more vertically breaking routes and has a gear when asked to track the football. Sets up his routes well vertically, selling the out and up and can create a burst away from defenders initially down the field. However, his hands are a bit inconsistent when asked to pluck off his frame and he lacks ideal body control when trying to adjust. When his feet are under him he does do a nice job going up and attacking the football. But, he tends to drift too often down the field, letting the ball get into his frame and giving defenders a chance to make a play on the throw.
Impression: More of an H-back in my mind who could find a home in the NFL if he carves out a niche for himself in the pass game.
WR Da'Jon McKnight: No. 6 (6-1, 214)
A tall, solidly put together wide out who lacks much of a burst off the line. Takes him a couple steps to get up to full speed and isn't a two-stepper. Builds speed as he goes and displays a slight change of gear when tracking the football. However, he's not the kind of guy who can get behind an NFL defender consistently. And despite his size isn't a real physical kid, can be overwhelmed off the line vs. press coverage, bodied down the field and doesn't have the type of power/balance needed to up and snatch the football at a consistent level. Does possess a little shimmy off the line in order to beat press, uses his long arms well to keep himself clean and get into his route. However, isn't a threat to really run away from defensive backs once he gains a step. Too often lets throws get into his frame and isn't the most sound of pluckers on passes off his frame.
Adjust well to the catch and snaps his head around quickly underneath. Is a bit tight hipped out of his breaks and routinely is forced to gear down in order to re-direct and change directions. Doesn't generate much of a burst out of his breaks and isn't going to separate much at any level. Showcases inconsistent effort as a blocker. At times can get down the field and deliver a jolt on contact, but at other times looks disinterested and easily allows him man to slip off defenders. Either way doesn't use his hands well, leads with his shoulders too often and isn't a guy who will stick through the play.
Impression: Lacks the deep speed to make plays vertically and I don't think he's he has the kind of play strength/hands/savvy to make it as an underneath guy. Free agent wide out in my mind.
Defense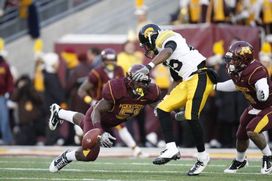 ICONTinsley will struggle to get into ball carriers at times.
ILB Gary Tinsley: No. 51 (6-0, 236)
A shorter, tightly wound linebacker prospect. Is limited physically when asked to attack downhill and play the run. Struggles to anchor with much consistency at the point vs. pulling linemen. Doesn't generate much pop into contact, is tighter hipped and ends up on the ground too often. Lacks ideal arm length as well, struggles to fend on blocks/disengage on contact and can routinely be reached/sealed form the play. Doesn't have great range in pursuit either. Possesses only average straight-line speed, but doesn't generate a great burst initially, especially when trying to re-direct. Instincts are average and he does work hard toward the football, but will take himself routinely out of plays and struggles to find the football on any type of miss-direction.
Has a solid feel in zone coverage, reads his keys well and gets early jumps on the football. However, doesn't cover much range laterally in space, as it takes him a bit to change directions and there's no real burst to his game. Also, is tight in the hips when asked to turn and run. Pad level gets upright and doesn't reach top end speed quickly allowing receivers to easily get behind him.
Impression: A nice college inside backer who lacks the power to hold up inside on contact and isn't the type of athlete needed to make plays off his frame routinely in the NFL.
CB Troy Stoudermire: No. 11 (5-9, 195)
A shorter, compact athlete who has played both cornerback and wide out during his time at Minnesota, but made the move back to cornerback full time as a junior following his suspension from the team in 2010. Is a gifted, quick twitch corner who displays a real burst to his game in all areas. As a cornerback he's still a real work in progress and is still learning the nuances of the position. He opens up his hips initially off the line, doesn't sit into his drop in off coverage and fails to turn and locate the football consistently. However, there is natural change of directions skills, fluidity and closing speed to his game that makes me think the guy has a chance to mature into nickel type corner in the NFL with some time.
He needs to improve his overall feel in zone coverage as well, as he doesn't read and react real quickly at this time and needs to do a better job feeling/anticipating routes develop around him. However, because of his limited experience I think that's something that will come with time. He's pesky off the in press man, lunges into receivers with no real balance/technique on his punch, but collects himself quickly, can turn and run and is tough to separate from. Has some real click and close ability once he get his feet under him and can lay a lick on contact as a wrap up guy. But too often is upright and needs to collect himself before driving on throws. Is inconsistent as a tackler in the open field, doesn't breakdown real well and doesn't seem to have a great feel of angles. But again, it's something with more time I think he could be improved.
Adds a lot of value as a special teams ace. Has been one of the most dynamic return options in the Big Ten since stepping foot on campus. Is quick, accelerates well and can routinely make a man miss. Sets up blocks well once he catches the football and has the burst to consistently outpace angles toward daylight. Doesn't have elite top end straight-line speed, but looks like a mid 4.4 guy who plays faster because of his initial burst.
Impression: Has some character concerns and is really raw, but the skill set is there for him to mature into a contributing corner in the NFL. Plus, as he develops he can always help out on special teams.
Follow me on twitter: @WesBunting