July 10, 2010 -
National Football Post
NFP Scouting Series: Minnesota
For the rest of the summer, the National Football Post will be breaking down every team in the Football Bowl Subdivision (formerly known as Division I-A) to identify players who could warrant the most interest from NFL teams in the 2011 draft.
Therefore, today we take a look at the Minnesota Golden Gophers.
Offense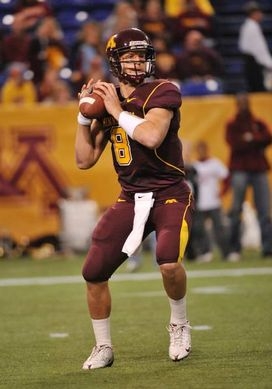 IconWeber does a good job remaining balanced in the pocket and striding into throws.
QB Adam Weber: No. 8 (6-1, 221)
A polished, mechanically sound quarterback who consistently throws with a good base and strides into his passes. Displays a quick, high release point and exhibits above-average balance in the pocket. Sets to throw quickly and does a good job getting the ball out of his hands when in rhythm. Consistently is able to avoid pressure in the pocket and keep his eyes down the field, which allows him to hit some big plays in the pass game. Now, isn't a real explosive athlete, but knows when to pick his spots and has the ability to break containment and manufacture a first down with his legs.
Lacks great arm strength and struggles fitting the ball into tight areas when he is late with a read. Passes have a tendency to hang on him down the field and he isn't a guy who can consistently zip the ball outside the numbers. However, he's an accurate passer who showcases good timing and relies on his ability to anticipate routes when asked to make NFL-type throws. Demonstrates the ability to put a little extra on throws when he can step up in the pocket and generate some torque from his lower half. Exhibits good touch in the short/intermediate pass game and throws a very catchable football.
Is inconsistent with his ability to quickly go through his progressions and find his secondary reads. At times is able to quickly decipher information, but doesn't consistently reset his feet and get his body around toward his target once he comes off his initial man, causing him to struggle to generate velocity and giving defenders the ability to jump his throws.
Looks comfortable throwing on the move and possesses the athletic ability to quickly set his feet and accurately deliver the football.
Impression: Is maxed out from a physical standpoint and although he does flash above-average athletic ability and accuracy at times, he doesn't look like anything more than a fringe roster guy at this stage.
OL Dominic Alford: No. 76 (6-3, 329)
A thick, squatty offensive lineman who has seen most of his playing time at Minnesota at offensive tackle. Lacks ideal range off the edge and isn't a guy who can consistently reach speed toward the corner. Routinely is forced to open up his hips and lunge into blocks. Gets sloppy with his upper body, pumps his arms in an effort to generate more explosion toward the corner and doesn't deliver much of a punch on contact. But does a nice job working his legs through contact once he gets his hands on pass rushers and driving his target past the pocket. Also, does a nice job dropping his base and hips down at the point and anchors with above-average leverage/strength.
Displays some natural power as an in-line run blocker, getting his hands quickly inside the frame of defenders, pumping his legs and can drive opposing linemen off the football. However, isn't overly explosive off the snap and tends to lose balance through contact. Struggles to keep his legs under him and will fall off blocks rather easily at times.
Impression: Displays decent natural power and has the ability to anchor with some consistency on contact, but will need to make the move to guard at the next level to have a chance. A developmental, free agent type prospect.
OT Jeff Wills: No. 71 (6-6, 367)
A massive right tackle prospect who has a lot of unnecessary girth and overall weight through his mid-section. Isn't a real natural bender, tends to buckle over at the waist and struggles to keep his base under him when asked to protect off the edge. Looks heavy footed, isn't real coordinated on his kick-slide and lacks the range to consistently reach the corner. Possesses above-average overall anchor strength once he can get his hands on you. However, has a tendency to lunge into blocks, lose balance and doesn't generate much power on his punch. Really struggled when asked to redirect in space, consistently allowing defensive linemen to cleanly slip his block and accelerate up the field.
Lacks a great first step off the snap in the run game as well and consistently ends up on the ground. Doesn't exhibit much balance or body control into targets and is strictly a linear athlete. Now, because of his size he does have some decent power on contact. Struggles to generate leverage at the point, but can eventually create a little movement as an in-line guy. But isn't effective at all on the move because of his lack of overall athleticism.
Impression: A massive lineman who plays heavy footed, isn't real flexible and his lack of athleticism will keep from having a real chance of making

Follow me on twitter: @WesBunting
Ready for fantasy football? Click here to purchase the 2010 Total Access Pass/Draft Guide from the NFP.