June 10, 2011 -
National Football Post
NFP Scouting Series: Mississippi State
For the rest of the summer, the National Football Post will be breaking down every team in the Football Bowl Subdivision to identify which players could warrant the most interest from NFL teams in the 2012 NFL draft.
Therefore, today we take a look at the Mississippi State Bulldogs.
Offense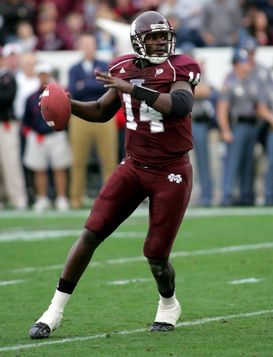 ICONRelf is talented but really raw.
QB Chris Relf: No. 14 (6-4, 240)
A massive, thickly put together quarterback who has the frame and size to handle the rigors of being an NFL quarterback. Is raw from a mechanics standpoint, takes the majority of his snaps from the gun in a spread offense and is still developing as a passer. Is really inconsistent with his footwork, base gets high and narrow when delivering the football, balance in his drop suffers even in the gun and the location of his plant leg is inconsistent. However, he possesses a good arm, can cleanly spin the football and despite struggling with his lower body mechanics, when he knows where he wants to go with a throw he can still fit passes into tight areas at times. Reads only one side of the field initially and isn't a guy capable working through his progressions across the field in any area of the game. However, keeps plays alive with his legs, can improvise and give you a run/pass threat outside the pocket. Isn't real accurate on the move, doesn't stay balanced through the play and throws from the waist up, as passes tend to sail on him.
Isn't a dynamic short area or straight-line athlete with the ball in his hands. However, he's patient, physical, runs low and has the coordination to side step/break a tackle and create through contact inside. Displays a decent feel in the pocket, steps up well vs. inside rush, but doesn't feel pressure well off backside. Is loose with the football, holds the ball low and isn't real compact or quick with his release, has a natural wind-up when trying to get rid of the throw. However, displays improved touch down the field and routinely gives his receiver a chance to make a play on the football.
Impression: A gifted piece of clay that can be molded but is going to need a lot of work. Physically the guy has the tools, but best-case scenario I think he's a No. 3 at the next level and never matures to be much more than that. A free agent at this stage.
RB Vick Ballard: No. 28 (5-11, 215)
A tough, no-nonsense type runner who wants to get north/south quickly. Doesn't quite have the type of frame needed to hold up with his type of running style at the next level. Possesses good size, but isn't overly thickly built. Presses the hole well and loves to churn his legs through contact. Displays a good feel between the tackles, is patient when asked to read inside, sets up blocks well and hits the first hole he sees. Gets upright at times pressing space and/or when trying to make a man miss, but knows how to make himself small and does a better job lowering his pad level into contact, absorbing blows and maintaining his balance through contact. Runs hard and breaks a lot of tackles, consistently creating yards through contact inside. Looks a little tight in the hips, isn't a fluid change of direction guy who can routinely make a defender miss. However, he possesses the footwork/balance as a one-cut guy to feel his way on the zone plays toward the perimeter, stick his foot in the ground without wasting much motion and attacking up field. Doesn't have a great burst and is at best an average straight-line athlete who isn't going to outpace many angles in space.
Doesn't display the fluidity to make a man miss once he gets back up to full speed, displays some foot quickness in order to get a defender off balance, but does his damage breaking tackles inside and at the second level. Not real natural in the pass game at this stage, doesn't seem comfortable trying to separate vs. man, isn't sharp/sudden out of breaks and isn't going to be asked to do much more than work the screen/flair game. Isn't asked to help out in blitz pick-up much. He's a strong kid with natural coordination and has the skill set to hold up as a blocker; he just doesn't have much experience.
Impression: Possesses some natural running skills and is a strong kid who always falls forward. However, isn't going to break nearly as many tackles in NFL as he did in college and will struggle averaging over 4.0 yards per carry. Fringe roster guy.
OG Quentin Saulsberry: No. 55 (6-2, 300)
Will be a four-year starter on the Mississippi State O-line who has seen time at right tackle, guard and will move to center as a senior. Lacks ideal size and isn't real flexible when asked to sit into his stance. Tends to double over at the waist and struggles to consistently get off the snap count on time. Displays a solid first step when asked to get into defenders as an in-line guy, but lacks ideal power on contact. Can routinely be overwhelmed backward at the point because he struggles to generate much power from his lower half. Best suited to work in tandem, does a nice job stepping and sealing off his frame. Is an above-average athlete on the move. Displays the ability to pull from the backside, quickly gets into defenders off his frame and/or at the second level and breaks down well on contact. However, isn't real sticky, loses balance through contact, struggles to routinely gain proper hand placement and eventually falls off blocks.
Displays natural shuffle and slide ability in tighter areas. Does a nice job quickly setting off the snap vs. the pass. Will expose his check a bit, but is a balanced puncher who slides his feet well and reworks his hands through contact. Becomes less effective in the more space he's asked to play in and will struggle sticking to blocks once defenders gain a step. But is athletic/rangy enough to hold his own inside. Exhibits decent anchor strength as well, needs to do a better job protecting himself into contact with his punch, but is quick to work his hands, gain leverage and reset himself inside.
Impression: A solid athlete who does some things well on the move and in pass protection. More of a zone lineman only, but needs to do a better job getting off the snap count on time in order to have a chance of getting drafted. Free agent at this stage.
OT Addison Lawrence: No. 62 (6-4, 290)
An undersized offensive tackle prospect who lacks ideal girth through the lower half and struggles to stick to defenders through contact. Isn't the most natural of benders, doesn't do a good job keeping his base down off the snap and looks more comfortable bending at the waist. Is quick initially out of his stance, displays a natural, compact kick slide to the corner and can reach the speed rush off the edge. Does a nice job keeping his hands in front of him through his slide, but needs to hold them higher. Struggles to generate much of a "pop" into contact with his punch, more of a catcher who fails to routinely generate leverage for himself. Really struggles through contact. Isn't a real sticky player, doesn't control blocks and his high pad level causes him to struggle mirroring through contact. Consistently gets overextended with his footwork when engaged causing him to fall off blocks. Will be a consistent threat to be overpowered vs. the bull rush in the NFL.
Looks natural on the move, is quick to get out of his stance and pull from the backside. Reaches his target quickly, breaks down well and consistently hits his man in space. However, isn't real physical into contact, doesn't eliminate his target ini tially and routinely fails to stick to the block. Isn't a guy you're going to run behind. Gets upright off the ball, there's no real snap/pop to his game into contact and can be stone walled when trying to move a defender off the football. Does a nice job sealing from the backside from an athletic standpoint, but again will fall off blocks when trying to stay engaged.
Impression: Will struggle with power in all aspects of the game at the next level and doesn't look like an NFL-caliber lineman to me.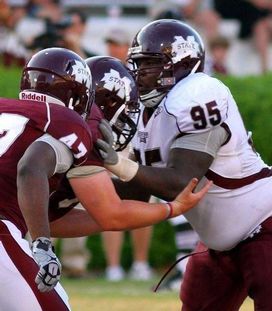 ICONCarmon could surprise this year in the SEC.
OT James Carmon: No. 77 (6-7, 330)
A former interior defensive lineman with a massive frame and impressive coordination for his size. Is a JUCO transfer who saw action in 13 games last year on the defensive side of the ball and finished with 8 tackles. Is long armed, displays a decent feel inside and has the body control to shed blocks inside and moves surprisingly well off his frame. Displays a natural burst to his game in tight areas and can slip blocks on occasion and work toward the football. Displays intriguing body control/athleticism for a guy his size. However, pad level is the key. Struggles to keep his base down and doesn't play with consistent leverage into and through contact.
Will make the move to OT this year and is listed as a co-starter at LT for the Bulldogs. Is a big bodied, talented kid who has the skill set to make a big jump up draft boards, but it will be interesting to see how well he takes to coaching and how quickly he matures at his new spot.
Impression: The one guy in the SEC I will be keeping a close eye on. Has a lot of upside and could surprise because of his talent. However, at the same time I am cautiously optimistic about his chances this year.
Defense
SS Charles Mitchell: No. 4 (5-11, 205)
Doesn't quite play as compact and balanced as his frame would indicate. Gets upright in his drop, isn't the most instinctive when asked to read his run/pass keys and struggles to keep his legs under him out of his breaks. At times gets leggy trying to redirect and lacks an initial burst in pursuit. Doesn't have a great first step and/or much of a second gear and seems to play at one speed. Takes too many false steps trying to diagnose the play, doesn't anticipate routes well and/or feel them develop around him. Doesn't even do a great job keying on the quarterback's eyes and getting early jumps on the ball. Lacks the range needed to be a threat to get over the top and close in the deep half as well.
Needs to do a better job taking better angles to the ball carrier in pursuit. At times will see his angle get outpaced and doesn't close as well space. Is much better suited when asked to attack downhill and fill the alley in the box. Recognizes the run lanes quickly, fills properly and generates a snap into contact. Is a very consistent tackler who plays faster in tight areas vs. the run game because he trusts what he sees and displays good overall awareness inside. Wraps up well for the most part, has a passion for the game and generates a pop into contact. Will take on backs in the hole and has the power/leverage to stonewall on contact. A tough kid and a natural leader — a guy who the Mississippi State defense really seems to rally around.
Impression: Wasn't real impressive vs. the pass game, but he's an instinctive tackler vs. the run and a passionate/leader type who could earn a spot on special teams. But I can't see him holding up in space vs. an NFL pass game.
Follow me on twitter: @WesBunting