June 15, 2011 -
National Football Post
NFP Scouting Series: Nebraska
For the rest of the summer, the National Football Post will be breaking down every team in the Football Bowl Subdivision to identify which players could warrant the most interest from NFL teams in the 2012 NFL draft.
Therefore, today we take a look at the Nebraska Cornhuskers.
Offense
WR Brandon Kinnie: No. 84 (6-3, 225)
A tall, solidly put together wideout who possess good girth through the lower half. Is a bit narrow through the waist and has some natural short-area quickness because of it. Isn't an explosive wideout off the line. Doesn't have a great first step, doesn't eat up the cushion quickly and is more of a strider down the field. However, has some savvy about his game when asked to beat press coverage. Uses his sneaky lateral quickness to get corners off balance before putting his foot in the ground and gaining a step. Allows his pad level to rise and can be slowed on a secondary punch vs. press, but for the most part can hold his own on the outside. Doesn't generate much of a burst out of his breaks. Isn't a guy who will ever separate much in man coverage at any level as he needs to win with his initial quickness, gain a step and shield the defender. However, struggled to catch the football not only in traffic, but all areas of the game on tape. Had a tough time holding onto the football and adjusting once he gains a step. Simply has too many lapses of concentration even when he's open and doesn't consistently catch the football.
Is a willing blocker on the outside, displays good strength into contact, extends his arms and works hard to stay on blocks.
Impression: For his size he does possess good short-area quickness in order to get into his routes. However, isn't the kind of quick-twitch athlete to ever create much separation for himself and he just doesn't catch the football well enough to mature into a consistent big body type receiver.
C Mike Caputo: No. 58 (6-1, 278)
A short, undersized center prospect with decent girth, but lacks ideal power at the point. Displays good bend when asked to sit into his stance as he snaps and steps quickly off the line in the run game. Takes good angles, gets into his opponents instantly and can routinely get his body around and seal on perimeter runs. More of a catcher in all areas of the game and doesn't display ideal hand placement, shoots his hands too low and doesn't seem to generate much power on contact because of it. Lacks ideal anchor strength when asked to handle bigger defensive linemen one-on-one, can be overwhelmed into the backfield and at times is just simply rag rolled. Needs to be a move player, does a nice job chipping at the line, redirecting and getting out to the second level. Displays the body control to cut down defenders at the line or in space and is coordinated on the move. However, struggles to stick to blocks through the play because of lacking strength and low hand placement. Works hard to stay on blocks down the line, is athletic enough, just isn't a real velcro player.
Displays good initial quickness off the snap, can reach defenders trying to shoot gaps inside and exhibits some natural lateral quickness to mirror vs. the pass game. However, isn't going to be able to hold up consistently vs. the bull rush in the NFL. Plays with good bend and initially can gain leverage, but again is more of a catcher, just absorbs contact and doesn't have the lead in the base to anchor. Works hard to shuffle and slide through contact, but lacks the power to stay engaged with his upper body once a defender gains a step, as they can routinely fight their way though his block.
Impression: A great fit for the Nebraska offense where he can use his athleticism to reach defenders down the field and/or on the perimeter. However, in tight areas his lacking size/power will be exposed in the NFL. Plus, he doesn't have the frame to add too much more girth either.
Defense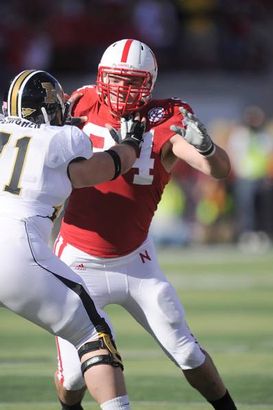 ICONCrick will struggle with his pad level.
DL Jared Crick: No. 94 (6-6, 285)
A tall, leaner defensive tackle with a long set of arms, but lacks ideal girth in the lower half. Is instinctive, gets off the snap count on time and does a nice job finding the football vs. the run game. However, at 6-6 struggles with his pad level. Displays decent bend for his size when asked to coil up into his stance. However, his initial movement off the line is upright and exposes a lot of his frame into contact. Fails to consistently gain leverage at the point and can be overwhelmed/washed out when run at. When trying to anchor at times will lunge into opponents off the snap, try to anchor his feet into the ground and gets straight legged, failing to disengage quickly and ends up on the ground too often. Uses his long arms well and displays some shiftiness for his size to slip off the snap and/or down the field. Works hard to play the piano down the line and has a motor that runs non-stop. However, struggles to consistently fend off blocks when a defender gets his hands on him. Looks better suited to play as a base DE or 5-technique in a 34 at the next level where he can set the edge and use his length to play off blocks.
Is a hard-working pass rusher who again struggles with his pad level off the ball. Exhibits some intriguing short area/lateral quickness for his size and uses his length well to keep himself clean. Doesn't exhibit a real impressive pass rushing arsenal and fails to consistently win as a bull rusher. However, possesses a good first step off the snap and does a great job keeping opponents from getting their hands on him. Consistently is able to knock opponents' punch away and has some savvy pulling the rug out from blockers and using his quickness to get up the field. Gets upright still when closing on the ball and will struggle to break down because of his pad level. Nevertheless, creates pressure because he can keep himself clean and works until the whistle.
Impression: Isn't a guy who can hold up vs. the run inside in the NFL and isn't a dynamic pass rusher either. However, as a base DE I can see him finding a home with some versatility on 3rd down. But, looks more like a rotational NFL lineman to me and potential starter only.
LB Lavonte David: No. 4 (6-1, 220)
A shorter, athletic-looking linebacker with a muscular lower half/base. Is slightly undersized, but plays with a burst and has some explosive qualities to his game. Reads and reacts quickly to the inside run game. Does a nice job initially locating the football, generates a burst when asked to close and takes consistent angles in pursuit. Lacks elite straight-line speed/closing range, but is still a plus in that area and can make plays consistently off his frame. Does a nice job avoiding blocks inside, is light footed, feels traffic around him and displays that 6th sense to slip a block and put himself in position to tackle the ball carrier. Reads the interior of the O-line well, consistently gets early jumps on the football and takes proper gaps inside. Is a solid wrap-up guy in pursuit. Has a snap into contact, explodes through the hips and is more physical on contact than his frame would suggest. Has a strong punch as well when asked to take on blocks at the point. Does a nice job staying violent and will shed. Takes on pulling guards with good pop and leverage, however, just doesn't have the lead in the pants needed to consistently anchor. Seems a bit short armed as well, when he gets high in space as a t ackler, struggles to get into the frame and can see a stiff arm causing him to fall off his target.
Displays impressive footwork and balance in coverage. Is fluid in the hips, coordinated with his footwork and has the ability to cleanly redirect, maintain balance and close on the throw. Looks natural when asked to turn and run as well, keeps his base down, snaps his head around and quickly and locates the football. Lacks ideal size and can be a target of being boxed out once he gives up a step. However, can turn and run with the tight end down the seam and gets good depth in his drop. Displays a natural feel recognizing routes in coverage and seems to always be around the football. More than held his own in man vs. some of the Big 12's best pass catchers and should be able to do the same in the NFL.
Impression: He's undersized, but is instinctive. Might be limited to more of a cover two type scheme only, but looks like a starting caliber weak side guy to me early in his NFL career.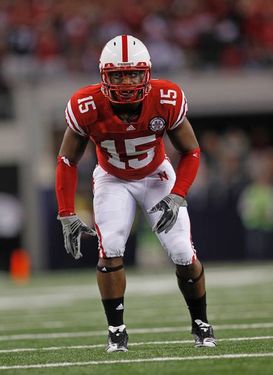 ICONDennard could end up playing both on the outside or in the slot.
CB Alfonzo Dennard: No. 15 (5-10, 205)
A sturdy, well-put-together corner with a muscular overall frame. Is at his best up near the line in press man. Possesses good lateral agility when asked to mirror, can get a good jam on receivers with his punch and/or use his arm bar to take them wide of their intended release as they try to get off the line. Lacks ideal technique and plays a bit out of control in all areas of the game. Will get caught overextending into receivers at times with the wrong arm or both hands and can be stroked off the line in press. However, does a nice job sitting into his drop, staying low while keeping his feet under him and generates a burst when trying to make up for a false step. Likes to be physical down the field as well and despite being able to cleanly flip and run, will get caught losing his balance trying to outphysical receivers and struggles with his balance at times because of it. Is a tough guy to separate from though once he gets his hands on a wideout. Showcases good deep speed when asked to turn and run, tracks the football well and locates the throw.
Isn't as natural in off-man coverage, has a tendency to get upright in drop, not as smooth with his footwork and likes to hop both in his backpedal and when closing on the football. Is a target for double moves. Is very aggressive and has a nose for the football, but isn't real clean when asked to click and close, gets caught with his feet parallel to one another and will allows receivers to get behind him. Displays natural ball skills and has a solid feel in zone coverage. Would like to see him do a better job plucking the football as too many throws get into his frame, but exhibits the ability to jump under a route in zone and finish on the play. Is a willing tackler, will stick his head in and has some pop on contact. Closes well off his frame, but again, plays out of control too often. Will take some bad angles in space and isn't as consistent as his physical talents say he should be.
Impression: He's strong/feisty, can press off the line and turn and run. Needs to clean up some technical flaws both in press and off the line, which hinders his balance. But can be a guy who could start both on the outside and in the slot at the next level.
SS Austin Cassidy: No. 8 (6-1, 210)
A former walk-on with a tall, well-put-together frame. Isn't a real gifted athlete vs. the pass game however. Does a good job keeping his feet under him and trying to keep his base down in his drop. But, doesn't get much depth off the line, is slow to redirect and lacks the range to play in the deep half. Doesn't have much of a burst when asked to click and close and lacks the second gear to make up for a false step. Is simply really stiff out of his breaks and doesn't have the ability to find a second gear. Nevertheless, is a bright kid, knows his limitations and plays soft when asked to defend the deep half. Doesn't make a ton of plays on the football though.
Is at his best when asked to attack downhill vs. the run game. Reads and reacts quickly, takes good angles and is a consistent wrap up tackler both in a phone booth and in space. Does a nice job generating a pop into contact, wraps his arms well and can routinely get his man to the ground in the open field. Runs the alley when closing downhill and for the most part sniffs out the play quickly — always putting himself around the action. At times will take a false step and take himself out of the plays, and lacks the range to make up for it in pursuit.
Impression: An overachieving college safety who will win in the run game, but doesn't seem to possess the athletic ability to hold his own in space at the next level.
Follow me on twitter: @WesBunting