July 21, 2010 -
National Football Post
NFP Scouting Series: Nebraska
For the rest of the summer, the National Football Post will be breaking down every team in the Football Bowl Subdivision (formerly known as Division I-A) to identify players who could warrant the most interest from NFL teams in the 2011 draft.
Therefore, today we take a look at the Nebraska Cornhuskers.
Offense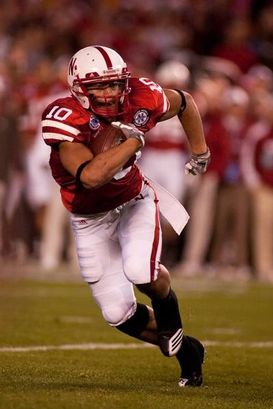 ICONHelu possesses good size, but isn't real dynamic in any area of the game.
RB Roy Helu Jr.: No. 10 (6-0, 221)
Possesses a nice-sized build for the position, but isn't a real dynamic runner even at the college level. Lacks a great first step when asked to press the line of scrimmage, runs hard and has some natural power, but plays at one speed. Displays above-average instincts and feel in between the tackles, but isn't real fluid or shifty when asked to change directions. Is a one-cut guy who needs to quickly square his shoulders and attack up field in order to be effective. Runs a bit high and stiff once he gets into the open field and is limited in his ability to create in space.
Exhibits the ability to catch the football out of the backfield, but again isn't overly elusive or shifty with the ball in his hands. Runs hard and likes to lower his head into would-be tacklers and drive his feet through contact, but lacks ideal balance and can be tripped up easily inside. Is really limited when a defender is able to break down on him as he struggles to make a man miss one-on-one on all areas of the field.
Impression: Possesses good size, runs hard and can stick his foot in the ground and fight his way up the field. But isn't explosive or dynamic enough with the ball in his hands to be anything more than a fringe roster guy.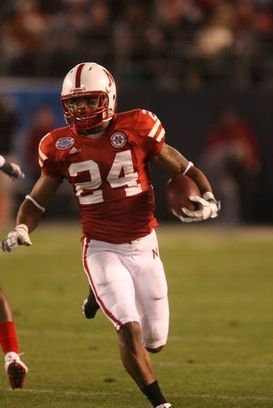 ICONPaul is a physical wide out who can create after the catch.
WR Niles Paul: No. 24 (6-1, 222)
A thick, compact receiver who possesses good overall muscle tone and girth through his upper body. Exhibits an explosive first step off the line and has the ability to drive defenders off the football and can eat up the cushion quickly. Isn't a burner down the field, but is a powerful route runner who can shrug off defenders and seems to find another gear when tracking the football vertically. Does a nice job selling his routes when working the double move and exhibits some natural fluidity in and out of his breaks. Can really get up to speed quickly and accelerates well down the field out of his breaks. Is physical and tough to bring down with the ball in his hands and has the ability to create after the catch.
Now, although he does have the skill set needed to go up and pluck the football at its highest point in jump ball situations, he will struggle to regain his balance when trying to adjust to the throw and can be boxed out from the play at times vs. physical corners. Isn't the cleanest of route runners at this stage, either, as he starts to drift into his breaks, rounding off his routes and giving defenders a chance to get an early jump on the ball. Is still learning how to decipher and read zone coverages as well, but does a nice job working his way back toward the football and isn't afraid to go up over the middle and take a hit in traffic. Possesses a big set of hands, strong wrists and really plucks the football with a vengeance. Has a history of some character concerns, but also comes from some good family lines, being the nephew of former Nebraska/Packers standout Ahman Green.
Impression: For a guy with his frame, he really generates an explosive first step off the line and can get down the field. Possesses big, strong hands, can create after the catch and has the potential to contribute as a potential starter in the NFL.
TE Mike McNeill: No. 44 (6-4, 228)
A tall, thin tight end prospect who looks really lean and narrow through his base. Possesses a good first step when asked to block in the run game, with the body control to get his hands up and into defenders quickly. However, isn't a guy who can generate much movement at the point and eventually is just ripped free from on contact vs. any type of bigger target.
Needs to do a better job taking a positive first step off the line from a three-point stance. Has a tendency to stand upright off the ball and isn't real explosive initially out of his stance. Builds up speed as he goes and possesses good body control and short-area quickness when asked to separate. Displays the ability to quickly snap off routes, locate the football and uses his strong hands to pluck the throw off his frame. Is a really sure-handed option who maintains concentration in traffic, exhibits good body control and consistently is able to come down with the tough grab. Looks much more comfortable when split out, gets into his routes much quicker and possesses the type of speed to threaten the seam down the field. Does a nice job looking off defenders when trying to set up his routes, sticking his foot in the ground and accelerating toward daylight vertically.
Impression: He's a natural pass catcher who can create some mismatches for you in the pass game, but limits himself because of his size and inability to hold up as a blocker. More of a late round, H-back type option who will be able to win for you vs. man-coverage, but needs to be split out.
OG Ricky Henry: No. 74 (6-3, 305)
Looks natural when asked to sit into his stance. Exhibits some natural flexibility and quickly is able to reach targets off his frame and seal inside. Is comfortable chipping on a defender at the line and possesses the range to get into the second level and reach a backer. However, demonstrates only average body control when asked to chop them down in space. Needs to do a better job getting his hands up out of his stance, as he too often allows defenders to get into his frame and control him off the snap. Works hard and loves to fight and scrap until the whistle, but his inability to consistently gain proper hand placement really hurts his chances of winning in the run game.
Fires off the football a bit high in pass protection and doesn't generate much of a pop on contact. More of a catcher who tries to work his hands and gain leverage once engaged. Lacks ideal lateral range and agility through contact, allowing defenders to consistently gain a step and begin to penetrate up the field. However, fights hard through the play and is really scrappy, doing anything needed to give his QB the necessary time. He just lacks the athleticism to cleanly win a battle outright.
Impression: Does some things well in the run game and is a tough kid, but doesn't strike me as a guy who has the ability to consistently win as either a run or pass blocker at the next level.
OL D.J. Jones: No. 73 (6-5, 316)
Isn't a real natural bender when asked to sit into his stance in pass protection and struggles to consistently get off the football on time. Is routinely one of the last offensive linemen moving off the snap and lacks the kind of pure range to make up for a slow/false step. Isn't real technically sound on his kick-slide, allows his footwork to get routinely overextended, lunges into blocks and easily is disengaged from on any type of counter move. Looks heavy-footed when a sked to redirect and lacks the body control/athleticism to mirror in space.
Exhibits an above-average initial step when asked to reach targets off his frame in the run game, but again struggles to generate a real pop on contact and stay on blocks through the play. Loses his balance easily, gets overextended into contact and lacks the coordination to consistently finish. Doesn't generate much of a pop into blocks as an in-line guy either, but has some natural power and can at least create a slight push eventually through the play after the defenders' initial surge.
Impression: Lacks the range and athleticism to play tackle at the next level and simply doesn't have the type of short-area quickness/body control needed to hold up inside either.
OT Mike Smith: No. 65 (6-6, 285)
A long, lean athlete who displays impressive athleticism when asked to get out to the second level. Exhibits a good first step and looks natural and pretty explosive in space. However, lacks body control and is a real linear athlete who struggles to break down on contact. Showcases only average natural range off the edge in pass protection and has a tendency to get too narrow on his initial kick-step out of his stance, limiting his balance when asked to redirect. Wastes motion in his upper body by pumping his arms trying to generate momentum for himself toward the corner, and isn't always set to punch.
Lacks power at the point of attack in both the run and pass game. Isn't a real natural bender, struggles keeping his pad level down initially out of his stance and consistently allows defenders to get under and into his frame. Can be overwhelmed by the bull rush in the pass game and struggles to create any kind of push off the ball as an in-line guy.
Impression: Doesn't have the type of natural power to hold up in any area of the game in the NFL.
Defense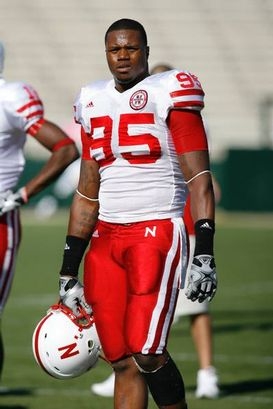 ICONAllen possesses good size, but isn't real explosive in any area of the game.
DE Pierre Allen: No. 95 (6-4, 263)
A tall, well-built defensive end prospect who exhibits natural bend and flexibility when asked to sit into his stance. Does a nice job keeping his head up, seeing the target he wants to strike and uses his long arms well to fend off blocks when run at. Is pretty disciplined and has the anchor strength to typically set the edge and force run plays back inside. And for the most part can disengage when run at and make a play on the football. Showcases good instincts, knows how to use his length to keep himself clean and works hard in pursuit.
Isn't a real explosive pass rusher, needs to do a better job getting off the snap count on time and keeping his pad level down into contact. Allows himself to get upright easily and lacks the type of burst to threaten the corner. Is at his best when asked to get into blocks and use his hands and long arms to disengage and fight his way up field. However, because of his high pad level, struggles to cleanly/quickly change directions on contact and doesn't exhibit a real explosive element in any area of his game.
Impression: Possesses a strong, long frame with the ability to anchor and fight his way through blocks, but doesn't have the type of explosive element or suddenness to ever be much of a playmaker in the NFL. More of a rotational DE who should be able to make an NFL roster, but players like him are a dime a dozen.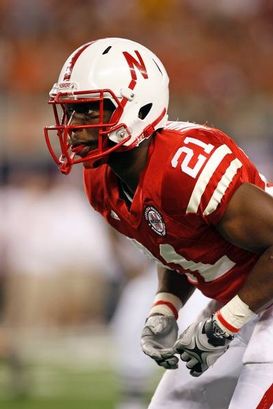 ICONAmukamara has the makings of becoming a starter early on in his NFL career.
CB Prince Amukamara: No. 21 (6-0, 201)
A gifted athlete for his size who possesses good instincts in coverage and has a real feel for the pass game. Does a nice job quickly locating the football, putting his foot in the ground and clicking and closing on the pass in front of him. Possesses compact footwork in his drop when asked to play off, and although he does let his pad level get a bit high in his back-pedal, he does a nice job keeping his feet under him and quickly driving on throws. Exhibits impressive ball skills and consistently is able to come down with the catch.
Now, that high pad level will get him in some trouble when asked to turn and run down the field. He does struggle to instantly get back up to speed quickly out of his transition and needs a step or two to reach top-end speed when asked to track receivers vertically. However, possesses natural fluidity in his hips, is able to cleanly change directions and looks really comfortable smoothly getting out of his breaks and closing on the play. Isn't a real impressive tackler at this stage, gets sealed from a lot of plays without much effort and will struggle to break down in space.
Has a tendency to lose his balance off the line in press coverage at times, will overextend his feet and fail to remain squared with the receivers initially. However, he recovers very quickly and is extremely confident from a trail technique, naturally cleanly changing directions, locating the football and instantly accelerating toward a throw in man and undercutting the throw.
Impression: A fluid, balanced corner who possesses good play speed and looks like a guy ready to start early in his NFL career.
Follow me on twitter: @WesBunting
Ready for fantasy football? Click here to purchase the 2010 Total Access Pass/Draft Guide from the NFP.