July 02, 2011 -
Barry Dorey
NFP Scouting Series: Northwestern
For the rest of the summer, the National Football Post will be breaking down every team in the Football Bowl Subdivision to identify which players could warrant the most interest from NFL teams in the 2012 NFL draft.
Therefore, today we take a look at the senior class of the Northwestern Wildcats.
Offense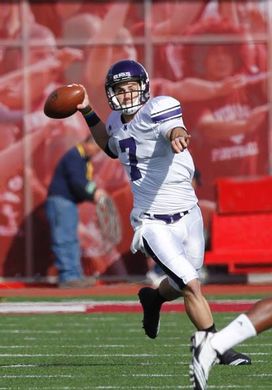 ICONPersa is a unique athlete who needs to prove he's 100% healthy and ready to go.
QB Dan Persa: No. 7 (5-11, 210)
Simply put, was one of the biggest impact players in the Big Ten in 2010. A real difference maker for the Northwestern offense because of his ability to hurt defenses with both his arm and legs. Obviously his size is a major concern at the next level, he lacks a great arm and at times doesn't spin a real clean football. However, he's very coordinated in the pocket, sets his feet very quickly, transfers his weight well from his back to front foot and always seems to be striding toward his target. His accuracy/ball placement are both very good in the short/intermediate pass game and his does exhibit some touch down the field. On tape he was asked to make some big time NFL throws, (the skinny post and deep out) and despite lacking ideal velocity on his passes, when he throws on time his anticipation/ball location is good enough to make the completion. However, the his passes take a while to reach the receiver and he looks limited in what he can offer an NFL team vertically.
Possesses an elite feel in the pocket. Has that 6th sense of recognizing pressure around him, keeps his head up and can routinely find secondary targets. Has the ability to go through his progressions across the field at times, however, is at his best when asked to improvise. Is very slipper on the move. Possesses sneaky short area quickness/acceleration and can really hurt you with his legs, as he consistently is able to find running lanes and keep drives alive. Completed over 70% of his passes last year and really seems to raise the level of talent around him. The guy is simply a gritty winner. However, is coming off a torn Achilles injury and if he can prove he's back to 100% healthy he should be poised for another big year.
Impression: He's a winner, has all the intangibles and is smart/accurate with the football. His size/arm strength hurt his chances, but if Chase Daniel can make an NFL roster, I would be willing to take a shot on Persa late. He's just the kind of football player you don't want to bet against.
OT Al Netter: No. 75 (6-4, 310)
A thick offensive lineman prospect who is broad through the base and possesses some natural athleticism for his size. Has the ability to sit into his stance and bend. When he knows he can reach his man off the edge he does a nice job keeping base down, looks coordinated and maintains balance well through contact. However, isn't overly rangy and when he has to press toward the edge, will pop upright quickly on his kick-slide, flaps his arms in order to generate more momentum and will expose his chest at the point. Doesn't sit into his base nearly as well when asked to anchor vs. gifted speed rushers and gets caught too often getting upright into contact, overextending on his footwork and isn't an impressive puncher. Doesn't keep his hands up and ready to strike in pass protection, too often they are down near his waist as he becomes more of a catcher and is susceptible to power. However, does displays some short area quickness, allowing him to make up for a false step and does flash some natural shuffle and slide ability through contact when engaged.
Possesses a good initial burst out of his stance in the run game. Looks coordinated on perimeter runs reaching a target off out his outside shoulder and cleanly reach blocking and sealing inside. Can generate some leverage for himself on contact, consistently holds the point of attack and will anchor/seal though the play. Plays predominately from a three-point stance and gets caught doubling over at the waist when he needs to quickly fire off the football and get into the second level off the line. However, has some pop as an in-line guy, can gain leverage and stick to defenders, while also demonstrating some range and body control when asked to pull and breakdown on a target.
Impression: There is some natural physical attributes to his game, but is playing out of position at Northwestern in my mind. Looks more like a guard prospect to me who needs to improve his hand placement in order to have a chance. Nevertheless, flashes enough in tight areas to make me think he's a guy who could mature into an NFL caliber lineman with a year or two of development.
Defense
DE Vince Browne: No. 94 (6-5, 265)
A tall, lean defensive end prospect who doesn't look real flexible sitting into his stance. Struggles to keep his butt down, isn't a natural bender and has a less than impressive first step off the line. Isn't a guy who possesses the burst to threaten the edge even at the college level. Allows his pad level to get upright and doesn't have the ability to drop his shoulder when turning the corner. Works hard toward the edge, but can easily be pushed past the play because of his high pad level as he exposes too much of his frame/chest into contact. Is a linear athlete as well, struggles to re-direct, doesn't have much shiftiness when trying to change directions and his only counter is a spin off his "speed" rush, but he doesn't exhibit much closing speed off it once he gains a step. Doesn't have the power in his lower half or ability to gain leverage to work the bull rush. Tries to threaten gaps on the inside through the C Gap, but doesn't do a great job extending is arms and using his hands, leads with his shoulder too often and can easily be stonewalled on contact.
Isn't a consistent anchor player vs. the run game either. Allows blockers to routinely get under his frame, doesn't generate much pop out of his stance and can consistently be jolted/handled on contact, even vs. tight ends. Works hard and does use his arms better vs. the run. Has some wiry strength to his game and can slip blocks at times through contact, using his long/lean frame to slip past blocks. But, isn't real balanced in any area of the game, ends up on the ground too often and lacks the range to routinely make plays off his frame.
Impression: A long, lean kid who plays hard, but struggles with leverage, isn't real explosive and I don't think he's going to be able to find a home in the NFL.
CB Jordan Mabin: No. 26 (5-10, 185)
A slight, undersized defensive back with a narrow frame. Isn't a guy who can hold his own near the line of scrimmage. Lacks physicality when asked to press, displays poor technique often shooting the wrong hand and wide outs easily are able to shrug off his bump and get into their route. Is much more effective sitting into his stance, mirroring off the line and playing press bail. Possesses natural fluidity when asked to turn and run and slightly above-average straight-line speed. Demonstrates a good feel playing receivers down the field. Does a nice job leaning into their frame and cutting down on the passing angle, but needs to do a better job looking back for the football. Seems most comfortable in zone, deciphers information quickly, is clean with his footwork when asked to re-direct and displays plus ball skills when asked to make a play on the throw. Keeps his feet under him for the mos t part and besides being a bit fidgety initially in his drop, feels routes around him and can break off his man and go get the throw.
In off man coverage displays a good feel as well, however, doesn't do a great job sitting into his backpedal. Will get doubled over at the waist and will pop upright when asked to turn and run. Gives up initial separation vertically down the field and doesn't have the straight-line speed to make up for a false step. Is willing to stick his head in and tackle in the run game. More of a cut guy only. He will breakdown on contact, but gets too high into ball carriers and an be shrugged off easily. Lacks the strength to anchor on the outside consistently and set the edge, is easy to sealed because of size.
However, has been very productive, led the Big Ten in passes defended in 2010.
Impression: An undersized zone corner who plays the ball well and some natural cover skills. Is limited in what he can offer an NFL defense, as he'll need to play inside in order to be effective. But if he runs well he should give himself a shot to compete for a reserve type role.
Follow me on twitter: @WesBunting