June 22, 2011 -
National Football Post
NFP Scouting Series: Ohio State
For the rest of the summer, the National Football Post will be breaking down every team in the Football Bowl Subdivision to identify which players could warrant the most interest from NFL teams in the 2012 NFL draft.
Therefore, today we take a look at the Ohio State Buckeyes.
Offense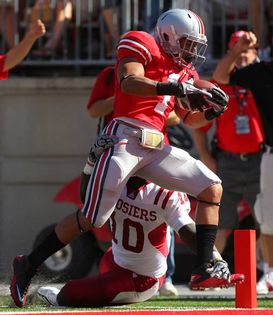 ICONHerron plays fast in tight areas.
RB Dan Herron: No. 1 (5-10, 212)
A workhorse of a college back who is comfortable carrying a heavy load. Possesses a compact frame with good overall muscle tone throughout. But, is a bit narrow through the hips and doesn't have the type of body to just simply pound the football 25-plus times a game in the NFL. Nevertheless, is a naturally strong kid who gets better as the game goes on. Runs with a good forward lean when pressing the hole. Keeps his pad level down, is decisive when asked to pick his way through traffic and does a nice job setting up blocks inside. Isn't overly fluid laterally, but displays impressive footwork/balance and has the ability to consistently side step/break tackles in tight areas. Runs with a good foundation, is tough to knock off balance and once he slips/breaks a tackle, he accelerates quickly into the open field. Likes to finish runs into daylight, but isn't overly dynamic in the open field. Possesses only average straight-line speed -- 4.5 range -- and can be tracked from behind. However, has the ability to create his fair share of long runs because of his ability to break tackles inside and at the second level.
Looks coordinated in pass protection, takes good angles toward his target, will drop his pad level into contact and routinely can cut his man to the ground. And has the type of demeanor to hold his own in blitz pick-up in the NFL. Also, can catch the football out of the backfield. Isn't going to create vs. man, but plucks throws off his frame and quickly snaps his head around, settles himself and can make a defender miss initially. Will miss the first five games of the season for being part of the Ohio State scandal where he was said to have sold memorabilia for benefits.
Impression: Isn't dynamic really in any athletic and/or physical aspect. However, he runs with a strong base, has impressive short-area quickness and a natural feel between the tackles. Can certainly contribute early in his NFL career in a rotation and will create for himself if he has to.
WR DeVier Posey: No. 8 (6-1, 205)
Possesses good height for the position, but looks a bit thin and needs to get stronger. Isn't real sudden/physical on the outside when asked to face press coverage. Seems content to simply try to run through contact instead of disengaging off the line and can be easily re-routed off the snap. Is really raw off the line when asked to eat up the cushion and stem his route. Too often skips off the snap, slowing himself off the line and really starts to drift prematurely into his breaks. Displays some natural balance on sharply breaking routes running/accelerating through the break, but rounds off his route significantly and wastes a lot of motion because of it. There isn't much of a sharp snap to his game even when trying to drive defenders off the football and work the comeback, isn't real detailed oriented, will open up the wrong shoulder at times and drifts away from the quarterback. Also, gets leggy out of his breaks on any kind of double move route and doesn't generate much explosion when trying to separate.
Now, does have a somewhat explosive element to his game vertically. Doesn't quite have the deep speed to consistently outpace NFL corners on the outside, but plays fast, tracks the football well and can routinely adjust to the throw. Displays good body control/coordination when asked to go make a play on the football in jump ball situations and can make some stellar grabs off his frame. However, concentration runs hot and cold as he too often allows throws to get into his body and he will put the ball on the ground. Will miss the first five games of the season for being part of the Ohio State scandal where he was said to have sold memorabilia for benefits.
Impression: Possesses some natural talent and can make plays down the field and track the football. However, he's raw as a route runner, puts the ball on the ground and will have a tough time vs. press in the NFL. Doesn't look like much more than an occasional big play threat who needs to work inside at the next level.
OC Mike Brewster: No. 50 (6-4, 305)
A tall, flexible center who sits into his stance well, displays natural bend and creates pretty consistent leverage for someone his size. Snaps and steps quickly and does a great job in the pass game quickly getting his hands up, gains proper hand placement and is a really sticky player through contact. Is tough to disengage from because of his heavy hands and natural shuffle and slide ability through contact. Maintains his balance well, keeps his base/feet under him and holds up consistently one-on-one inside vs. the pass. Possesses good awareness and feel inside as well, keeps his head on a swivel, consistently picks up stunts cleanly inside and has the range to redirect in space, maintain balance and stun a blitzing linebacker with a compact/strong punch.
Plays with natural leverage in the run game as well and once he gets his hands on defenders is tough to disengage from, as he can anchor/seal linemen consistently away from the football. Works his legs once engaged and has average natural power when trying to drive defenders off the football. When trying to create a snap off the line into contact, at times takes poor angles and will allow interior defensive linemen to get up the field and create havoc behind him. Nevertheless, displays good short-area quickness, has the fluidity/footwork to make up for a false step and push defenders past the play. Looks coordinated on the move. Isn't an elite athlete in space, but has some range to the second level, breaks down well and routinely can hold his own in space.
Impression: A seasoned starter who displays good size, hand placement and bend for the position. Looks like a year one starter to me in the NFL that you can win with.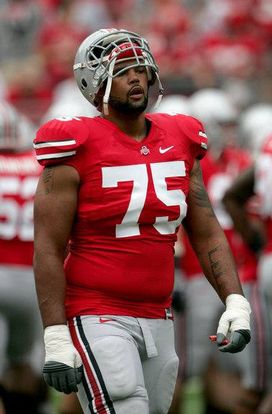 ICONAdams has all the tools needed to be a starter in the league.
OT Mike Adams: No. 75 (6-6, 310)
A tall, long armed, athletically built offensive tackle with a frame that can add even more girth and get even bigger. Displays good initial quickness off the snap in the pass game. Displays the ability to keep his base down on his initial power step off the line from a two-point stance, but will bend at the waist and get upright when asked to play from a three-point stance. Nevertheless, the guy can bend. Displays natural fluidity in the hips and good short-area quickness toward the edge and when asked to mirror. Struggles with balance and footwork, gets overextended when trying to shuffle and slide. Needs to clean up his lower half technique and do a better job staying more compact and balanced when changing directions. Is long armed and keeps his hands up in order to protect his frame, but again doubles over at the waist into contact and gets his shoulders out in front of his feet too often.
Doesn't generate a ton of snap in the run game as an in-line guy. Gets a high coming out of his stance, struggles with leverage and can be stonewalled vs. col lege defensive ends. Is at his best crashing down the line inside and delivering a nasty punch in order to seal the edge. Also, possesses the short-area quickness/coordination to reach block on the edge and is comfortable in space. Gets a bit overextended trying to break down, but for the most part will hit his man. Will miss the first five games of the season for being part of the Ohio State scandal where he was said to have sold memorabilia for benefits.
Impression: He's a talented kid with a big frame, long arms and natural movement skills. He can bend, just doesn't do it consistently and if he can put it all together and clean up his footwork he could certainly mature into a starting caliber tackle, but is going to need some development.
OT J.B. Shugarts: No. 76 (6-6, 305)
A tall, naturally thick right tackle prospect who plays with some real grit and nasty demeanor. Isn't the most athletic or natural of benders when asked to sit into his stance. Struggles to keep his base down off the ball, stands upright out of his stance in the pass game and seems to bend over at the waist consistently. However, displays good awareness as he's consistently off the snap count on time, takes good angles on the edge and has a good first step when trying to reach the edge. Displays natural initial balance on his kick slide but has only average range. Uses his long arms and strong punch to stun defenders on the outside and push them past the pocket. However, is tight in the hips, loses balance easily when lunging into contact and struggles to mirror through space or through contact, as he's consistently exposed on the counter. Exhibits decent anchor strength because of his strong base and long arms, but needs to continue to do a better job sinking his hips and playing lower.
Demonstrates some pop in the run game at times on his punch. However, struggles to keep his base down from a three-point stance, really rolls his hips into blocks and doesn't' generate much of a snap. Gets upright and fails to keep his base under him when engaged and can be stonewalled when trying to create a push off the line. He is heavy handed and does do a nice job staying engaged initially into contact, but struggles to maintain balance through the play and will fall off blocks both on contact and when breaking down in space.
Impression: Possesses good size with some natural strength, but his struggles to gain leverage and keep his balance in both the run and pass game makes him look more like a fringe roster guy only in the NFL.
Defense
DE Nathan Williams: No. 43 (6-3, 252)
A hybrid DE/OLB tweener who plays both from a two and three-point stance on the Ohio State defense. Isn't a dynamic pass rusher. Isn't the most natural of benders sitting in his stance, struggles to keep his base under him and pops upright off the snap when trying to reach the edge. Has an average first step and lacks the fluidity to drop his pad level and accelerate around the corner. Allows his pad level to get upright and can be pushed past the play routinely on the outside. Also, lacks ideal lateral fluidity and isn't much of a threat to counter off his speed rush, more of a linear athlete. However, plays with a great motor and has a violent set of hands when trying to disengage. His hand usage shows up more vs. the run game. However, he can fend off blocks when engaged and uses the opposing tackles momentum well against him in order to shed and work in pursuit. Displays some savvy as a blitzer and loves to stunt inside. Drops pad level into contact and has some short-area quickness coming forward in order to avoid blockers or will just overwhelm on contact. Will also drop into coverage at times and gets average depth off the line. Looks tighter in the hips when asked to play in space and doesn't have much click and close ability. However, he's instinctive, feels routes develop around him and gets early jumps on the throw.
Played the run pretty well for his size. Reads and reacts quickly, works endlessly toward the football and seems to always put himself around the action. Carries out his assignments well on the outside setting the edge and collapsing inside. He also extends his arms well and uses his hands to keep himself clean when working toward the football. Now, doesn't have the anchor to hold up consistently vs. offensive linemen in the NFL and isn't effective breaking down in space as a tackler. But as a potential Sam backer in the NFL I could see him definitely setting the edge and winning vs. tight ends routinely.
Impression: Isn't the type of natural pass rusher many make him out to be. However, he's a savvy blitzer, finds the football well in all areas of the game and could get looks at either SAM in a 43 or as an OLB in a 34. Looks like more like a reserve physically, but he's the type of overachiever who could fight for playing time down the line.
OLB Andrew Sweat: No. 42 (6-1, 235)
A very average size/speed athlete. Does a nice job vs. the run game quickly locating the football, picking his way through traffic and flowing toward the action. However, doesn't generate much snap into contact, more of a drag down guy and if an opposing lineman can get his hands on him the battle is over. Doesn't display much range in pursuit, seems to have only one gear and doesn't have the closing range to routinely make plays off his frame.
Came off the field routinely vs. the pass game in nickel situations last year when Ross Homan was starting. Generates only average depth in his drop and looks tight trying to redirect and get out of his breaks. Showcases good awareness, has a solid feel for zone coverage and can get early jumps on the football. However, isn't real rangy in space, struggles to get back up to speed quickly and looks limited when asked to cover a lot of ground.
Impression: A nice college linebacker who simply doesn't offer enough physically in my mind to warrant a draftbale grade.
Follow me on twitter: @WesBunting