August 06, 2011 -
National Football Post
NFP Scouting Series: Oklahoma
For the rest of the summer, the National Football Post will be breaking down every team in the Football Bowl Subdivision to identify which players could warrant the most interest from NFL teams in the 2012 NFL draft.
Therefore, today we take a look at the senior class of the Oklahoma Sooners.
Offense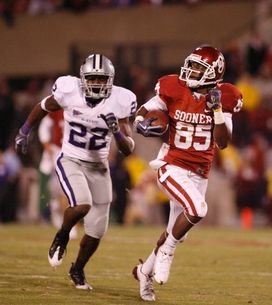 ICONBroyles is a threat with the ball in his hands.
WR Ryan Broyles: No. 85 (5-11, 187)
Possesses average height for the position with a thinner, yet muscular frame. Isn't real thick through the waist, but has a strong set of legs and thighs. Is a natural receiver who has a good feel for the pass game, knows how to sit down vs. zone coverage, snap his head around and pluck the football. Exhibits "plus" body control and awareness along the sideline catching the football off his frame and getting his feet in bounds. Doesn't have the kind of physicality to routinely beat press coverage off the line and will struggle to fend off defenders who get into his frame both off the line and down the field. Doesn't absorb/fight through contact well and can be slowed through contact.
Displays good speed, not elite, but plays fast on vertically breaking routes. Is subtle/explosive when using a shimmy to get behind defenders and accelerates quickly down the field. However, needs to set up defenders in order to get behind them, doesn't have the kind of elite second gear to simply outpace NFL corners. Looks natural working the double move, sells it well, maintains balance and quickly gets back up to speed. Possesses good body control on inward breaking routes as well, gets a bit choppy at times getting out of his breaks, but is concise as a route runner, works his angles back toward the quarterback and use his body in order to shield. Showcases good short area quickness out of his breaks, gets a bit sloppy with his angles on outward breaking routes, but is fluid in the hips and generates a burst away from defenders in tight areas. Can create after the catch. Isn't as dynamic in the open field as many believe. But takes what the defense gives him, has the wiggle to make a man miss and accelerates quickly.
Impression: Isn't a legit number one type wide out and isn't a guy who I would even play on the outside in the NFL. However, has the polish and quickness needed to separate underneath and should be a solid contributor early inside for an NFL offense.
OT Jarvis Jones: No. 76 (6-7, 289)
A tall, lean offensive lineman with a long set of arms and thin lower half. Doesn't possess much width through his base and doesn't look to have much power. Isn't a real natural bender, struggles to sit into his stance in the run game, gets straight-legged off the football and really struggles with leverage when trying to move defenders off the line. Routinely lets them get into/under his frame and can easily be stonewalled on contact. Exhibits solid initial quickness and extends his long arms well when asked to step and seal. However, gets overextended into contact and is quick to fall off blocks. Looks stiff in the open field, isn't as rangy as his frame would indicate and lacks the coordination to drop his pad level and cut off the line.
Lacks ideal range off the edge in pass protection, his initial movement off the snap is upright, takes a long, overextend initial step on his kick slide and struggles maintaining balance. Does a better job dropping his pad level into contact on the edge, but struggles to generate any power on his punch. Isn't real coordinated into contact, loses balance in his lower half and never seems to get a good lick on defenders at the point. Doesn't have the range to reach speed off the edge and routinely is forced to lunge into contact and try to push defenders past the play. Nevertheless, doesn't get much of a pop into contact and will allow pass rushers to turn the corner. Is at his best when asked to block down and move his feet through the play. Displays average short area quickness and has some strength in the hands when he gets a hold of defenders, just lacks ideal coordinated when asked to engage in space.
Impression: Doesn't have a ton of experience, is raw and doesn't bend well enough to create leverage in the run game. Has a big frame with some growth potential, but is too much of a project at this time to warrant a pick.
OT Donald Stephenson: No. 59 (6-6, 307)
Possesses a naturally thick frame, good girth through the lower half and thighs ,and can coil up well off the football. Displays a good first step off the snap in the run game and has the ability to quickly get into his target. Has a snap through the hips and initially you think he can create a surge. However, drops his head into contact, doesn't extend his arms well and doubles over at the waist, negating his ability to play with leverage and eventually is stonewalled. Displays solid coordination on the move and average range, displaying the ability to drop his pad level and cut down defenders in space.
Needs to do a better job getting off the snap count consistently in the pass game. Too often is the last guy getting out of his stance and is forced to play from behind. Doesn't display the type of recovery ability to be late off the ball and will struggle with speed to the edge. Too often gets caught stopping his feet and lunging into rushers, loses balance and gives up the corner. Displays solid short area quickness through contact and is a bit heavy handed. However, lacks the type of laterally fluidity to mirror through space. Pops upright off the ball initially, winds his arms into contact and isn't real compact or balanced working his feet and hands in sync. Wastes far too much motion when trying to engage into contact in both the run and pass game.
Impression: Displays a good initial burst for his size, but struggles to gain leverage and stick to blocks in the run game. Looks nothing more than a size free agent who I don't see as a roster guy in year one.
Defense
DE Frank Alexander: No. 84 (6-4, 255)
A tall, long limbed defender with a thinner lower half and a massive set of feet. Doesn't look natural when trying to coil up into his stance. Has a tough time keeping his butt down and sits high. Gets upright consistently off the football in the pass game, doesn't eat up any space initially and lacks the burst to threaten the edge. Isn't a real explosive athlete, doesn't have the speed the threaten the edge or the flexibility to flatten out. Is too upright into contact and doesn't generate any kind of power on his punch or threaten tackles with any kind of lateral quickness. Does a decent job extending his arms and using his length to eventually work himself free. However, there is no suddenness to his play when looking to beat an opponent initially into contact. Has a good motor and works through the whistle, creates most of his pressures because of his motor and length, but isn't by an stretch a consistent pass rusher.
Isn't a consistent anchor player vs. the run game either. Again gets high off the ball, exposes his pad level and can't sit into his stance.. Isn't effective on the move vs. slide down blocks, lacks the athleticism to beat an offensive tackle to a spot, gets upright and can easily be sealed from the football. Works pretty hard in pursuit from the backside, but is upright and looks stiff when closing. Isn't going to make plays of his frame r outinely in the NFL.
Impression: Lacks the burst, suddenness or leverage/power needed to win consistently in any area of the game at the next level.
OLB Travis Lewis: No. 28 (6-2, 233)
A shorter, undersized backer who is a bit narrow through the hips, but possesses an athletic looking frame. Displays "plus" instincts inside when asked to read and react to the inside run. Does a nice job staying low when sliding laterally and absolutely explodes downhill when he finds the ball.. Generates a natural burst and exhibits very good closing speed off his frame. Plays with proper leverage consistently, which allows him to routinely work his way free from blocks. Routinely is able to gain a step, absorb contact and fend off blocks through the play. Has the lower body strength and plays with the necessary leverage to even take on linemen in the hole. Extends his arms well, locates the football and for his size does an impressive job stacking and shedding at the point. Is only an average tackler, tends to go high into ball carriers and will slip off his fair share of backs. Doesn't breakdown as consistently as his athletic skill set would lead you to believe in space. However, has the range to routinely string out plays and close quickly in pursuit.
Is a natural athlete in space vs. the pass game. Possesses good coordination in his drop, keeps his feet under him and does a great job dropping his pad level and accelerating out of his breaks. Doesn't waste much motion when asked to click and close, stays compact with his footwork and generates good closing speed off his frame. Keeps his head on a swivel in zone coverage, feels routes around him and exhibits the fluidity to cleanly open up his hips and run. Exhibits good ball skills when he can make a play on the throw and has a knack for being around the football and coming down with key turnovers.
Impression: He's a bit undersized and doesn't tackle as well as you would like inside the box. However, he's a good run and hit backer who plays the run well and will be able to make plays vs. the pass game in the NFL. Looks like a day one starter to me as a 43 backer, either on the weak side or possibly in the middle.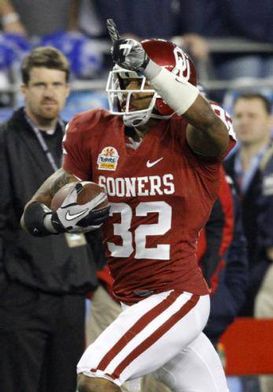 ICONFleming knows how to make plays on the football.
CB Jamell Fleming: No. 32 (5-11, 191)
Possesses good height and length for the position. Is a bit thin framed, especially through the lower half, but has the natural size to continue to fill out. Is a smooth, coordinated corner who does a nice job off the line sitting into his drop, cleanly works his back-pedal and maintains good balance throughout. In off coverage/zone will start to get a bit upright at times taking away from his initial burst. However, he doesn't waste much movement out of his breaks and possesses a good closing burst on throws. Displays good instincts as well. Has a natural feel for the pass game, deciphers information quickly and routinely get early jumps on the football.
Plays fast, displays good lateral quickness when asked to play in man near the line. Isn't overly physical, but does a nice job being patient, fluidly opening up his hips and getting up to speed quickly. Possesses good speed for the position, not great. However, plays fast because he can keep his pad level down when asked to turn and run, tracks the ball well vertically with the body control to adjust and get his hands on the pass. Displays good confidence vertically and does a nice job maintaining his footing when asked to look and lean. Will at times get caught drifting backward off the line in press bail and wont keep his feet under him. Possesses the body control to catch himself quickly, but will give up inside leverage at times.
Isn't a real physical kid on the outside when asked to fend off blocks and tackle in the run game. Displays some savvy timing up snap count and flying off the edge, but is a drag down guy only who can be handled and pushed past run plays easily. Plays exclusively on the boundary and his lack of elite make up speed might be covered up by playing in tight areas often. Wasn't enrolled at the Unviersity during the spring of 2011 for academic issues. But was reenrolled the following June.
Impression: He's a balanced, coordinated kid who keeps his feet under him when changing directions and can turn and run. Doesn't give up much separation, knows how to make plays on the football and if he can improve as a tackler looks like a guy who warrants a starting job in the NFL down the line.
Follow me on twitter: @WesBunting