August 03, 2011 -
National Football Post
NFP Scouting Series: Oklahoma State
For the rest of the summer, the National Football Post will be breaking down every team in the Football Bowl Subdivision to identify which players could warrant the most interest from NFL teams in the 2012 NFL draft.
Therefore, today we take a look at the senior class of the Oklahoma State Cowboys.
Offense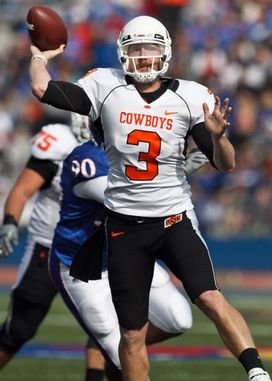 ICONWeeden possesses all the talented needed to be a successful NFL quarterback.
QB Brandon Weeden: No. 3 (6-4 218)
A strong, well put together quarterback with a live arm and the ability to make all the throws with ease. Is a former second round pick of the Yankees in 2002, but his baseball career ended in 2005 due to an arm injury. Enrolled at Oklahoma State in 2007 and took over as the starter in 2010. Plays in a spread and takes nearly all of his snaps from the gun. Displays sneaky athleticism for his size and exhibits a natural feel inside the pocket. Keeps his eyes down the field when he feels an outside rush, can maintain balance when stepping up and absolutely throw darts all over the field. However, gets too upright at times in his drop, causing him to struggles to quickly re-set his feet and really stride toward his target. Will fall off his fair share of throws when he feels pressure inside causing his accuracy and decision making to struggle because of it. When he does have more time does a much better job bending at the knees and really transferring his weight well, generating good torque from his lower half. Can really spin the football on all levels of the field and exhibits good accuracy and ball placement both in the intermediate and vertical passing game. Anticipates routes well down the field, snaps his head around quickly when working off play action from the gun and can fit the ball in tight areas on time with receivers. Also, displays "plus" touch vertically down the field, routinely drops the football into the outstretched arms of his target and looks comfortable using the same throwing motion.
Will drop his arm angle down a bit underneath and in the short passing game is where he gets lazy with his plant foot and his ball placement will struggle because of it. Is a smart kid who does a nice job recognizing defenses with his pre snap read and as the year went on did a better job looking off safeties and working through his progressions across the field. Gets a bit unbalanced with his footwork when working his way across the field because he gets upright at times, but should improve with more experience. Will throw blind when going back across the field and get himself into some trouble with interceptions because of it. Is a good enough athlete to throw on the move, isn't going to be dynamic by any sense in the open field, but can create time for himself when flushed from the pocket and scamper for additional yards.
An older prospect who will turn 28 years old in October.
Impression: His age will likely keep him from going as early in the draft as his talents deserve. But there isn't a throw this guy can't make and he has the skill set and mental make-up to mature into a potential starter with some time.
WR Josh Cooper: No. 25 (5-11, 195)
Possesses a very average physical make-up. Lacks ideal physicality or explosiveness off the line and has slightly above-average straight-line speed. Isn't a guy who is going to run by anyone on the outside and lacks the type of strength needed to consistently beat pressman. Lines up for the most part in the slot and displays a good feel for the pass game and knows how to work himself open. Settles down quickly out of his breaks when looking for soft spots, works his way open underneath and plucks the football naturally away from his frame. Exhibits good quickness in and out of his breaks, but is a little tight and will get sloppy at times on sharply breaking routes. Plus, when trying to be sudden off the line you can tell he's not quite as shifty as the smaller NFL slot receivers as he will get a bit leggy and struggled to separate instantly.
Nevertheless, he's a tough kid who sells his routes well, loves to work the jerk route underneath, and create after the catch. Works hard with the football in his hands, has some power/shiftiness, but doesn't have the skill set to make a second defender miss and typically gets tripped up easily.
Impression: A nice college slot guy who has a "plus" feel for the game. Just isn't dynamic enough to consistently separate instantly inside.
C Grant Garner: No. 74 (6-2, 290)
An athletic center prospect who doesn't play nearly as low as his frame would indicate. Can keep his base down into his stance, but sits upright and expose a lot of his chest off the snap. Possesses good snap and step quickness because of it and can reach initial speed off his frame. Nevertheless, doesn't have much pop/strength into contact and often fails to stick to blocks through the play. Isn't a real Velcro player, struggles to fend off lineman once they gain a step and doesn't mirror well inside. However, does a nice job keeping his head on a swivel, locates backers blitzing off the edge and has the range to quickly slide laterally. It's when asked to slide through contact where he struggles because of lacking power and higher pad level.
Gets upright off the ball in the run game as well and really seems to roll his hips into defenders. Never seems to really set when looking behind him at the quarterback prior to the snap, just snaps quickly and is hunched over at the waist in order to try to gain leverage in-line. Doesn't create much of a pop on contact, gets upright and is easily stonewalled. Does a much better job snapping and stepping off his frame in order to seal and works hard through the play. Possesses good range getting out to the second level as well, routinely can reach defenders down the field, but body control into contact is just average.
Impression: Comes from the wide open Oklahoma State offense where he can get away with sitting upright off the snap. But needs to improve his pad level and ability to stick to blocks through contact better if he hopes to make an NFL roster. Is a good enough athlete though to get a shot in an NFL camp as a free agent.
OT Levy Adcock: No. 73 (6-5, 322)
A thick, strong kid who possesses the lower body strength to anchor and the power through his arms to stick through contact. Played on both the right and left side this past year and despite being raw out of his stance, displays natural balance when asked to shuffle and slide and once he gets his hands on a defender he can mirror through contact. He can bend and sit into his stance, but will get upright initially out of his stance when asked to reach speed off the edge. Doesn't stay real compact with his footwork either initially as he gets overextended and upright on his first movement. However, settles his feet well, sits back into his stance and can anchor routinely on contact. Has a strong lower half and natural short area quickness when asked to mirror, even in space. Extends his arms well on contact when looking to engage, doesn't display ideal hand placement as he often gets outside the frame of defenders. But can sit down on contact, re-work his hands and make it tough to disengage. Lacks ideal athleticism toward the edge, but has good enough range to get a look as a left tackle, athletically though looks better suited to play on the right side in the NFL.
Does his best work in the run game where he can really coil up into his s tance, keep his base down, back flat –even from a three point stance- and really looks explosive coming off the football. Generates a real snap through hips into contact, gains leverage off the ball and extends his arms well at the point. Can create an initial surge off the football as an in-line guy with the power through his hands to stick and drive his man down the field. Absolutely can dominate when blocking down inside and takes defensive lineman right out of the play. Displays good initial coordination when asked to step and seal, creates seams on the edge and is even a "plus" athlete on the move. Isn't overly rangy, but breaks down well in space, takes good angles and can even drop his pad level and cut his target. At times when engaged will get a bit ahead of himself and lose balance, but is a guy who can win on contact at the point at the next level.
Impression: Needs to clean up his footwork in pass protection, but he's coordinated, can bend and should improve with time. Looks like a guy who is ideally suited to play right tackle, but I could see him being effective as a guard or left tackle as well. Should be able to start at a number of spots early on.
Defense
S Markelle Martin: No. 10 (6-0, 198)
Possesses an athletic looking frame with a long set of arms. Is a gifted athlete with a natural explosive element to his game. Possesses some savvy when asked to attack downhill, times up the snap count well and knows how to make his way into the backfield. However, seems to play out of control far too often, isn't a very good open field tackler, fails to routinely breakdown vs. the run game and consistently will whiff in space and slip off ball carriers. Needs to improve in this area of the game. Has some savvy as a blitzer off the edge, but is routinely pushed past the pocket.
Does a much better job taking proper angles toward the football in coverage. Displays a burst out of his breaks, times up the throw well and will disengage ball from man on contact. Has the ability to sit into his drop and keep his feet under him initially. When he doesn't need to open up his hips, he looks clean when asked to click and close, taking good angles toward the throw and displaying "plus" closing range. However, has a tendency to get upright anytime he's asked to transition out of his breaks. Exhibits natural fluidity in the hips when forced to turn and run, but it takes him a couple steps to get up to full speed. The same is noticeable in coverage when he's forced to re-direct. Too often allows pad level to get upright and will get leggy trying to collect himself. Possesses the burst and closing speed to put himself around the football, but far too often waste motion collecting himself or is forced to turn his back on the play. Possesses natural range in the deep half, displays a second gear vertically, just needs to become cleaner with his footwork.
Impression: A gifted athlete with a good burst and range in the deep half. However, wastes motion out of his breaks and isn't a very good open field tackler. Possesses slightly above-average instincts, but will make more plays on the football when he tightens up his footwork. A potential starter only at this stage because of his intriguing athleticism.
Follow me on twitter: @WesBunting