June 11, 2011 -
National Football Post
NFP Scouting Series: Ole Miss
For the rest of the summer, the National Football Post will be breaking down every team in the Football Bowl Subdivision to identify which players could warrant the most interest from NFL teams in the 2012 NFL draft.
Therefore, today we take a look at the Ole Miss Rebels.
Offense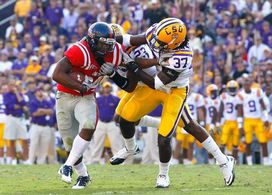 ICONBolden is a tough, physical runner on the edge.
RB Brandon Bolden: No. 34 (5-11, 221)
An overall muscular back, but is a bit narrow through the hips/base. Runs hard inside, is a one-cut back who makes decisions quickly, presses the hole with an average burst and likes to get north to south in a hurry. Doesn't run with a great pad level inside, lowers his pads into contact, but when trying to make his way through traffic he can be brought down rather easily at times by defenders because he exposes a lot of his frame, struggling to run low center of gravity and maintain balance. Displays some shiftiness with his footwork in tight areas. Can side step defenders at times in a phone booth and demonstrates the power to run through a tackle and accelerate into the open field. Isn't a burner and doesn't have a great initial burst, but displays adequate play speed for the position. Not real fluid/shifty in space. Struggles to make defenders miss once they square up on him, has a tendency to put his head down and simply try to outrun the angle, but doesn't have the explosion/speed to do so. Possesses an average feel inside picking his way through traffic, but doesn't necessarily read his blocks well between the tackles. Looks for a lane initially, if it's not there has a tendency to look to bounce the ball outside too quickly as he isn't overly patient.
Possesses the frame to hold up in pass protection and shows the willingness/toughness to help chip on the outside. Feels the screen game well, adjusts to the football and can pluck off his frame. Is above-average catching the football in the pass game, but isn't a real nifty route runner.
Impression: A tough, productive SEC back who runs hard and can be effective when there are lanes to run through. Isn't going to create on his own in the NFL and isn't dynamic in any area of the game. Looks like a No. 3 back at the next level.
OT Bradley Sowell: No. 78 (6-7, 315)
A tall, long, athletic-looking tackle with average girth through his lower half and possesses a frame that can get even bigger. Has the ability to bend and keep his base under him in pass protection when he wants. However, too often gets upright toward the edge and will double over at the waist into contact, losing his balance and is easily slipped toward the corner. Displays some natural shuffle and slide ability once he gets his hands on a defender and his hand placement improved as a junior. He does a better job extending his arms into his punch and creating more of a jolt at the point. Works hard to stick to blocks through contact and is tough to disengage. Displays natural range when asked to reach the corner vs. speed, but footwork is still a work in progress. Gets overextended initially out of his stance and doesn't keep his base at a natural width on his kick slip, looks to be just side shuffling to the edge and is going to need to learn to properly kick slide and maintain balance in his lower half. Will struggle with power as well, defenders can get under his frame and overwhelm on contact initially when he gets upright off the snap. However, does a nice job cleanly dropping his pad level and cutting down linemen when asked to quick set.
A coordinated lineman on the move. Displays above-average range when asked to pull, breaks down well in space and can hit a target at the second level. Doesn't display the balance to stick through contact, but works hard, has some nasty to his game and plays through the whistle. Takes good angles off the snap when asked to step and seal from the football. However, struggles to create enough leverage for himself as an in-line and isn't someone who is going to drive anyone off the ball at the next level. He's more of a seal guy only, but will get caught losing balance and falling off blocks when trying to be physical through the play.
Impression: Possesses a good frame, can bend when he wants and has some natural athleticism, but struggles with balance in both the run and pass game. Still, possesses some upside as he will continue to develop, but looks like nothing more than an intriguing later round/developmental guy.
Defense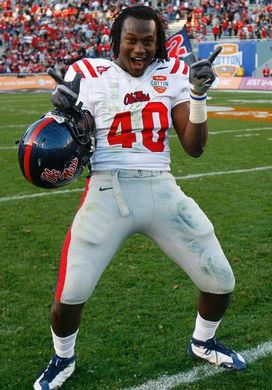 ICONLockett needs to prove he's 100 percent healthy and ready to go come 2011.
DE Kentrell Lockett: No. 40 (6-5, 248) (Based off 2009 tape)
A long, leaner defensive end prospect who possesses an athletic-looking frame and can really coil up into his stance off the edge. Exhibits impressive flexibility off the snap, keeping his base down, exploding off the football and maintaining his balance through contact. Possesses the initial explosion to consistently threaten the corner on the outside. Does a nice job using his long arms to protect his frame and is extremely nimble when asked keep his legs clean and avoid the cut block. Exhibits impressive balance initially off the snap, does a nice job working his outside jab step in order to set up his inside move and consistently is able to gain a step inside. However, would like to see him do a better job dropping his pad level around the corner and working a counter move off his speed rush. Too often seems to get into a speed rush only type of mode, and doesn't use his hands well enough to shed blocks once engaged and lacks the power/leverage to simply overwhelm into the backfield on his bull.
Is patient working from the backside, stays at home on runs away from his frame. Exhibits an impressive burst when asked to close the backdoor down the line and is a standout in pursuit. Gets a bit high when trying to find the football in the run game, but does a nice job dropping his pad level into his blocker, extending his arms and can generate some power through his hips on contact. Displays some power in his hands as well with the ability to shed and wrap-up on ball carriers on perimeter runs to his side. Has the ability to gain leverage when trying to bull his way into the backfield and overwhelm opposing tackles on contact. But, has a tendency to get overextend and lose balance into contact, taking himself out of the play at times. Nevertheless, the guy has a good motor and works very hard in pursuit vs. the run game.
Coming off an ACL tear which he suffered in 2010 and was granted a 6th year of eligibility in 2011.
Impression: Flashes some real talent, however, his plays gets too predictable as a pass rusher and he's still learning the game. Medical is a huge question mark as well now, as he looks like a developmental guy at this stage who needs to prove he's healthy.
CB Marcus Temple: No. 4 (5-10, 196)
A thick, tightly wound corner with good overall girth for his size and possesses a solid physical make-up. Plays either in the slot or the boundary spot only when asked to play on the outside. Lacks ideal physicality off the line in press coverage. Lunges into his target with two hands consistently, loses balance and can easily be slipped/stroked off the line. Struggles to play from behind, lacks ideal play speed, is tight when asked to break down and doesn't redirect and/or get back up to top en d speed quickly. Gives up a lot of separation out of his breaks in man coverage and isn't a guy who can hold up on the outside.
Is at his best in zone where he can feel routes develop under him and click and close to the football. Displays an above-average feel underneath, does a better job getting his hands on receivers down the field without losing his balance and looks more comfortable re-routing down the field. Doesn't have a great burst when asked to close, but seems to play faster because he gets earlier jumps on the football. Tackles well for his size. Has some pop, uses his length well and can routinely get his man to the ground in pursuit. However, isn't as impressive near the line of scrimmage as he can easily be sealed/washed out on contact. Nevertheless, he isn't afraid to throw his body around.
Impression: Tough to give out high grades to corners who are undersized and don't run overly well. Possesses a solid frame, but I don't see him being fluid enough or have the quick-twitch ability to hold his own from the slot in the NFL.
Follow me on twitter: @WesBunting