July 16, 2011 -
Barry Dorey
NFP Scouting Series: Oregon State
For the rest of the summer, the National Football Post will be breaking down every team in the Football Bowl Subdivision to identify which players could warrant the most interest from NFL teams in the 2012 NFL draft.
Therefore, today we take a look at the senior class of the Oregon State Beavers.
Offense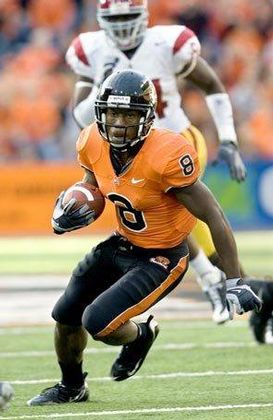 ICONWhen healthy Rodgers can create in the open field.
WR James Rodgers: No. 8 (5-7, 188) -Report is based off the 2009 season-
A slippery, undersized wide out who is at his best when put in motion and/or line-up from the slot vs. a free release. Does a nice job getting into his routes quickly and is very smooth/patient. Possesses good body control and always seems to maintain proper balance in and out of his breaks. Does a nice job dropping his shoulder and shrugging off/avoiding any contact down the field and exhibits a real feel of where to sit down in coverage. Is a sudden start and stop athlete, quickly snapping off his routes, keeping his feet under him and locating the football. Sets up his routes well and possess the kind of footwork to cleanly change directions and generate a burst out of his breaks. Looked much improved as a route runner from 2008.
Displays the ability to consistently breakdown and make a man miss after the catch. Will let the football get into his body too often and will struggle to adjust to poorly thrown balls. However, accelerates quickly into the open field, possesses good play speed and is a threat every time he gets his hands on the football. Now, lacks size and isn't a guy who will be able to consistently beat press at the next level, is limited in what he can do, but there is certainly a pace for him in the NFL, if healthy.

Missed the second half of the 2010 season after tearing ligaments in his left knee. Was granted a medical hardship, but has had two operations on the knee since October and will be a major medical risk.
Impression: A coordinated, shifty little athlete who has the ability to quickly generate separation for himself vs. man coverage and create after the catch. He's a luxury pick for an NFL offense, but can definitely add some talent from the slot and help out on special teams as well if he can regain his health.
Defense
OLB Cameron Collins: No. 5 (6-2, 238)
A former safety turner nickel backer who possesses an athletic looking frame and good initial burst/closing speed for the position. Showcases a quick first step when attacking the line of scrimmage, gets up the field in a hurry and displays the ability to close in pursuit. However, lacks a great feel for the run game at this stage as a backer, has a tendency to overrun the play and takes his fair share of false steps. But, to his credit, displays good fluidity when asked to open up his hips and re-direct. Chops his feet in order to collect himself and just seems to be going 100 miles per hours too often with no real idea of where the ball is going. Nevertheless, he makes his mistakes at full speed, works hard to get himself back into the play and uses his length well to wrap and breakdown on ball carriers.
Is developing a feel in the pass game as well. Again displays above average fluidity, burst and closing speed in zone coverage. But struggles to feel routes develop around him and doesn't read and react quickly to the quarterback at this stage. Gets caught staring down the QB too often, stops moving his feet and is slow to decipher info. Put himself around the action quickly because of his athleticism, but is a very reactive player at this stage and not real proactive.
Impression: Needs more experience, but there is some talent to work with. Isn't a draftbale guy at this stage, but might be an interesting "athlete free agent" to take a shot on who should be able to fight for a spot on special teams.
CB Brandon Hardin: No. 17 (6-2, 218)
A tall, physically put together kid with a strong looking frame. Looks the part more of a safety than corer at this stage. Plays primary on the boundary and displays a natural feel for the game in zone with a passion when asked to come up and play the run. Reads and reacts quickly to plays, keep his head on a swivel and recognizes his run/pass key. Takes good angles toward the football in pursuit vs. the run game, is a sound wrap-up guy who displays natural power and can create a snap into contact. Has the physicality to set the edge as well and works hard to shed blocks.
Isn't real quick when asked to play near the line and mirror initially vs. press coverage. Does a good job sitting into his stance, but isn't a natural bender and doesn't look real comfortable trying to keep his base down through his backpedal. Allows his pad level to rise, struggles to maintain balance in press when trying to get his hands on defenders and too often is just forced to open up his hips and bail. Doesn't do a great job staying low when asked to turn and run, loses a step in his transition and you can get behind him down the field. Lacks the type of second gear to make up for a false step. Better suited in zone coverage where he doesn't need to be as precise off the line. Is physical on contact and gets just average depth in his drop in cover two. Plays faster because he's able to decipher info quickly and get early jumps on the football. However, doesn't have a great burst out of his breaks, looks stiff and plays a bit high.
A stud special teams player however. Works hard as a gunner, displays a passion for kick coverage and has the ability to make your team in that aspect alone.
Impression: Looks like a player who needs to transition to safety. I don't think he's a starter you can play in the deep half. However, if you're looking for a reserve in the box type safety who can add some talent to your special teams unit, Hardin is your guy.
FS Lance Mitchell: No. 10 (6-2, 210)
A tall, leaner safety with a long set of legs who struggles to maintain balance and be compact in and out of his breaks. Displays good balls, is coordinated when asked to attack the football and showcases above-average instincts in the deep half. Likes to feel routes around him. Gets early jumps on the football, takes proper angles and uses his length to make a play on the ball at its highest point. Displays natural ball skills to his game and coordination when playing the throw. However, he's limited as an athlete. Lacks ideal fluidity when asked to turn and run, struggles to keep his pad level down, re-direct and generate a burst for himself back out of his breaks. Doesn't have much range/second gear in the deep half and despite his slight ball hawking abilities, will struggle to make plays in space at the next level.
Has improved his overall pop/power as a tackler from 2009 to 2010. Does a better job bringing his legs with him through contact, but still has a tendency to drop his head and fails to see what he hits. Displays only average power in the open field, lacks ideal balance/pop when asked to breakdown in space and will struggle to consistently make tackles off his frame. However, displays a willingness to attack downhill and create collisions on contact at the line of scrimmage.
Impression: Improved as a tackler in 2010 and does have some natural ball skills. I just don't think his athletic skill set is going to give him a chance to make many plays on the football in the NFL.
Follow me on twitter: @WesBunting