July 06, 2011 -
Barry Dorey
NFP Scouting Series: Oregon
For the rest of the summer, the National Football Post will be breaking down every team in the Football Bowl Subdivision to identify which players could warrant the most interest from NFL teams in the 2012 NFL draft.
Therefore, today we take a look at the senior class of the Oregon Ducks.
Offense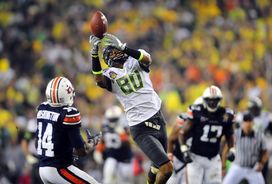 <span>ICONTuinei can be a matchup nightmare down the field.
WR Lavasier Tuinei: No. 80 (6-5, 216)
A tall, lanky wideout with a massive wingspan and a frame that can get even bigger. Is limited as a route runner both physically and because of the Oregon offense. Is tighter in the hips and isn't a guy who can really keep his feet under him and accelerate out of sharply breaking routes. Tends to really round off his breaks and drift as a route runner. Has a little more suddenness to his game working the three-step game vs. air, but isn't often asked to beat man coverage off the line and doesn't seem quick enough to win vs. press in the NFL routinely.
However, for the most part, is only asked to run down the seam from the slot, track the football and go make a play. Isn't real shifty/explosive off the line, possesses strider speed, but isn't a quick starter. Picks up speed as he goes and displays the ability to go up and get the football. Looks coordinated adjusting to the throw as well, contorting his body and using his length to pluck the ball away from his frame. Isn't afraid to extend and work the middle of the field and displays "plus" hands for the position. However, isn't a guy who will separate much in the NFL, lacks an explosive element to his game and is far from a consistent route runner.
Will get after it on the outside in the run game. Is physical on the edge, uses his length well to stick to blocks and is heavy handed. Works hard to win on the outside and can consistently eliminate his man from contact.
Impression: Possesses good size, body control and hands in the pass game and will win as a blocker. However, he plays at one speed and doesn't have the type of gear to consistently separate out of his breaks in the NFL.
TE David Paulson: No. 42 (6-3, 242)
Possesses average height for the position, decent thickness through his lower half and good length. But, is a tight-hipped kid who really struggles to keep his base down when sitting into his stance. His base sticks upright, he bends at the waist when releasing off the line and needs to do a better job staying down and accelerating off the ball. Exhibits some short-area quickness when asked to avoid the bump and can keep himself clean. However, it takes him a bit to get up to speed. Is a strider who doesn't display a ton of short-area quickness to his game. Lacks short-area quickness as route runner on sharply breaking routes, really rounds off his breaks, gears down and will struggle to separate in the NFL in tight areas. Is at his best running vertically down the seam. Possesses deceptive strider speed, tracks the football well and exhibits excellent body control when asked to adjust. Possesses great hands, consistently can pluck off his frame and displays the coordination to routinely contort his body and adjust to the poorly thrown ball. Is one of those guys who has a savvy getting open down the field and even when he's covered up, he can still make a play on the throw.
Used all over as a blocker. Struggles to quickly get into defenders and keep his base down into contact as an in-line guy on the edge. Works hard, extends his arms well, but lacks an initial pop, doesn't get much movement and struggles to stick through contact. Is better suited as a move guy where he gets out to the second level well, takes good angles and breaks down at the point. However, leads with his shoulder and is just looking for an initial pop. Isn't real sticky and fails to consistently use his hands. Also, is used at times in the backfield as a lead guy, but struggles with pad level and is easily stone walled in the hole.
Impression: A natural pass catcher who can make plays down the field, but isn't a real gifted straight-line athlete. Is tight hipped as a route runner, can't win consistently as a blocker and looks nothing more than a late round/FA option who will be limited in what he can offer an offense.
OT Mark Asper: No. 79 (6-7, 325)
A tall, big-bodied right tackle prospect who does a decent job keeping his base under him in his stance. However, has a tendency to pop upright off the line in the run game and lacks natural bend/flexibility to his game. Displays decent short-area quickness on the move when asked to step and seal. Uses his long arms to get into defenders and when he gets his hands on you he works hard to stick through contact. But, struggles with leverage, gets upright on contact and isn't a guy who creates much of a snap at the point of attack. Routinely allows defenders to get under his frame, can be stonewalled on contact and lacks ideal balance through the play. Ends up on the ground far too often as he routinely gets caught overextending and falling off blocks. Isn't real coordinated when asked to cut down defenders off his frame, struggles to drop his pad level quickly and get into the body of his target. Possesses average coordination when working to the second level but again, gets so upright that he has a tough time creating a pop even vs. defensive backs.
Displays decent coordination in pass protection. However, plays too high, his footwork routinely gets overextended -- whether he's trying to reach the edge on his kick slide or quick set -- and doesn't keep his hands up in order to punch and protect his frame. Displays average range to the corner, but isn't a guy who can redirect well/mirror through contact and is going to be routinely bullied on contact vs. the bull rush.
Impression: A nice-sized kid who works hard to stick to blocks in the run game. However, lacks the ability to win with leverage, which in my mind will likely keep him from making a roster.
Defense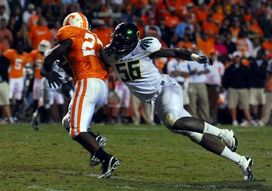 ICONKaddu has the athleticism to intrigue.
OLB Josh Kaddu: No. 56 (6-3, 232)
A well-put-together athlete with a noticeably long set of arms. Displays an initial burst when asked to close from the backside, exhibiting good closing speed in pursuit and generates a pop as a tackler. Keeps his base down into contact, uses his length well to wrap and can be violent at the point. Doesn't have a great feel for the game at this stage, however, and can be a bit slow to react at times and decipher information. Plays on the strong side and is used consistently to attack downhill. Extends his arms well into contact and maximizes his length at times, displaying the ability to create a jolt on contact when taking on blocks. However, doesn't possess the anchor strength at this stage to routinely hold the point of attack at the next level. Doesn't have a great feel of how to use his hands either.
Used in a variety of ways on third down. Isn't a natural pass rusher at this stage. Possesses a good initial burst off the line standing up, but struggles to fatten out on the corner. Gets upright and looks too tight to drop pad level around the edge. Most of his pressure comes off his motor/work rate. Doesn't have much of a pass-rushing arsenal, seems to slow hi s feet when trying to decipher information and isn't a real impact guy when asked to reach the QB. Displays slightly above-average fluidity in the hips when asked to open up and run. However, gets upright, struggles to keep his feet under him and is leggy in and out of his breaks taking away form his initial burst. Showcases good closing speed once he gets his legs back under him, but doesn't feel/anticipate routes well in zone coverage.
Impression: Displays a good athletic skill set, runs well and possesses some natural power to his game. But is a better athlete than football player at this stage. Looks like the kind of guy who will need to make his mark on special teams.
SS Eddie Pleasant: No. 11 (5-10, 213)
A stocky, downhill-type safety who plays the "rover" position at Oregon. Made the move from linebacker in 2010 and is at his best near the line of scrimmage. Displays above average read and react ability vs. the run game. Keeps his base down, generates a burst out of his stance and displays "plus" click and close ability. Takes good angles to the football, doesn't do a great job breaking down, as he at times gets high, but for the most part gets the ball carrier to the ground. Plays with some nasty, works hard to fight his way through blocks and his low center of gravity allows him to consistently keep his balance and work through contact.
Has a good feel vs. the pass game. Plays a lot in the slot on the boundary side with his back toward the sideline. Displays a good feel for routes developing around him getting early jumps on the throw and putting himself around the football. However, is tight in the hips, has a tendency to get locked up out of his breaks and is slow to turn and run. Doesn't generate much depth in his drop and needs to get his hands on receivers/tight end and re-route in order to keep pace in coverage. Isn't a guy who I would trust in space, possesses solid game speed and plays faster because he reads the game pretty well, but isn't someone who can make up for a false step and get over the top. Looks like a 4.55-plus guy and has some off the field character concerns as well.
Impression: A thick, stocky OLB/SS tweener who might be best suited to find a niche as a backer in a cover two scheme. Needs to make his mark on special teams, but should get a shot in a camp and in the right scheme could fight for a roster spot.
Follow me on twitter: @WesBunting