July 04, 2011 -
Barry Dorey
NFP Scouting Series: Penn State
For the rest of the summer, the National Football Post will be breaking down every team in the Football Bowl Subdivision to identify which players could warrant the most interest from NFL teams in the 2012 NFL draft.
Therefore, today we take a look at the senior class of the Penn State Nittany Lions.
Offense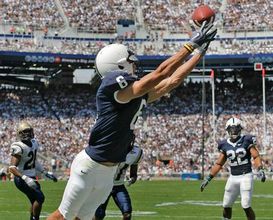 ICONMoye uses his length well when asked to adjust to the football.
WR Derek Moye: No. 6 (6-5, 202)
A tall, wiry wide out prospect with a long frame, long arms and the ability to add weight and get even bigger. Showcases natural short area quickness off the line and a savvy about his game when asked to defeat press coverage. Does a nice job setting up corners with a jab step, uses his long arms well to keep himself clean and can quickly get into his route. Looks comfortable working the three-step game off the line and uses his body to shield and go get the football. Lacks ideal explosion once a corner gets their hands on him and it takes him a bit to get up to speed on his outside release, but does a nice job dropping his pad level and trying to stay low when absorbing contact. For his size is a pretty clean/sharp route runner on inward breaking routes, need to slow his feet in order to get out of his breaks, but works back well toward the football and identifies soft spots underneath. Is an average athlete for his size, doesn't posses a real explosive element out of his breaks and doesn't have a real change of gear as a route runner. Needs to do a better job extending his arms in order to pluck the football. Too often let's throws get into his frame and I would like to see him use his length more consistently.
Possesses the ability to track the football vertically. Isn't a burner, looks like a mid/high 4.5 guy. However, possesses deceptive strider speed and once he get those wheels turning he can be a tough cover down the field. However, despite his size isn't a big time jump ball threat. Lacks ideal power, struggles with balance when trying to collect himself and will drift away from the football. Would like to see him set his feet and really attack the throw more consistently. Will get after it in the run game. Is long armed, works to stay on blocks and has some nasty when asked to cut down defenders off the line. Isn't overly physical, but can win on the outside.
Impression: A big wide out who uses his skill set to get off press and has some sneaky strider speed down the field. Isn't going to separate a ton in the NFL, but can win in the three step game, work the middle of the field and being able to beat press gives him the versatility to play on either on the outside or in the slot at the next level. More of a reserve only however.
OG Johnnie Troutman: No. 74 (6-4, 323)
A naturally thick kid with a muscular looking base and good height for the position. However, isn't a real natural bender. Looks tight when asked to sit into his stance, struggles to really drop his butt under his frame and his initial movement off the snap is typically at the waist. Possesses a strong upper and lower half and can create some pop on his punch and move defenders off the line once he gets a hold of them. However, struggles with balance and body control through the play. At his best when asked to block down in Penn State's zone scheme, unleashing his powerful punch and finishing through contact sealing inside. However, rolls his hips and gets upright as an in-line guy, will allow defenders to get into his frame, takes a jolt on contact and struggles with his balance to stick through the play. Likes to have his hands on defenders and too often gets caught lunging into contact. For a big guy looks like an above-average athlete on the move. Has the range to pull from the backside, can breakdown with good success and seal on the play. However, isn't overly powerful on contact because he struggles to drop hips and unleash a powerful thrust from his lower half.
Will struggle to reach explosive defensive tackles inside off his frame in the pass game because of initial first movement from the waist. Displays only average anchor strength for his size because he struggles with leverage and hand placement, often getting his hands outside the frame of defenders. However, has a naturally strong lower half, is quick to re-set his feet and does try to sink his hips once he re-sets his feet through contact. Can keep base down much better from two-point stance in pass protection, but again will lunge into contact. Displays some good lateral quickness for his size vs. the pass game and can mirror with some success even in space. But, isn't a real balanced/compact puncher at this stage.
Impression: He's a big, thick kid with a naturally strong lower and upper half allowing him to rag doll/control blocks at times even with poor technique. Needs to continue to improve balance and wasted motion off snap in run game, but his combo of size/athleticism is enough at this stage to warrant a shot late in the draft.
Defense
DT Devon Still: No. No. 71 (6-4, 311)
A tall, physically put together defensive lineman with good girth through the lower half, but has the frame to get even bigger. Possesses "plus" power and get off burst for his size, but is still learning how to put it all together. Has the ability to bend, as he at times keeps his base down and butt under him off the snap. And when he can gain leverage on contact the guy has the ability to consistently overwhelm at the point and dominate. Possesses good power on his bull rush, exhibits the strength to consistently drive blockers into the backfield and is also much more sudden laterally when his feet are under him. However, has a tendency to get upright too often and can easily be eliminated inside. Ends up on the ground far too often for someone with his physical skill set. Loses balance easily inside trying to get up the field because of his pad level, fails to breakdown and can be ridden to the ground too often. Displays some developing pass rushing skills, used his hands much better toward the end of the year in order to defeat blocks. Showcases a nifty arm over, some natural lateral quickness when trying to slip blocks and can simply overwhelmed and/or pull the rug out from a blocker. However, when he gets high he can easily be stonewalled and has a somewhat inconsistent motor.
When the pad level is down in the run game, the guy can anchor, shed and make plays off his frame. Is long armed, can gain inside leverage and use his power/quickness to rag doll blocks and disengage. However, too often comes off the ball high and can be washed out easily at times, even pancaked vs. stronger offensive lineman. Possesses the athleticism to get up and down the line defeating reach/slide down blocks, but again motor and passion both come into question with this guy.
Impression: I can see why some talent evaluators have this guy ranked so high because the talent is most definitely there. However, I have some concerns about his motor and overall passion for the game that make me think he might not ever live up to that gifted physical skill set. Can be as good as he wants in the NFL and is capable of playing both spots inside in a 4-3 and as a 34 five technique as well. But, needs to put it all together.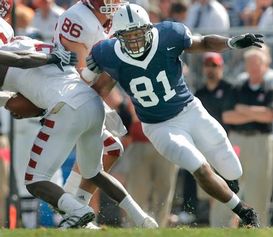 ICONCrawford certainly looks the part.
DE Jack Crawford: No. 81 (6-5, 265)
Was born in London and didn't start playing football until his junior year in high school. Possesses a good looking frame, but isn't the most explosive of athletes, struggles with his flexibility when asked to sit into his stance and isn't a guy who can routinely threaten the edge. Doesn't possess a real sophisticated pass-rushing arsenal as he consistently tries to reach the corner, working his club move to the outside. But even if he gains a step struggles to drop his shoulder and fails to really bend around the corner. Is routinely pushed past the pocket and doesn't have the type of fluidity/short area quickness to work any kind of sudden change of direction move. Doesn't play with consistent leverage either and despite his natural power at this stage isn't a real effective bull rusher because of pad level.
Is inconsistent vs. the run game as well. Has the ability to gain leverage on contact vs. the run at times and uses his natural power to set the edge and get a push into the backfield. However, gets upright when looking to disengage and can be sealed from the play. Is still learning how to use his hands. Possesses long arms and at times can be violent/sudden on contact. However, too often his high pad level takes away from his balance, which minimizes his ability to be sudden/powerful when trying to shed. Looks to lumber in space. Isn't overly instinctive when asked to close and despite his above-average work rate doesn't make a ton of plays in pursuit.
Impression: A big, strong defensive end prospect who still has some upside to his game. But won't be able to take that next step until he learns to play with a more consistent pad level. A size prospect worth having in camp, but a fringe draftbale guy at this stage.
CB D'Anton Lynn: No. 8 (6-0, 208)
A physically put together boundary corner with a big frame and muscular set of arms. Looks comfortable both in pressman and off the line in zone coverage. Possesses above-average balance to his game when re-routing off the line, can get a good jolt into receivers and sinks well into coverage. Displays good anticipation skills when asked to feel routes develop around him. Gets early jumps on the throw, adjusts well to the play and can come down with the interception. Snaps his head around quickly vertically down the field and uses his length well to get his hands on the football. However, needs to do a better job getting his feet under him and attacking the throw at its highest point. Is a bit tight hipped which shows up routinely in man coverage. Uses his length well to be physical down the field, but struggles to quickly breakdown and change directions out of his breaks. Gives up his fair share of separation even in tight area. Is at his best in zone where he can use his anticipation skills to get early jumps on the throw, allowing him to play faster than he times.
Possesses only average straight-line speed for his size however, doesn't reach top end speed quickly vertically down the field. Has a tough time turning and running with faster receivers in man coverage and will allow completions behind him. Despite his size isn't the most physically impressive of tacklers. Will stick his head in and is willing, but too often gets caught not squaring up ball carriers on the outside and whiffing into contact, Would like to see him play bigger.
Impression: A tall, long corner who can be physical off the line and displays a good feel in zone coverage. Looks like a cover two guy only who will struggle when asked to turn and run vs. faster NFL receivers. But he has the size to tackle, plays the ball well and looks like a reserve type corner who needs to play on the outside in order to be effective.
Follow me on twitter: @WesBunting