June 25, 2011 -
National Football Post
NFP Scouting Series: Purdue
For the rest of the summer, the National Football Post will be breaking down every team in the Football Bowl Subdivision to identify which players could warrant the most interest from NFL teams in the 2012 NFL draft.
Therefore, today we take a look at the senior class of the Purdue Boilermakers.
Offense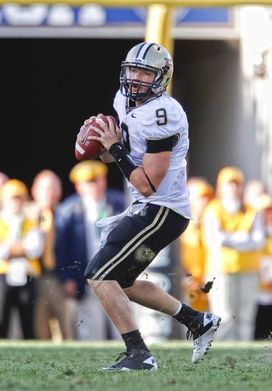 ICONMarve struggles to find throwing lanes behind the line.
QB Robert Marve: No. 9 (6-1, 210)
An athletic, but undersized quarterback prospect who lacks ideal height and girth for the position. Struggles to see over the line of scrimmage, routinely has passes knocked down when asked to throw from the pocket and in order to be successful is consistently rolled away from the pressure. Lacks NFL arm strength, has an inconsistent release and is just really raw in all areas of the game from a mechanics standpoint. Needs to do a better job maintaining his balance when releasing the throw and generating more torque from the lower half. Doesn't transfer his weight at all into throws, really taking away from his potential velocity as a thrower, as he routinely just throws from the waist up. Gets the ball out quickly and on time when he knows where to go with the pass. Is some what accurate in the short passing game and does a nice job making his pre snap reads, determining where to go with the football and getting it out of his hands. However, reads only one half of the field typically and doesn't look real comfortable when asked to work any kind of secondary read. His eye level goes down quickly, he routinely flushes himself out of the pocket instead of stepping up and the game seems to speed up on him when he's on the move.
Now, he is a "plus" athlete for the position who can create in space, buy time with his legs and occasionally create the big play. However, struggles with balance/zip/accuracy when throwing on the run. Needs to do a better job protecting himself into contact, exposes too much of his frame into hits and has had a tough time staying healthy throughout his career. Immaturity issues and character concerns have also followed him throughout his college career.
Impression: Kind of a college version of Jeff Garcia, but plays with even more reckless abandon. Is really inconsistent with his footwork, release and simply not sound mechanically. Lacks the necessary physical tools needed to make up for it.
OT Dennis Kelly: No. 68 (6-8, 305)
A tall, lean, long armed offensive tackle who lacks ideal girth through his backside and struggles to generate much power from his lower half into contact. Plays high and struggles to really sit into his stance and bend. Stands upright off the ball in pass protection and struggles to generate leverage for himself and keep his base down. Is more of a grabber than puncher. He does set quickly, but gets upright and leggy toward the edge. Doesn't stay compact enough with his footwork to re-direct quickly and mirror in space. Isn't a guy who will be able to anchor at the point of attack either in the NFL because of his struggles with his pad level.
Works hard in the run game, but doesn't fire off the ball low enough to create leverage for himself. Pumps his legs through contact, but displays poor hand placement and again is more of a grabber than striker. Hands consistently go outside the body of his opponent however; he is tough to disengage from through and works hard to stay on blocks. But, looks to be holding a lot of the time. Is a decent athlete getting out to the second level and reaching a target in space. But, doesn't breakdown real well causing him to consistently lunge into his target. Is a seasoned starter on the Purdue offensive line who hasn't had any trouble with his durability throughout his career.
Impression: Plays too high and leggy and will struggle to hold his own in either the run or pass game at the next level.
Defense
FS Albert Evans: No. 32 (5-11, 206)
A former high school running back with a thicker, compact frame. Has experience at linebacker as well and was moved back to safety in the spring of 2009. Isn't real balanced in his drop off the line. Tries to keep his base down, but looks fidgety and uncomfortable with his footwork. Doesn't stay real compact when trying to get depth in the deep half and needs to chop his feet in order to collect himself and get out of his breaks. Isn't real instinctive, slow to read and react and doesn't make many plays on the football. Lacks a great initial burst when trying to close as well, lacks a great first step and doesn't have the range to get over the top in the deep half.
Does possess good wrap up ability/coordination as a tackler, both in a phone booth and in space. Takes good angles in the open field, plays the game with a mean streak and wraps routinely on contact. Is a solid last line college defender who at times will see his angles outpaced, but has the natural power/body control to find a way to get his man to the ground, but I have reservations about him doing the same in the NFL. Doesn't do a great job however inside the box. Struggles to quickly key and diagnose the play. Doesn't seem to put himself around the action routinely and can easily be washed out/sealed when trying to pick his way through traffic.
Impression: A compact kid, but I can't see him holding up in space vs. an NFL pass game and isn't dynamic enough vs. the run to make up for it.
Follow me on twitter: @WesBunting