June 13, 2011 -
National Football Post
NFP Scouting Series: South Carolina
For the rest of the summer, the National Football Post will be breaking down every team in the Football Bowl Subdivision to identify which players could warrant the most interest from NFL teams in the 2012 NFL draft.
Therefore, today we take a look at the South Carolina Gamecocks.
Offense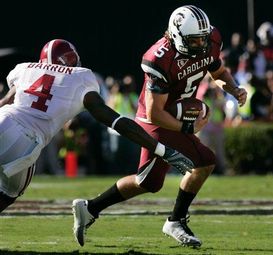 Garcia is tough to bring down with the ball in his hands.
QB Stephen Garcia: No. 5 (6-2, 230)
A thick, stout quarterback prospect with a strong-looking trunk and has the overall girth to handle the rigors of playing quarterback in the NFL. Is much cleaner mechanically than given credit for. Does a nice job from under center quickly getting away from the line of scrimmage and balances his feet well before letting go of the football. Keeps good width between his feet, generates natural torque into his passes and can throw in rhythm from his drop without consistently being forced to hitch into throws. Possesses a strong enough arm to make all the throws — passes do tend to wobble though — but overall he can fit the football into tight areas in the intermediate pass game and exhibits inconsistent touch on the fade. Holds the ball high in his drop and possesses a quick release in order to get the ball out on time.
However, at times just gets loose with his mechanics, looks content to fall off throws in the pocket with no pressure, doesn't transfer his weight and seems content to just flick his wrist in the short pass game causing his accuracy to struggle because of it. Just has these lapses in his mechanics during the game at times that really hurt him both from the pocket and on the move. Also, gets a bit excitable in the pocket, isn't as calm when he feels pressure, gets happy feet and will look to flush himself prematurely at times. Does show the ability to step up inside when he does feel the outside rush, keeps his eyes down the field and maintains solid balance in his lower half. Is comfortable throwing on the move, is also quick to reset his feet and displays nice touch/accuracy when asked to improvise and throw from an assortment of angles. Is tough to bring down in the pocket as well, as he's strong kid with a low center of gravity. However, will force the football into traffic down the field when he's on the move, at times thinks he can fit the ball into anywhere when flushed from the pocket causing some unnecessary turnovers.
Handles the football well, sells the play fake off play action, is comfortable with his back to the line of scrimmage and is a threat to take off and hurt defenses with his legs. Isn't a great straight-line or real shifty athlete, but he has some sneaky quickness, lowers his head and will break tackles and fight for yards. Needs to learn to take better care of himself at the next level however. Is limited when asked to go through progression from the pocket. Reads only one side of the field and his completion percentage really goes down when his initial read isn't on. Will force the ball into coverage and struggles to quickly decipher info at times when locating secondary options.
Has been suspended five times during his career at South Carolina and is an obvious character concern. You have to wonder how important football is to him if he keeps putting his team behind the 8 ball with his off the field troubles.
Impression: A better quarterback prospect than I thought coming in. Can make all the throws, balanced from center and settles his feet well into throws. However, is really inconsistent with his mechanics at times and his lapses in concentration kill him. His off the field reputation is a killer on his draft stock as well and because of it looks like a free agent to me.
OG Rokevious Watkins: No. 73 (6-4, 320)
A tall, thickly built interior lineman who's long armed and isn't real compact in his lower half. Displays average bend to his game when asked to sit into his stance, keeps his base down and head up off the snap and sets very quickly. Demonstrates a good first step, gets his hands up quickly in pass protection and uses his length well on his punch to keep defenders from getting into his frame. However, allows his pad level to get upright when trying to engage. Against better athletes inside he will get caught overextending and struggles to shuffle and slide through contact, will fall off blocks after his initial punch. Slides his feet well laterally in space and has some lateral quickness initially off the snap. Displays a powerful upper body and can stick to blocks at times even when overextended in his lower half as he maximizes his length into defenders. However, should be a much better Velcro player and needs to learn to play more balanced/compact in his lower half.
The same problems come up in the run game as well. For a big man does a nice job sitting into his stance and firing off the football low, keeping his base down and has an explosive element to his game getting into defenders. However, gets caught lunging into opponents too often off the snap, gets his head/shoulders out in front of him, doesn't move his feet and can be slipped at the line by better athletes. When he can get into defenders off the ball he demonstrates natural power as an in-line guy. Can create leverage, extend his arms and drives his legs through contact initially creating a seam. However, too often ends up on the ground and falls off the block the longer he's asked to stay on it because of his struggles with balance.
Impression: A big body with natural power and average bend, but needs to become more balanced in all areas of the game. Isn't tight hipped, just gets his head/body out in front of his feet too often in all areas of the game. Has the natural talent to start in the NFL, but is going to need to work at his trade and it's going to take some time.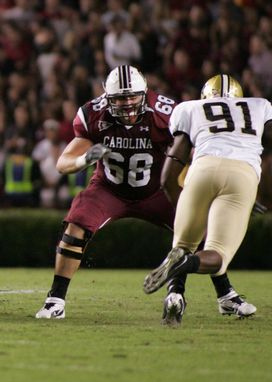 ICONNunn struggles with his pad level consistently on the edge.
OT Kyle Nunn: No. 68 (6-5, 298)
A tall, lean offensive tackle prospect who lacks ideal girth through his lower half and will struggle with power in the NFL. Is a good athlete, displays an impressive burst out of his stance in the run game, looks like a tight end the way he pulls and can play in space and can consistently reach defenders off his frame/seal at the second level. Understands angles in the run game, steps and seals quickly and allows defenders to take themselves out of plays. Lacks the power to be an effective in-line guy in the NFL. Plays nearly exclusively from a two-point stance, struggles with leverage and doesn't possess the natural strength to win on contact at the college level let alone in the NFL.
Displays above-average natural range off the edge in pass protection. Is a good athlete who can hold his own in space. However, isn't real technically sound. Lacks the ability to keep his base under him off the snap/through the play, takes a long power step allowing his lower half to get overextended and seems to just shuffle his feet laterally and really struggles with power because of his high pad level/footwork. Tends to simply just lunge into blocks on the edge when he has to anchor and fails to consistently stick through contact.
Impression: A good natural athlete for the position. However, doesn't play with much leverage, is raw with his footwork and isn't anything more than a developmental athlete.
Defense
DT Travian Robertson: No. 42 (6-4, 298)
Possesses good overall girth through his lower half for a defensive tackle with his height. Is thickly put together, has some natural lower body strength and sits well into his stance. For the most part does a nice job keeping his base down off the snap and exhibits some anchor strength inside. Is tough to drive off the football down the field, however, needs to do a better job recognizing the play inside. Can take himself out of plays and easily get sealed at times vs. any type of additional attention. When he locates the football displays good length and strong hands when asked to disengage, but isn't a real sudden athlete. Doesn't exhibit a real explosive element to his game when asked to shed and the further the ball is off the frame the less likely he can make a play. At times gets upright off the snap and will be overwhelmed on contact, but for the most part can anchor either playing the nose or three technique. Works hard in pursuit and does a decent job playing off blocks down the line, but his closing speed is average at best.
Isn't a natural pass rusher at this stage. Gets upright off the football, not real explosive off the snap and isn't a consistent force as a bull rush guy. Lacks the athleticism to threaten gaps off the snap or laterally shed blocks and has a tough time disengaging once a lineman gets his hands on him.
Impression: A tweener three technique/nose who is at his best vs. the run, but doesn't have the kind of natural size/power to be dominant in that area. Has some upside and needs to add more weight in order to hold up as a nose consistently in the NFL. But is limited as a pass rusher and looks like a free agent to me.
Follow me on twitter: @WesBunting