July 13, 2010 -
National Football Post
NFP Scouting Series: South Florida
For the rest of the summer, the National Football Post will be breaking down every team in the Football Bowl Subdivision (formerly known as Division I-A) to identify players who could warrant the most interest from NFL teams in the 2011 draft.
Therefore, today we take a look at the South Florida Bulls.
Offense
OC Sampson Genus: No. 62 (6-0, 319)
A thick, heavily built center with a lot of extra girth through his midsection. Showcases decent snap and step ability, quickly getting his hands up and extending his arms off the snap, but he doesn't generate much power into contact as a puncher. Struggles when asked to stay on blocks laterally and consistently loses his balance when engaged. Isn't real heavy handed and doesn't look fluid or natural when asked to mirror one-on-one inside. However, does display above-average overall anchor strength on contact, can generate natural leverage for himself and does a nice job of holding up inside vs. the initial bull rush.
Possesses only average initial burst off the snap as an in-line run blocker and although he does a good job of getting under the pad level of opposing linemen, he has a tendency to get overextended into contact and fall off blocks. Is easily slipped after his initial surge, and even then he doesn't generate much movement off the football. Isn't real natural on the move either, but exhibits decent straight-line speed and body control for his size. Has the ability to occasionally lunge into defenders and cut them down at the second level.
Impression: Lacks the necessary length and overall balance as a blocker to stay on defenders through contact in both the run and pass game at the next level.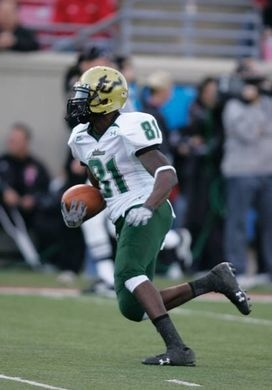 ICONBogan has the shiftiness to create some separation for himself vs. press coverage.
WR Dontavia Bogan: No. 81 (6-0, 184)
Possesses average height, but is a bit thin and lacks ideal girth for the position. However, is a balanced athlete who displays some shiftiness to his game. Does a nice job avoiding defenders off the line and/or down the field and quickly accelerating into daylight. Isn't real explosive off the snap and lacks great speed down the field, but knows how to create a step when corners want to be physical and try to get into his frame. Exhibits a good set of hands and does a nice job working himself free and tracking the football over his shoulder.
Isn't the sharpest of route runners and has a tendency to start to drift into his breaks and advertise his routes, especially in the intermediate pass game. Lacks the skill set needed to create on the outside at the next level.
Impression: A slot guy only with some short-area quickness, but not enough for me to take a shot on as a draft pick. Will have a tough time making an NFL roster, but should be able to get himself into training camp.
Defense
DT Terrell McClain: No. 97 (6-2, 300)
Doesn't play nearly as low or generate as much leverage as you would expect from a guy his size. Struggles to really sit into his stance and keep his pad level down off the ball. Too often gets upright and fails to anchor with much power/consistency inside. Allows opposing linemen to easily get into his frame and struggles to use his hands in order to disengage when run at. Can easily be sealed from the football and isn't real rangy when asked to make plays away from his frame. Struggles to consistently break down and tackle even in a phone booth, as he has a tendency to run himself right past the football, lacking ideal instincts inside.
Displays some natural quickness and coordination as a pass rusher, but his ability to be sudden and shed blocks is again limited by his high pad level. Struggles to use his hands at this stage and lacks a real understanding of how to disengage and keep himself clean. But is the kind of athlete that can side step/spin himself free away from blocks when given an opportunity in space. More of a finesse guy who can rely on his quickness and footwork only in order to be effective.
Impression: Possesses an average-sized frame and some decent athleticism, but his inability to use his hands and play with leverage really hurts his chances of making an NFL roster.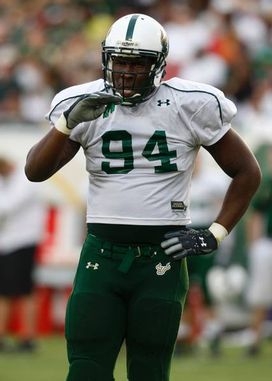 APMarshall is a work in progress, but the skill set is most certainly there.
DE Craig Marshall: No. 94 (6-4, 264)
Possesses the typical South Florida build for a defensive lineman. Tall, lean and long-armed. Showcases natural athleticism and flexibility when asked to coil up into his stance and does a nice job of getting his hands under the pad level of opposing linemen. However, needs to do a better job of keeping his base down into contact and extending his long arms into blocks. Doesn't generate much of a pop on contact from his lower half as a puncher and isn't a consistent stack and shed guy when run at. Now, has the body control/length to rip himself free once the play passes and will work from the backside, and he does possess the frame to add even more strength/girth to both his upper and lower body and become a much better run defender. But as of now he isn't there yet.
<p> Displays a good first step as a pass rusher and possesses the length and upper body strength to eventually shed himself free from blocks. Also is very nifty for a guy his size with the body control to cleanly change directions and accelerate up the field. However, again, is still learning to play with leverage and maintain balance when extending his arms into blocks. Consistently waits until he is engaged to try to start working his hands and allows his pad level to pop upright consistently into contact, keeping him from generating maximum power on his bull rush and/or fighting his way through contact.
Impression: He's a good-looking piece of clay who has a skill set and frame that is NFL caliber. Needs some work, but definitely looks like a draftable prospect on pure upside alone. More of a developmental guy at this stage who could end up paying off big time if you are patient.
Follow me on Twitter: @WesBunting
Ready for fantasy football? Click here to purchase the 2010 Total Access Pass/Draft Guide from the NFP.