July 13, 2011 -
Barry Dorey
NFP Scouting Series: Southern Cal
For the rest of the summer, the National Football Post will be breaking down every team in the Football Bowl Subdivision to identify which players could warrant the most interest from NFL teams in the 2012 NFL draft.
Therefore, today we take a look at the senior class of the USC Trojans.
Offense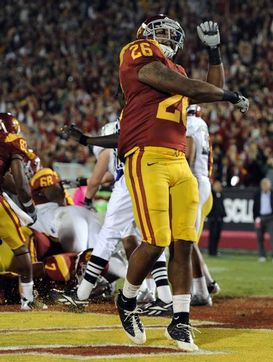 ICONTyler possesses the size to intrigue.
RB Marc Tyler: No. 26 (5-10, 230)
A thick, well strapped together back through both his upper and lower half. However, doesn't have a great first step when asked to press the line of scrimmage and runs upright. Builds momentum/speed as he goes, but doesn't have a second gear, playing at one speed. Displays natural footwork for his size when picking his way through traffic. Is patient inside and does a nice job allowing blocks to set up and finding creases. However, is tighter in the hips and lacks a real lateral quickness/suddenness to his game. More of a linear runner who too often is forced to slow his feet and gear down in order to change directions. Goes down too easily on contact for his size. Isn't a back who can create on his own and is more of a weaver once he gets up to full speed than a cutter. Exposes too much of his frame through the line of scrimmage, taking away from his balance and allowing him to be tripped up routinely through the hole.
Possesses an above average feel for the pass game, sells the screen well, snaps his head around and rumbles toward daylight. Also, looks natural down the field, isn't a guy who can separate vs. man, but adjusts to the ball well and can pluck off his frame. Has the size/power to hold his own in blitz pick-up, but will struggle to slide his feet laterally through contact.
Had two alleged off campus incidents this offseason involving alcohol and women; character could be an issue.
Impression: A big back with limited athleticism and suddenness; doesn't seem to warrant a pick in my view.
TE Rhett Ellison: No. 40 (6-5, 250)
Certainly looks the part. Possesses a long, athletic build and has the frame to add even more weight and get bigger. Displays solid bend sitting into his stance and keeping his base down, but gets a bit hunched in the back at times. Doesn't waste much motion getting into defenders off the line in the run game. Is coordinated and takes proper angles toward his target, extends his arms well, squares up his head with his man and can create a bit of a pop on contact. Needs to do a better job staying balanced and low through the play, as he has a tendency to get overextended and fall off blocks. Nevertheless, can certainly reach blocks on the edge and win on contact vs. backers and seal DEs when need be. Is also comfortable in pass protection, understands angles, plays long and displays good coordination and range in space.
Generates an average burst off the line when releasing into his route in the pass game and too often stands upright, especially when asked to beat some kind of bump, taking away from his explosion into his route. However, does display good short-area quickness when looking to slip defenders. Showcases a smooth arm over, can keep himself clean and get into his route. Picks up speed as he goes and can be a threat to get on top of backers and threaten the seam. Also, exhibits a snap out of his breaks in the pass game. Maintains balance, keeps his feet under him and cleanly changes directions on sharply breaking routes, getting his head around and will pluck the football. Uses his big body to shield defenders from the throw as well and isn't afraid to work the middle of the field and take a lick in order to hang onto the football.
Impression: Isn't an elite straight-line athlete or dominant in-line guy. However, has the ability to be successful in both the run and pass game at the next level. Doesn't look like a starter to me, but could be able to earn playing time early on during his NFL career.
Defense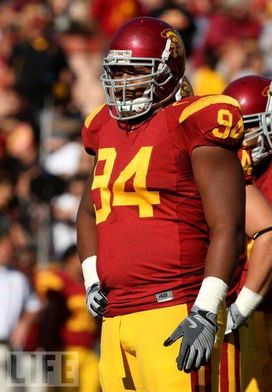 ICONArmstead certainly has the frame and the talent.
DL Armond Armstead: No. 94 (6-4, 292)
A tall, thickly put together defensive lineman with a long set of arms and natural girth through his frame. Plays both inside and out on the USC defensive line. Doesn't sit into his stance real well however. Can play flat backed, but struggles to keep his base down and gets leggy sitting into his stance. Lacks ideal awareness, is often the last defensive lineman moving off the snap and doesn't have the kind of great first needed to make up for it. Isn't the type of athlete that can routinely threaten the edge with his speed rush. More of a contact rusher who is at his best working the bull, gaining leverage with his long arms and using his short area quickness/length to shed. Does displays some natural coordination initially off the ball, but struggles to change directions as a pass rusher once he gets up to speed on his outside rush. Does try to work the arm over at times toward the edge, but is more graceful/smooth than powerful/sudden. Looks more effective rushing the passer from the inside. Plays more motivated, gets off the ball quicker and his short area quickness shows up more in tight areas vs. slower offensive lineman. However, needs to continue to work on keeping his pad level down.
Doesn't dominate at the point of attack vs. the run game the way his body type says he should. Again, is slow off the football and too often allows offensive lineman/tight ends to get into his body. Possesses long arms and the natural power to anchor with consistency. But too often gets jello legged into contact because he's slow off the snap. Allows his pad level to get upright through contact when looking to disengage. Possesses the natural power needed to still hold his own at the college level and eventually shed, but there isn't any real sharp/sudden/decisive movements to his game. Isn't real impressive in pursuit, works from the backside, but rarely looks to be going 100 percent.
Missed the spring of 2011 with chest pains and there could be some medical issues with him going forward.
Impression: Looks like a talented five-star recruit who has yet to live up to his billing. Would like to see him play with more of a mean streak consistently as the tools are there for this 'boom" or "bust" type prospect.
DT DaJohn Harris: No. 98 (6-4, 310)
Is a bit taller than most typical USC defensive tackles, but still possesses that thick trunk and base. Is linear pass rusher who possesses a good first step off the football and when he keeps his base down can be very effective/disruptive. However, is inconsistent in his stance, gets straight-legged at times, comes off the ball upright and doesn't create the necessary burst to his game in order to get into block quickly. Not real sudden laterally, but works his arms well once he gains a step using the rip to fight off blocks and when he keeps his base under him he can fight to disengage and penetrate through contact and into the backfield. Also, displays some bull rush ability as well when he plays with proper leverage.
The same inconsistencies show up in the run game as well concerning his pad level. When he fires off the ball low, shoots his hands and keeps his pad level down on contact he can routinely anchor and fight his way into the backfield. Plus, does a much better job creating a pop on contact, maintaining his balance and is more effective when looking to shed. However, too often he sits too high into his stance, allows opposing blockers to gain leverage and can initially be washed out at the point. Also, has a tendency to stand upright if he doesn't win off the snap when looking to disengage. Will use his length and at times violent hands well when looking to get off blocks, but even when he does shed too often allows himself to get worked down the field. Possesses an average motor in pursuit and will work from the backside, but isn't overly rangy.
Is listed as the number two nose tackle on the depth chart entering the 2011 season, many believe it's not due to talent/performance, but more so to motivate him to come into camp in shape.
Impression: The guy can certainly find a role for himself in the NFL as a 4-3 nose or even as a 3-4 DE if he continues to work at his craft. However, he's just very inconsistent at this stage to be much more than a later round pick.
ILB Chris Galippo: No. 54 (6-2, 250)
A thicker, squattier inside linebacker prospect who has experience playing on the weak side as well. Is a willing tackler inside the box when asked to play as a downhill guy. However, isn't overly instinctive, doesn't take many false steps initially, just fails to consistently get good jumps on the play reading off blocks and giving himself a chance to make impact play. Possesses some pop on contact taking on linemen at the point of attack. However, needs to do a better job extending his hands/arms into contact in order to shed. Too often leads with his shoulder and doesn't give himself a chance to disengage and make a play off his frame. Lacks ideal short area quickness as well, has a tough time avoiding blockers in tight areas and is average at best in pursuit when asked to close.
Is limited vs. the pass game. Didn't start for the first half of the year in 2010 and in my option it was because of his lack of ideal range/fluidity in space. Is tightly wound, doesn't redirect and accelerate quickly and gets only limited depth in his drop. Doesn't do a great job feeling routes develop around him ether and quickly driving on receivers under him. Seems to drift too often in space, isn't a real proactive player and lacks the fluidity/burst to turn and run with tight ends/backs down the seam.
Impression: Kind of a "blah" prospect who has never lived up to his high school billing. Is average at best vs. the run game, struggles vs. the pass and in my view doesn't seem to warrant much more than a FA grade.
FS Marshall Jones: No. 27 (5-11, 182)
A thin, lean safety prospect who possesses the type of frame better suited to play corner. Started the final four games of 2010 due to injuries to the starters. Lacks the ideal size/power you want at the position. More of a drag down guy vs. the run game. Doesn't have a great feel tacking proper angles when asked to attack the line of scrimmage and will take himself out of plays. Doesn't breakdown real well either, has a tendency to shoot high and wrap, but doesn't great much of a pop on contact and will slide off ball carriers. Is more willing to throw his body around in the pass game. Takes better angles to the ball after a completion and will create more of a pop into contact, but needs to do a better job rapping on the play, as he has tendency to bounce off receivers.
Doesn't do a great job staying low and sitting into his drop off the line vs. the pass. Stands upright and seems content to really just glide in his drop. Isn't real sudden or explosive when asked to change directions, has a tendency to skip in and out of hi breaks, will lock his hips and doesn't have the ability to quickly click and close on throws because of his high pad level. Doesn't possesses the type of straight-line speed to routinely make up for a false step, looks very average in the speed department and lacks a great feel of routes developing around him as he rarely gets early jumps on the throw.
Impression: A reserve only at USC last year who was forced into action because of injures. Doesn't look like a roster guy in the NFL at this stage to me.
Follow me on twitter: @WesBunting