July 18, 2011 -
Barry Dorey
NFP Scouting Series: Stanford
For the rest of the summer, the National Football Post will be breaking down every team in the Football Bowl Subdivision to identify which players could warrant the most interest from NFL teams in the 2012 NFL draft.
Therefore, today we take a look at the senior class of the Stanford Cardinal.
Offense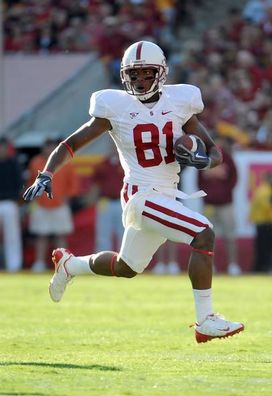 ICONOwusu possesses an intriguing blend of physicality, savvy and speed.
WR Chris Owusu: No. 81 (6-0, 199)
A well-built wide out prospect with a strong frame and physical element to his play. Is tighter in the hips, but displays enough short area quickness off the line with and good use of his hands to keep defenders from getting into his frame and avoiding the press. Knows how to keep himself clean and will get physical vs. the jam. Is a natural starter who accelerates quickly down the field and can create initial separation behind defenders. Possesses good ball skills and awareness when asked to locate and run, is willing to go up and high point the play and is above average for his size in jump ball situations. Displays a real savvy about his game as well, does a nice job stemming his route, using subtle head/shoulder fakes to set up routes and keeps corners off balance. Really sells the double move and accelerates quickly once he gains a step. Displays a good feel for zone coverage as well, works to find soft spots and plucks away from his frame.
Can be dangerous after the catch. Isn't real shifty in tight areas and lacks the wiggle to routinely breakdown defenders and make a man miss. However, he runs hard, plants his foot in the ground with natural balance -even at full speed- and can explode toward daylight. Lacks elite top end speed, but runs well, looks like a 4.45-4.5 guy. Isn't the most fluid of sharply breaking route runners. Is routinely forced to gear down, chops his feet in order to gain balance and doesn't create much separation. Doesn't waste much space out of his breaks and is a sharp route runner, just doesn't have much of a burst when looking to gain initial separation.
Adds some special teams play as a kick return man. Sets up blocks well, is a good decision maker and runs hard to daylight. Isn't a dynamic make you miss athlete, but takes care of the football and is a solid return option.
Impression: A bit linear of an athlete. However, is a natural pass catcher with good straight-line speed and a real savvy about his game. Will find a way to contribute to an NFL receiving core as a solid secondary option.
TE Coby Fleener: No. 82 (6-6, 248)
A tall, athletically put together tight end with a leaner frame, but has the ability to add more girth as he matures. Is natural sitting into his stance. Fires off the ball low and doesn't waste any motion getting into his routes. Does a nice job exploding off the line and can get into his routes quickly. Is a good straight-line athlete when asked to run vertically down the field. However, it's his savvy that really makes him a tough cover. Knows how to use a subtle head/shoulder fake in order to set up defenders and does a nice job changing gears as well. Accelerates quickly down the field, tracks the football well and is coordinated enough to adjust. Also, displays good fluidity and balance on his sharply breaking routes. Stems his route well, is sudden/quick footed in tight areas and displays burst out of his breaks. Does a nice job using his strong hands and long arms well in order to separate vs. defenders who want to get physical. Likes to use their momentum against them as he gets them off balance and accelerates toward space. Finds soft spots well underneath and isn't afraid to work the middle of the field.
Isn't used a ton as an in-line guy in the run game. More of a motion/move tight end who look natural in space pulling into the second level and hitting a moving target. Doesn't do a great job breaking down however, gets a bit overextend at times into blocks, but can reach defenders off his frame. Has the ability to gain leverage in the run game, just lacks great strength in his lower half at this stage to routinely get a push. However, it should improve with time. Displays natural balance in pass protection on the rare occasions they do keep him in and can hold his own reaching the corner and anchoring initially with some consistency on the edge when helping with the double

Impression: An impressive pass catcher who can win both down the field and underneath vs. man coverage. Has the frame and flexibility to develop into a solid blocker as well and looks like a future starting caliber NFL TE.
Defense
DE Matt Masifilo: No. 98 (6-3, 280)
A stout, girthy defensive lineman with a broad upper body and thick lower half. Isn't a gifted athlete, lacks much of a first step off the football, isn't going to threaten gaps inside and doesn't display the short area quickness needed to slip blocks and be a factor vs. the pass game. Gets upright when trying to change directions and is an easily block as a pass rusher. Doesn't have a great bull rush either because of his lacking ability to quickly get into/under opposing lineman. Eventually finds a way to gain leverage, but there isn't a real explosive element to his game.
However, is at his best playing the run game. Sits into his stance well, keeps his base under him and routinely can gain leverage at the point. Possesses a strong lower half, anchors routinely and is really tough to move off the football. At times stands upright and plants his legs in the ground, allowing blockers to get under him and run him slightly backward. However, for the most part gets his hands up quickly off the snap, gains leverage and anchors on the outside. Isn't real flexible or fluid, struggles with balance and ends up on the ground too often. Does a good job finding the football and working his way through contact toward ball carrier. However, lacks the quick-twitch ability to shed and make a play off his frame with any consistency. Looks to simply create a pile around the back for the most past and allow his teammates to clean up around him. Really lacks range off his frame, plays with a good motor, but doesn't have ability to win in pursuit.
Impression: A try hard defensive lineman who fills a role about as well as you can at the college level. Should at least get a shot in a camp with a team looking for a shorter/stouter 5-tehcnqiue. However, he's just too limited athletically for me to think he can make an NFL roster.
Follow me on twitter: @WesBunting