May 28, 2011 -
National Football Post
NFP Scouting Series: Tennessee
For the rest of the summer, the National Football Post will be breaking down every team in the Football Bowl Subdivision to identify which players could warrant the most interest from NFL teams in the 2012 NFL draft.
Therefore, today we take a look at the Tennessee Volunteers.
Offense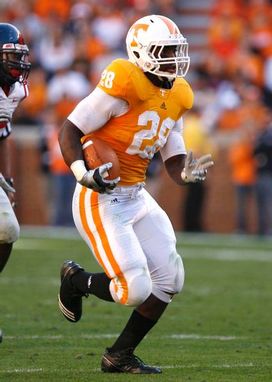 ICONPoole looks like a contributing NFL back.
RB Tauren Poole: No. 28 (5-10, 210)
A strong, well-put together back with a thicker lower half and good overall muscle tone through the thighs. Possesses a good first step when asked to press the line of scrimmage. Gets north/south quickly and deciphers info well inside. Displays an above-average feel between the tackles and does a nice job setting up blocks and accelerating toward daylight. At times makes some poor decisions as a runner, typically in space, but for the most part is pretty dependable.
Is a one-cut back who is a bit tight in the hips when he gets up to full speed, more of a weaver when asked to run in space. However, inside he keeps his feet under him, can stick his foot in the ground and explode quickly up field. Does a good job finishing runs and lowing his pad level in short yardage /goal line situations. But inside, he runs a bit upright. Doesn't run with great forward lean when pressing the hole and at times gets knocked off balance and goes down far too easy. Nevertheless, runs hard and has the type of straight-line speed at the second level to outpace angles and create yards by the chunk. Doesn't have a ton of wiggle to his game, is better off running toward space in the open field. But in tight area displays enough short area quickness and power to side step a defender and break a tackle.
I came away impressed with his ability on 3rd downs as well. Is an intelligent blocker, recognizes blitz pick-up quickly, is patient into blocks and displays natural anchor strength. Also, demonstrates a good feel in the pass game, has some savvy as a route runner, locates the ball quickly and will pluck/create in the short passing game when matched up on linebackers.
Impression: A thick, strong back who runs hard and displays natural one-cut ability. Runs a bit high and isn't overly fluid making defenders miss. But can break tackles, play on third down and looks like a solid contributing NFL back.
Defense
DE Ben Martin: No. 99 (6-3, 251) "Based of 2009 tape"
A well-built athlete with good overall physique through his upper body. However, he isn't overly physical off the snap, even against tight ends and has a tendency to allow his pad level to get too high into contact. Is a hard worker who is violent with his hands when working himself free from blocks after the initial surge and showcases the range to make plays away from his frame. Nevertheless, he really lacks instincts when asked to find the football inside and has a tendency to take himself out of too many plays. Makes the majority of his tackles in the run game 5-plus yards down the field.
Now, does a nice job keeping his pad level down initially off the snap as a pass rusher and can deliver a slight pop on contact when extending his arms into contact. However, he lacks great lower body strength and doesn't have the type of power to simply drive opposing lineman into the backfield on his bull rush, as he consistently gets engulfed at the point. Displays the flexibility to coil up into his stance and fire off the football with an above-average first step. But doesn't showcase much in the way of lateral agility as a pass rusher. Nevertheless, he does exhibit the ability to quickly change directions and accelerate on stunts inside and can move with some fluidity when asked to drop off into coverage, he just hasn't put it all together as a pass rusher yet.
Is trying to come back from two ruptured Achilles injuries –one on each leg- he's suffered over the course of one year. Obviously medical is going to be a huge issue with him and it will be interesting to see if he can get back to his 2009 form.
Impression: Has a good looking frame and some intriguing physical attributes, but his lack of lower body strength and power has me worried about how effective he can be at the next level. Now, he does have some burst as a pass rusher and range vs. the run game and should get a shot in an NFL camp as a 3-4-rush guy. However, he needs to prove he can be the guy he was in 2009 and even then he still looks like a fringe roster guy. The cards are stacked against him.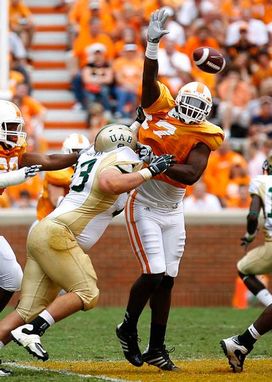 ICONJackson does a nice job getting his hands up in passing lanes.
DL Malik Jackson: No. 97 (6-5, 270)
A tall, athletically built defensive lineman who possesses a long wingspan and some real violence to his game when asked to use his hands to shed blocks. Coils up decently into his stance, but has a lot of leg and struggles to keep his base down and head up at times. Gets inconsistent with his pad level off the ball as a pass rusher because of it. When trying to shoot gaps at times does a nice job staying low and extending his arms into contact in order to create a jolt. However, for the most part his pad level comes up, head stays down and doesn't use his long arms to protect himself. Can be jacked on contact and doesn't create a push as a defensive tackle. Displays some natural athletic ability when asked to loop/stunt inside. However, hasn't put it together with his pass rush arsenal yet. Is more of a linear guy only at this stage who lacks a counter/ change of direction ability. Nevertheless, consistently gets his long arms up in pass lanes and knocks a lot of throws down.
Displays impressive athletic ability though and when he does get his hands up off the line he can consistently keep himself clean and works like a bear in pursuit. Showcases great range off his frame for the position and demonstrates a good motor to go along with it. Exhibits a natural anchor as well for his size when asked to play the piano down the line. Is coordinated/powerful initially on his punch, can control blocks and work his way in pursuit. However, gets overextended and upright causing him to struggle with balance when asked to breakdown at make a play on the ball. Also, sees time at DE and looks much more coordinated when asked to get into contact, extend his arms and use his violent hands to shed. Lacks the anchor to hold up consistently inside vs. the downhill run game at the next level, as he can be easily sealed on contact. Needs to penetrate and win with his first step in order to be effective vs. the inside run. Holds up very well on the outside though, setting the edge, playing off blocks and working toward the football.
Impression: A great looking athlete. Has some real work to do from a technique standpoint and is playing out of position at Tennessee. However, has a lot of upside as a DE both in a 43 and 34 front in the NFL and looks like a really intriguing developmental defensive lineman at this stage with a good bit up upside long term.
CB Art Evans: No. 25 (5-11, 185)
Displays decent flexibility in his stance off the line. However, isn't overly fluid when asked to mirror in press coverage, has a tendency to shoot with the wrong hand into contact and can easily be stroked off the line. Isn't a real physical puncher and struggles to re-route. Doesn't displays ideal fluidity when asked to turn and run either. Plays with an o.k. pad level, but fights himself a bit tryi ng to get back up to full speed and consistently allows receivers to get behind him vertically. There is simply no real second gear to his game when asked to make up for a false step.
Plays better in tight areas underneath. Can stay in a receivers back pocket initially, keep his pad level down, feet are under him and shows some natural re-direction skills. However, when asked to turn, run and get back out of his breaks, he struggles with his balance. He isn't nearly as precise or sharp out of his breaks as he needs to be when at full speed and gives up separation down the field as well.
Doesn't have a great feel in zone coverage, stops moving his feet too often, gets too wide with his base and doesn't stay as compact as needed when trying click and close on the football. Missed the second half of the 2010 season after being suspended for violating team rules.
Impression: A seasoned starter on the Tennessee defense. However, has been picked on at times when matched up with some of the SEC's top tier wide outs. Struggles to turn and run and isn't real physical off the line. Add in the off the field issues and in my mind doesn't warrant a draftbale grade.
Follow me on twitter: @WesBunting