August 05, 2011 -
Barry Dorey
NFP Scouting Series: Texas
For the rest of the summer, the National Football Post will be breaking down every team in the Football Bowl Subdivision to identify which players could warrant the most interest from NFL teams in the 2012 NFL draft.
Therefore, today we take a look at the senior class of the Texas Longhorns.
Offense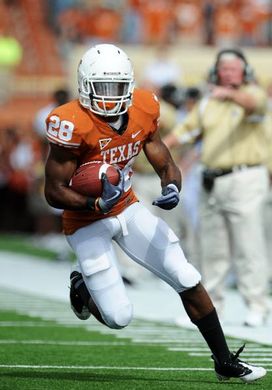 ICONWhittaker should get a camp invite as a potential 3rd down guy.
RB Foswhitt Whittaker: No. 28 (5-10, 198)
A thin, undersized back who lacks ideal girth through his lower half and looks thin in the legs. Possesses an average first step when pressing he line of scrimmage downhill. Displays a decent feel in tight areas and can put his foot in the ground and side step a defender in inside. However, runs leggy for a small back, doesn't stay real compact and struggles to get back up to speed quickly. Doesn't exhibit an initial burst to separate once he makes a man miss and lacks the type of power to routinely break tackles. Despite his size exposes a lot of body through the line and goes down easy on contact. Initially presses the hole low, but pops upright when trying to make defenders miss and doesn't have the kind of second gear to simply outpace them to the edge. Looks most comfortable running from the gun and trying to reach the perimeter, but isn't overly dynamic as a straight-line guy either.
Isn't going to push the pile inside and create through contact. Isn't real patient in blitz pick-up. Tends to drop his head, doesn't see what he hits and will whiff to often into blocks. Can catch the football out of the backfield and is comfortable in the screen game. Does a nice job as a route runner being sudden out of his breaks, separating vs. linebackers and running away from them in man coverage as well. Catches the ball well off his frame and can create after the catch.
Impression: He's undersized, doesn't run real balanced and lacks great straight-line speed. More of an underwhelming 3rd down type back to me in the NFL that isn't worth a pick.
C David Snow: No. 78 (6-4, 295)
A taller, flexible center prospect who possesses good overall thickness and length for the position and has a ton of starting experience. Snaps and steps quickly off the line. Does a nice job gaining initial leverage off the ball, getting inside hand placement and taking proper angles on contact. Routinely is able to get a push on defensive tackles off his frame. Gets a bit upright through contact, however is heavy handed, works his legs and for the most part doe a nice job sticking to blocks. Doesn't have the type of natural power/explosion to routinely handle bigger defenders tackles over his head and move them off the ball. However, he exhibits good short area quickness in tight quarters, can chip and get out to the second level, and looks coordinated on the move. Lacks great range when pulling, but has enough to get around the line and seal on contact.
Showcases good initial quickness off the ball in the pass game. Does a good job pre snap helping with the line calls and getting everyone organized and on the same page. Takes proper angles off the snap, keeps his base under him and displays solid shuffle and slide ability. Showcases solid balance when asked to slide his feet, extends his arms well, gains inside hand placement and is heavy handed. Isn't an overly powerful anchor player and can he overwhelmed initially off the ball. However, is quick to re-set his feet, gain leverage and recover. Plays with a fire and will work till the whistle.
Impression: Isn't an overly powerful in-line guy or elite athlete. But he can bend, is coordinated in both the run and pass game and does a great job shooting his hands inside and sticking to blocks. Looks like a guy who can make a roster and with some improved strength fight for playing time down the line.
Defense
DT Kheeston Randall: No. 91 (6-5, 295)
A tall, long armed prospect who displays impressive bend and flexibility sitting into his stance. Lines up all over the Texas D-line, but mostly at the nose and displays the initial get off burst to routinely threaten gaps inside. Does a nice job keeping his base under him, pad level down off the snap and displays the lateral quickness to cross the face of lineman and work his way through contact. Looks natural dropping his shoulder when trying to fight his way up field and possesses the lower body strength to surge through contact. Demonstrates good range in pursuit, looks a bit tight when asked to breakdown, but has the length to routinely wrap up. Can take on blocks and anchor in the run game. Awareness at times runs hot/cold, will be late off the ball at times and struggles to consistently find the football inside. Possesses a naturally strong frame and can hold his own even vs. the double when trying to anchor initially. However, will get upright through the point and overwhelmed at times. Has a long set of arms and strong hands and exhibits the natural power to simply toss blockers aside when trying to shed. Fails to shoot his hands quickly off the snap and routinely gets his hands outside the frame of defenders. Is still learning to shed through contact. However, is so long, powerful and athletic that he can maintain balance and just fight his way through the block down the line in pursuit.
Is an athletic guy vs. the pass game who can threaten gaps inside and cross the face of defenders. But isn't a natural pass rusher at this stage. Doesn't have any kind of an arsenal in order to shed/keep himself clean. Is a linear rusher only who needs to win with his first step in order to be successful knifing his way into the backfield. Has the skill set to develop, but has a long ways to go working his hands and feet in sync in order to win inside vs. the pass.
Impression: Is an impressive bender for his size with the skill set to play/start as either a 34 DE or 43 one gaping tackle. Could develop into an impact defensive lineman if he works at it.
OLB Keenan Robinson: No. 1 (6-3, 238)
Possesses a strong, athletic looking frame with good girth through his lower half. Is an explosive, quick-twitch backer who displays a good first step when asked to close on the football. Gets up to speed quickly and generates "plus" power into contact. Displays the closing range to routinely knife his way into the backfield and make plays off his frame. Exhibits only average instincts however, at times is slow to react to the run game, will take some bad angles in pursuit and doesn't do a great job using his hands to take on blocks. Needs to do a better job sitting into his stance into contact. Too often bends at the waist and uncoils into contact a bit straight-legged. Doesn't possesses great balance when asked to breakdown, throws himself toward the action and will create some impact plays, but also will end up on the ground too often at times missing on ball carriers. Can be overwhelmed on contact when asked to take on lineman and/or sealed from the play.
Displays good body control and coordination in coverage. Keeps his feet under him and can re-direct and close. At times will turn his back when asked to run vertically and doesn't see the football. But exhibits good range/closing speed down the field. Drives quickly on throws under him in zone coverage and will create a snap on contact. However, isn't overly instinctive and doesn't always trust what he sees in zone. Is a reactive player, doesn't get many early jumps on the football and needs to see the ball come out before he's able to try to make a play. Ends up playing the man mostly because of it and not the ball.
Impression: An explosive kid with some natural burst to his game. Isn't overly instinctive and doesn't take on blocks overly well, but is a good fit in more of a run and hit scheme because he possesses very good natural range. A potential starter in the NFL .
LB Emmanuel Acho: No. 18 (6-2, 240)
Looks a bit taller than his frame indicates, as he's a long armed and legged guy for the position. However, displays natural bend/flexibility through his hips and knees, can sit into his stance and gain leverage for himself into contact. Isn't a real explosive stop and start athlete, is more graceful/balanced than explosive. Nevertheless, does a nice job inside vs. the run game. Reads and reacts quickly to his keys inside, routinely is able to sniff out the football and can generate a snap into contact. Is a "plus" tackler who breaks down well in tight areas, lowers his pad level and will wrap through the play. Is also very good taking on blocks –both vs. linemen and tight ends- at the point of attack. Sits into his stance well, keeps his pad level down and is powerful/compact with his punch. Extends his long arms well and uses his violent hands in order to routinely shed at the point of attack. Knows how to keep himself clean, fend off the block and wrap on ball carriers off his frame. Played both inside and outside in Texas' 4-3 front and is capable of handing the tight end on the edge or attacking downhill inside. Makes himself small through creases when trying to shed and close on the ball carrier. Maintains balance well and works hard through contact. Possesses a good motor, but only average straight-line speed in pursuit, as I don't see a great closing gear to his game.
Looks coordinated vs. the pass game as well. But, isn't the type of quick-twitch athlete who has the ability to hold up in man coverage vs. backs out of the backfield. Doesn't have a great initial burst out of his breaks, can be run away from and doesn't always locate the football quickly. However, keeps his feet under him in zone, stays low and keeps his head on a swivel. Gets early jumps on the football, feels routes around him and is clean to re-direct and close. Looks much more effective as a zone cover guy,
Impression: Isn't a dynamic straight-line athlete, but plays faster because of instincts. Is a good tackler, can shed blocks and plays stronger than his frame would indicate. Has the versatility to play a number of spots in a 4-3 scheme or get some looks inside in a 34. Looks like a future starter in the NFL either way.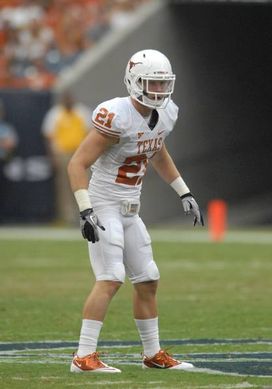 ICONGideon does some things well, but is a fringe roster guy at best.
FS Blake Gideon: No. 21 (6-1, 205)
Possesses solid height for the position, but doesn't look real physical or strong through his frame. Isn't a real explosive tackler when asked to come down and play the run. Is more of a catcher who doesn't generate any kind of snap through the hips on contact, just drops his pad level and wraps, routinely being driven backward on contact. Isn't real rangy either when asked to close sideline-to-sideline. Will see his angles outpaced in space and isn't a solid open field tackler. Doesn't take consistent angles and struggles to get into ball carriers routinely.
Does a nice job in coverage sitting down into his drop and staying compact with his footwork in his back-pedal. Is a bit tight trying to get out of his breaks and click and close and he will start to pop upright. However, doesn't waste much motion just lacks a burst out of his breaks. Looks balance when asked to re-direct and keeps feet under him. However, isn't real rangy, lacks an initial burst and/or closing speed and doesn't have the range to get over the top in the NFL from the deep half.
Routinely is forced to play the ball and despite his willingness to throw his body around and disengage ball from man, he isn't a guy who will be able to hold up in space in the NFL. Displays "plus" instincts when asked to read and react in zone. Routinely get early jumps on the football. which allows him to create turnovers. Displays good ball skills and will jump throws under him. However, doesn't have the ability to turn and run down the field. Consistently allows receivers to quickly get behind him and doesn't possess the straight-line speed to make up for any kind of a false step.
Impression: He lacks great speed and isn't real physical, which is never a good combo. Will give himself a chance because of his instincts and solid footwork. However, he's a guy you can't trust in space and won't be effective inside the box in the NFL. An overachieving free agent to me.
Follow me on twitter: @WesBunting