July 29, 2011 -
Barry Dorey
NFP Scouting Series: Texas Tech
For the rest of the summer, the National Football Post will be breaking down every team in the Football Bowl Subdivision to identify which players could warrant the most interest from NFL teams in the 2012 NFL draft.
Therefore, today we take a look at the senior class of the Texas Tech Red Raiders.
Offense
OT Mickey Okafor: No. 74 (6-6, 308)
Possesses a big frame, is long armed but carries most of his weight in his upper half and doesn't look overly thick through the base. Isn't a natural bender, struggles to sit into his stance, doubles over at the waist and gets upright off the football. Doesn't have the ability to keep his base under him initially in pass protection. Lacks initial quickness off the snap, doesn't have the range to reach speed off the edge and too often is forced to use his length in order to push defenders past the pocket. However, lunges into blocks consistently, doesn't stay real balanced or compact with his footwork and struggles create much pop into contact. Isn't a real velcro player and is easy to disengaged from. Will wind up his arms when trying to reach speed off the edge, but when blocking down does a better job keeping his hands up. However, isn't real compact with his punch. Elbows are often bowed outside his frame and doesn't create much of a jolt. Plays too high to anchor vs. the bull rush in the NFL as he doesn't display the ability to sink in the hips.
Will get after it in the run game. Plays with a mean streak, fires out of his two point stance quickly and extends his arms well. However, he comes off the ball high, doesn't gain any leverage and his hand placement is high as well. Works hard to stay engaged, but isn't overly coordinated through contact, doesn't have the leverage to stick and quickly will fall off blocks. Looks limited on the move, really lumbers in space and isn't a guy who can reach off his frame.
Impression: Lacks base strength through his lower half, doesn't bend and isn't an NFL caliber offensive tackle prospect.
OG Lonnie Edwards: No. 78 (6-4, 322)
A thick, girthy offensive lineman with natural thickness through both his upper and lower half. Plays with a mean streak, has a passion for the game and likes to get after it as a run blocker. However, doubles over at the waist into his stance, sits high and plays straight-legged. Displays decent natural power on contact, but doesn't create much leverage for himself and his weight is always over his knees as he lunges into contact and struggles to maintain balance. To his credit stays upright for the most part, but doesn't stick well through contact and easy to slip. Works his hands hard, but isn't overly coordinated initially into contact. Is a better counter puncher when engaged, but struggles to uncoil with much coordination and really deliver a jolt -most likely because he's often off balance-. Is limited in space and isn't a guy who can routinely reach defenders off his frame and breakdown on contact.
Displays better bend in his stance in pass protection, however, gets upright initially off the ball. Again, works his hands well as a counter puncher inside, which helps with leverage and his ability to anchor with a little consistency through contact. However, isn't real fluid laterally and struggles to reach initial quickness off his frame. Doesn't have the recovery speed to make up for a false step and mirror and isn't a real natural shuffle and slide player.
Impression: A tough, try hard kid who doesn't have the bend to gain leverage and struggles to hold his own athletically even at the college level.
Defense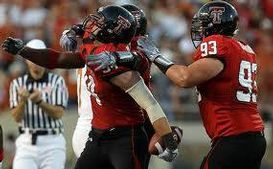 ICONSmith has the motor to move up boards.
DE Scott Smith: No. 94 (6-6, 256)
A tall, lean defensive end prospect with an athletic build and the frame to add even more strength/size without losing any athleticism. Is a former JUCO kid who played in only four games in 2010 after being suspended for violating team rules. However, plays with a passion. Is a high motor kid who can bend, sits into his stance well when asked to play the run game and generates a good snap on contact. Is still learning how to use his hands consistently, but produces a good jolt on contact, runs his legs and initially can anchor on contact. However, allows his pad level to rise a bit through the play, taking away from his ability to anchor and shed through contact. Nevertheless, works hard in pursuit. Doesn't have great closing speed, more of a strider but uses his length to wrap up well off his frame. Showcases the skill set and size to mature into a good run defender, just needs more development.
At times gets his base a little high when rushing the passer, but plays with his ball side hand down, gets off the snap quickly and for his size has a "plus" first step. Possesses the initial burst to threaten the edge and does a good job turning his speed into power when working the bull. Keeps his pad level down off the snap, but gets upright into contact and isn't real sudden laterally when trying to slip. Looks a bit tight hipped around the corner as he gets upright and can be pushed past the pocket. However, demonstrates natural power/balance into contact, just is inconsistent with his hands and pad level.
Needs to continue to improve his pass rush arsenal, but again doesn't have a ton of experience.
Impression: For his size he has an impressive get off burst, can bend and fire off the ball low. Might need to do some growing up, but if he puts it together could be poised for a big jump up draft boards.
Follow me on twitter: @WesBunting