July 20, 2010 -
National Football Post
NFP Scouting Series: Texas Tech
For the rest of the summer, the National Football Post will be breaking down every team in the Football Bowl Subdivision (formerly known as Division I-A) to identify players who could warrant the most interest from NFL teams in the 2011 draft.
Therefore, today we take a look at the Texas Tech Red Raiders.
Offense
QB Taylor Potts: No. 12 (6-4, 216)
A tall, lean quarterback prospect who is really slow and lethargic with his footwork in the pocket. Doesn't remain real balanced or compact, gets way too upright and struggles to generate any kind of torque from his lower half into throws. Also, he isn't real compact with his release as it takes him a bit to get the ball out of his hands. Just really looks sloppy from a mechanics standpoint, which causes his accuracy to run hot and cold as he fails to get his feet around and consistently stride toward his target.
Possesses above-average natural arm strength and can get the football outside the numbers, but isn't a guy who can consistently generate much zip on his throws because of his inability to throw consistently from his legs. Exhibits nice touch down the field, though, and looks comfortable/accurate on all bucket throws. However, doesn't spin a real clean football, causing passes to hang on him in the intermediate and deep passing game. Is more of a one read type of guy at this stage, staring down his initial receiver and can really only scan one side of the field. Doesn't decipher information real quickly and has a tendency to throw blind at times into coverage.
Impression: Possesses decent size and arm strength, but still has a long ways to go before he can be considered a legit NFL prospect.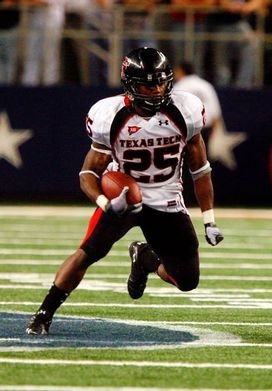 ICONBatch is at his best when he gets the football in space.
RB Baron Batch: No. 25 (5-9, 200)
A shorter, compact running back who possesses good overall thickness through his base. Exhibits a good first step when asked to press the line of scrimmage and reaches top-end speed quickly. Does a nice job of keeping his pad level down in between the tackles and doesn't expose much of his frame inside. Likes to hide behind his massive blockers and at times can bounce off the line of scrimmage and fight for additional yards. But overall, he isn't real physical and has a tendency to get tripped up and goes down easily on contact. Isn't real patient inside and lacks an ideal feel of the run game. Doesn't look comfortable setting up blocks and just doesn't have to type of vision to quickly decipher information and react to defenders around him in tighter quarters. Seems to get a bit ahead of himself at times trying to burst into the second level and will simply lose balance in his lower half trying to outpace defenders.
However, he is a natural receiver who has the ability to catch the football out of the backfield and can be shifty and tough to bring down in space. Exhibits a good initial burst out of his breaks, but isn't a guy who has the kind of speed to simply run away from defenders at the next level once he gets into daylight.
Impression: I like his frame and ability to catch the football, but he lacks great instincts/vision inside and just looks like a fringe roster guy to me who can only make his mark as a third-down back.
WR Detron Lewis: No. 17 (6-0, 209)
Possesses average overall size for the position and exhibits the ability to find soft spots in zone coverage, work his way open and adjust to the football. Displays above-average body control when asked to adjust to the throw and consistently is able to make plays away his frame. Does a nice job changing gears and accelerating in and out of his routes. However, he isn't real savvy at this stage vs. man coverage. Has a tendency to really advertise his routes and doesn't look comfortable when asked to beat press coverage. Seems to be moving too fast for his own good and will lose balance when corners aren't afraid to get up into his face. Begins to start peaking for the football prematurely and opening up his hips prior to his boundary.
Isn't real explosive off the football either and isn't a guy who can consistently drive defenders off the snap and eat up the cushion quickly. Looks much more comfortable when asked to run vertically down the field vs. a free release, as he does a nice job selling his routes at full speed when he doesn't have to beat man coverage. However, he's a bit stiff in the hips and will struggle to quickly come out of his breaks and generate a burst for himself in order to separate.
Impression: He's just a guy. Possesses average size, average speed and isn't a real impressive route runner at this stage vs. man. The deck looks stacked against him to make an NFL roster.
OT Chris Olson: No. 70 (6-5, 288)
Looks a lot bigger and heavier than his frame would indicate. Coming from the Texas Tech offense he's consistently asked to play from a two-point stance and doesn't look real flexible off the ball. Lacks ideal balance and/or body control when asked to reach the corner, gets doubled over at the waist and doesn't exhibit any semblance of a kick-slide off the edge. Looks content to simply back straight up off the line, but fails to keep his legs under him and hands cocked ready to punch. Struggles to move his feet through contact, isn't real heavy handed and fails to anchor with much consistency.
Showcases an above-average first step in the run game and does a nice job initially getting into blocks, creating a bit of a surge and working his feet to seal defenders from the play. Now, lacks ideal balance through contact and has a tendency to fall off defenders after his initial push, but does a nice job working his hands, dropping his base down and sealing away his target from the play. However, doesn't generate a ton of power at the point as a short-yardage/in-line guy, isn't a real natural bender and really rolls his hips up into blocks instead of simply firing off the ball.
Impression: He's raw with his footwork in pass pro, isn't ever going to create much of a surge in the run game as an in-line guy and looks nothing more than a camp body to me.
Defense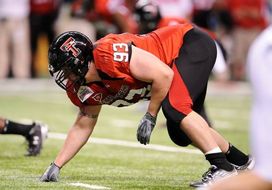 ICONWhitlock does great job firing off the football and keeping his pad level down into contact.
DT Colby Whitlock: No. 93 (6-2, 301)
An explosive, penetrating type tackle inside who does a great job coiling up into his stance and keeping his base down when firing off the snap. Exhibits a good first step and does a nice job getting his hands up into contact and finding the football. Reads his run/pass keys very well, deciphers information quickly and always seems to be moving toward the action. Is really violent with his hands and does a nice job using his first step to get up the field and can be really sudden on contact when asked to side step blocks. Loves to work his arm over in order to keep himself clean and knife his way into the backfield. Now, he lacks ideal size and can be handled vs. the double team inside. Doesn't possess the type of power to push the pocket vs. any additional attention. However, he has the athleticism to stunt and can be effective looping away from the double outside.
Isn't a guy who can consistently sit into his stance and anchor, but does a nice job playing with leverage, extending his arms into defenders and can slip blocks initially when run at and make plays off his frame. Now, lacks ideal power and even when he gains a step toward the football, he can be pushed past the play and will struggle to break down at times. Also, can be sealed/eliminated from plays vs. any kind of additional attention inside.
Is now up to 301 pounds, nearly 15 pounds heavier than his listed playing weight in 2009. It will be interesting to see how he carries the additional mass in 2010.
Impression: The guy is explosive, knows how to use his hands and plays with impressive leverage on contact. If he can handle the additional weight, he definitely has the skill set to mature into, at worst, a solid rotational one-gap lineman in the NFL, with starting potential down the line. A guy who I really like.
LB Brian Duncan: No. 57 (6-1, 240)
A shorter linebacker prospect with a thick base and well-built upper body but is really thin through his calves and legs. Exhibits good instincts inside vs. the run game and is at his best in tight areas. Showcases some natural body control and power inside when asked to side-step blocks, gain a step and surge his way toward the football. Has the type of lower body strength to fight his way toward the ball carrier and breaks down well through contact.
However, isn't a real gifted athlete, lacks ideal range in space and isn't a guy who can consistently make plays sideline-to-sideline. Isn't real compact or coordinated with his footwork either at this stage. Struggles to cleanly change directions in coverage and isn't real fluid or rangy when asked to click and close. Fails to consistently wrap up in pursuit, but is much more effective in a phone booth where he does generate a good thrust through his hip into contact.
Impression: Has the ability to win in the run game, but isn't real fluid or rangy vs. the pass and his lack of height hurts his chances of ever being anything more than a fringe roster guy in the NFL.
Follow me on twitter: @WesBunting
Ready for fantasy football? Click here to purchase the 2010 Total Access Pass/Draft Guide from the NFP.