July 22, 2011 -
Barry Dorey
NFP Scouting Series: UCLA
For the rest of the summer, the National Football Post will be breaking down every team in the Football Bowl Subdivision to identify which players could warrant the most interest from NFL teams in the 2012 NFL draft.
Therefore, today we take a look at the senior class of the UCLA Bruins.
Offense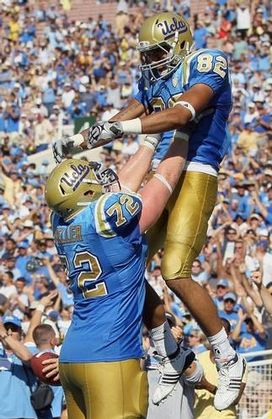 ICONEmbree's size makes him a threat down by the goal line.
WR Taylor Embree: No. 82 (6-3, 205)
A tall wide out who seems a bit more physically built than his frame would suggest. However, isn't a quick twitch athlete, lacks a great first step off the line, fails to eat up the cushion quickly and isn't a threat to run by anyone in the NFL. Does a decent job using his hands to get off press on an inside release. But, has a tendency to simply angle his way away from defenders on the outside when trying to get vertical, wasting steps down the field. Tracks the football well, adjust to the play, but will put the ball on the ground when in battle in jump ball situations.
Is at his best working his way open when plays breakdown. Understands where to sit down into coverage, finds soft spots well and will pluck the football off his frame. Isn't afraid to run down the teeth of the defense, as he quickly locates the football and can adjust to the throw. Is limited as a route runner, doesn't generate much of a burst out of his breaks and isn't going to scare corners deep. Prematurely drifts into his routes on all areas of the field. Does a average job blocking in the run game, has good size and use his length well to get into defenders initially, but doesn't have a real killer instinct.
Impression: Demonstrates good body control and coordination, but isn't a threat to routinely win vs. man coverage in the NFL.
WR Nelson Rosario: No. 83 (6-5, 218)
A really tall, thin wide out prospect who possesses the size to create mismatch problems, but lacks an overall physical element to his game. Doesn't generate much of a burst off the line and/or into his route. Is a slow starter who builds speed as he goes, but has only one gear and isn't a threat to get behind college corners let alone NFL corners. Lacks much short area quickness/power when asked to beat press man off the line. Struggles to shake defenders off the ball and his size really hinders him when trying to get into his route as he allows defenders to routinely get under his frame on the jam.
Does display a little savvy working vs. off coverage. Finds soft spots well underneath, isn't afraid to work the middle of the field and uses his length well to keep defenders off his frame after the catch. However, is tight hipped and leggy, needs to gear down before changing directions and lacks the fluidity to quickly separate on sharply breaking routes. Tends to round off his angles and doesn't create much of a burst to separate. Needs to do a better job working back toward the football and boxing out his man underneath -since he's never going to separate much at any level-. Isn't real physical in the run game, has the size, but is easily shed and doesn't display much fight.
Impression: A tall kid who lacks any real explosive element to his game. Isn't going to separate in the NFL and doesn't look like a roster guy to me.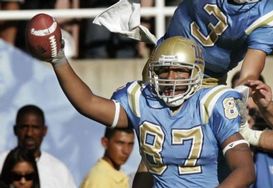 ICONHarkey has the size, power and coordination to win in the run game.
TE Cory Harkey: No. 87 (6-4, 273)
A big, strong in-line tight end prospect with a muscular looking lower half and good girth throughout his frame. Isn't a great athlete by any stretch. But, does a nice job keeping his base down on his release, getting into his routes quickly and not wasting any motion off the ball. Displays good enough short area quickness and hand usage to slip the bump off the line as well. Isn't a guy who can threaten the seam and will drift at times when trying to settle his feet out of his breaks. However, he does have some snap in tight areas, uses his body well to shield and can adjust. Hands are inconsistent however, lets too many throws into his frame and isn't going to win for you in man coverage at the next level.
Nevertheless, this is a guy who can routinely win for a team as an in-line blocker. Coils up into his stance well, keeps his base under him and generates an explosive thrust off the ball. Extends his arms well, takes proper angles and squares his head with the target. Runs his legs well through contact, displays good hand placement and routinely can handle DE's off the snap and on the move.
Is tough to disengage from as his combination of power and coordination allow him to stick. At times will whiff into contact trying to fire off the ball quickly and lose balance, but for the most part takes very good angles. Also, looks natural in pass protection. Displays some range/anchor strength when asked to block on the edge, keeps his head on a swivel and is coordinated enough to re-direct and pick up a stunting linebacker.
Impression: He's a guy who can win for you as a blocker in both the run and pass game. If he's willing to be a down and dirty type tight end, has the ability to stick in the league for a while.
OT Mike Harris: No. 65 (6-5 334)
A three-year starter for the Bruins who has played through his fair share of nicks and dings. Possesses a strong, girthy frame with a thick lower half. Doesn't do a great job sitting into his stance as he has a tendency to let his base sit a bit high and will double over more at the waist. However, the guy does have the ability to bend. In pass protection does a nice job keeping his base under him on his kick-slide toward the corner. Will get upright into contact and needs to do a better job keeping his hands up in order to protect his frame. But, shoots his hands well once they are up and is a natural velcro player. Displays the short area quickness to stick through contact toward the edge and despite being a right tackle, possesses the range to hold up on the outside. However, isn't real coordinated when re-directing back inside because he plays high and will get over extended on his punch into contact.
Displays natural power in the run game. Can keep his base down off the ball and create a snap at the point of attack. Gets his hands up much quicker, extends his arms well and when he runs his legs through contact the guy can create a push as an in-line blocker. Also, displays some short area quickness when asked to chip and reach a man off his frame. Isn't real comfortable in space getting out to the second level and breaking down. However, can routinely seal the edge, stick to blocks and looks coordinated crashing down and sealing/moving defensive tackles inside. Gets a bit ahead of himself at times and his high pad level will cause him to lose balance and fall off blocks. However, he routinely is able to win at the point and is a "plus" power player.
Missed the first game of the 2010 season for violating team rules.
Impression: Displays the ability to bend, exhibits some coordination on his kick slide and power in the run game. Might be better suited to kick inside to guard at the next level, but he looks like a guy who could mature into NFL caliber offensive lineman with some time, is worth a pick.
Defense
SS T ony Dye: No. 6 (5-11, 206)
A strong, well put together safety prospect who does a nice job attacking downhill, breaking down on contact and wrapping on ball carriers. Drops his base well into contact, snaps through the hips and can create collections at the point. At times in pursuit will be content to just launch himself at ball carriers instead of wrapping up and will slip off some tackles. Lacks elite speed in pursuit, but works hard, has a good motor and will make plays off his frame because of solid straight-line speed and hustle. Reads and reacts quickly from the deep half, keep his pad level down, can cleanly drive downhill and takes consistent angles toward the football. Does only an average job of avoiding blocks in tight areas, which at times will cause him to get hung up. But does a nice job fighting through contact, working toward the football and setting the edge vs. the outside run. Has a real passion for the game and takes pride in stopping the run game.
Is coordinated vs. the pass game as well. Has the ability to sit into his drop, keep his feet under him and click and close underneath. Doesn't get leggy when asked to re-direct, stays low and creates a burst out of his breaks. Again, lacks elite straight-line speed, but reads and reacts quickly and routinely gets good jumps on the football. Displays solid ball skills when asked to drive on the throw, adjust his body well and can create interceptions coming forward. Possesses good enough fluidity in the hips for his size. Can stay low when asked to turn and run, keeps his feet under him and gets back up to speed quickly. Is a three-year starter who led the team in tackles last season and has been overall very productive in all areas of the game.
Impression: Isn't an elite athlete, but plays faster than he times. Will tackle consistently and is coordinated in coverage. Looks like a potential special teams stud who with some time could fight his way into a starting line-up as a strong safety.
Follow me on twitter: @WesBunting