July 08, 2011 -
Barry Dorey
NFP Scouting Series: Utah
For the rest of the summer, the National Football Post will be breaking down every team in the Football Bowl Subdivision to identify which players could warrant the most interest from NFL teams in the 2012 NFL draft.
Therefore, today we take a look at the senior class of the Utah Utes.
Offense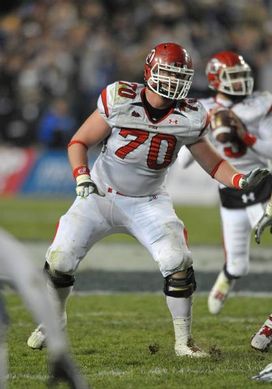 ICONBergstrom is a strong kid, but needs to learn to play lower.
OT Tony Bergstrom: No. 70 (6-5, 315)
Possesses a thick lower half, good girth through the base, but doesn't look real long armed. Does a decent job sitting into his stance and keeping his base under him, but looks a bit tight and will double over at the waist.. Pops upright off the snap in pass protection, struggles to really sit into his kick-slide and gets upright initially into contact. Lacks the range to routinely reach speed off the edge. However, understands angles and his limitations and will overextend into contact in order to push defenders past the play. Displays above-average short area quickness for his size, gets a bit wide with his footwork, but collects himself quickly in tight areas, re-directs well and will lunge into his target. Isn't a real natural puncher however, isn't a guy who in space can hold up laterally. But, because of his size and good hand placement can anchor with some consistency on contact. Is heavy handed, but will struggle with balance through the play. Nevertheless, he's tough, gritty and works hard to keep the outside of the pocket clean.
Isn't a great move player in the run game. Seems to lumber in the open field, doesn't have much range and struggles to reach/breakdown on contact. Displays some short area quickness off the line when asked to step and seal. Takes good angles off the ball, has a little snap at the point, but again struggles to balance himself through the play. Lunges off the ball without moving his feet when playing from a three point stance and struggles with pad level from a two point stance.
Impression: A big, strong tackle prospect with some short area quickness for his size. But struggles with flexibility in pass protection and looks limited in what he can offer an NFL offense. A fringe roster guy as a right tackle prospect only.
OT John Cullen: No. 75 (6-4, 305)
One of the top JUCO recruits coming into the 2010 season who earned an immediate starting spot for the Utes at left tackle. Possesses an athletic build, but average height and overall length for the position. Has a frame that he can continue to fill out, especially through the lower half. Possesses only average flexibility when asked to sit into his stance, but the guy can bend. Does a nice job quickly getting off the snap on his kick step, displaying natural range to the corner and can keep his base under him in pass protection. At times gets caught hunching over at the waist and isn't a real natural puncher/anchor player at this stage. However, does a nice job keeping his hands up in front of his chest plate, just doesn't know how to let go of them yet with his weight evenly distributed. Will struggle with power, doesn't have the kind of base to consistently hold the point of attack vs. power players and will lunge into contact trying to create more of a pop for himself. Nevertheless, displays good balance, coordination and athleticism with his footwork. Is a natural mirror player who has the range to reach speed off the edge, re-directs well and can shuffle and slide through contact. Is somewhat sticky once he gets his hands on you, but is tough to disengage from because of his lateral quickness.
Is a "plus" move player in the run game. Gets off the ball quickly, displays good range when pulling from the backside and can make plays in space. Does an excellent job reaching a target off his frame, breaking down on contact and has some nasty when asked to finish. Displays the initial quickness to step and seal on the edge as well. However, is still developing as an in-line guy. Has a tendency to roll his hips and get upright off the football when trying to move a target off the ball. Plays from a three-point stance most of the time and I think with some time to develop from a two he could certainly learn how to gain leverage and be a more physical in-line player.
Impression: Is far from a finished product, but there is some real natural athleticism there. Needs to get stronger and develop as a puncher, but if he continues to improve I think he could be one of the real risers at the OT position this year.
Defense
DE Derrick Shelby: No. 90 (6-3, 262)
A stocky, thick kid with a long set of arms and a lack of flexibility in his stance. Struggles to really keep his base down, looks tight off the ball and doesn't possess the initial burst to quickly get on top of tackles and threaten the edge. Is a linear athlete who doesn't have the ability to change directions off his speed rush and doesn't gain good enough leverage on contact to be real effective on the bull. Overall, is a limited pass rusher who works hard through blocks on contact, but doesn't extend/use his hands well enough to disengage.
Displays slightly above average natural power vs. the run game. Initially, does a much better job keeping his base down off the snap and extending his arms into contact in order to gain leverage. However, struggles with balance, gets caught with his weight on his toes too often and when asked to play off blocks down the line he ends up on the ground routinely. Can set the edge on the outside, but allows his pad level to rise through contact and can be knocked backward/overwhelmed through contact. Works his hands better vs. the run game in order to disengage and has some slight short area quickness when looking to shed. Works hard and uses his length well to wrap on contact as a tackler, but doesn't showcase a great closing burst off his frame.
Impression: Doesn't offer a dynamic attribute in either the run or pass game and doesn't look like a NFL lineman.
Follow me on twitter: @WesBunting