May 30, 2011 -
National Football Post
NFP Scouting Series: Vanderbilt
For the rest of the summer, the National Football Post will be breaking down every team in the Football Bowl Subdivision to identify which players could warrant the most interest from NFL teams in the 2012 NFL draft.
Therefore, today we take a look at the Vanderbilt Commodores.
Offense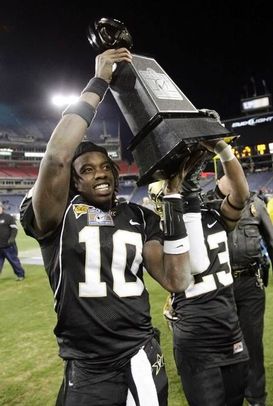 ICONSmith has added some much needed leadership to the Vanderbilt offense.
QB Larry Smith: No. 10 (6-2, 220)
An athletic, well-built quarterback with a good physical skill set. Can create in the pocket, buy time for himself and hurt you with his feet when he breaks contain. Runs a lot of the zone read in the Vanderbilt offense and takes most of his snaps from the gun. Is raw and leggy with his footwork, doesn't settle himself well into throws and doesn't generate much torque from his lower half and/or transfer his weight well toward his target. Possesses good enough arm strength to make all the throws, but takes away from his velocity because he throws from the waist up only.
Isn't real natural from the pocket at this stage, doesn't trust what he sees and struggles to let go of the ball on time anytime he has to go past his initial read. Too often looks to be waiting for receivers to uncover instead of throwing them open. Eye level has a tendency to go down and will flush himself out of the pocket, limiting his options when asked to go through his progressions. Is at his best working outside the pocket where he can boot, cut the field in half. Looks most comfortable on the move, but doesn't throw a real clean football. Passes tend to wobble and ball placement/touch are inconsistent as well. However, he makes the majority of his plays on the edge with the run/pass threat. Has a high, over the top delivery, but seems to guide the ball at times, doesn't seem to really trust his motion and let it go with much confidence.
Impression: The game simply seems to be moving too fast for him in the pocket to warrant a draftable grade at this time.
TE Brandon Barden: No. 6 (6-5, 245)
A tall, long-framed kid who lacks ideal bend and looks a bit stiff into blocks. Possesses some natural coordination when asked to step and seal on the outside. However, struggles to gain leverage for himself, drops his head, isn't real heavy handed and doesn't stick to blocks through the play. Lines up as an H-back/fullback as well at times and displays some coordination when asked to get out to the second level and reach a defender off his frame. However, gets too high into contact, is stalled at the point and isn't a guy who can initially win at the point of attack through the hole. Doesn't hold up real well in pass protection either, struggles to create leverage, isn't real sticky through contact and can be overwhelmed at the point.
Does do a nice job for his size staying low off the snap and releasing into the pass game. Isn't a real gifted straight-line athlete and isn't going to run away from anyone down the seam. However, possesses some coordination to his game as a pass catcher. Likes to play in tighter areas, displays some short-area quickness and adjusts well to the football. Is a former high school quarterback who has a feel where to sit down in the pass game and knows how to work himself free. Now, isn't the sharpest of route runners and will chop his feet before getting out of his breaks in order to collect his balance. But understands how to gain leverage by widening/tightening his routes off the line and can pluck throws off his frame.
Impression: Isn't a plus athlete or a real gifted blocker, but he can catch the football and move the chains. A fringe roster guy and more free agent than late-round pick.
Defense
DT T.J. Greenstone: No. 74 (6-3, 285)
Looks to possess a bit more girth in the mid-section than his 285-pound frame would indicate. Can create a bit of a jolt on contact when he keeps his base down initially. Is a linear guy and can work his way into the backfield at times vs. the run game and overpower his man off the football. But, struggles with his balance, rarely makes any plays on the football and ends up on the ground too often. But, can create a pile behind the line at times and cause some havoc. Nevertheless, his pad level is very inconsistent. Gets upright too often at the snap and is overwhelmed initially or through contact. Works his hands hard to try to gain leverage, but isn't real heavy handed when trying to shed, as he gets upright and is often driven off the football.
Isn't a natural pass rusher. Again gets upright off the football, doesn't have the burst to threaten gaps inside or the power to consistently push the pocket. Plays with a good motor and keeps his hands up displaying some violence trying to keep himself clean. However, he's limited laterally, tries to be sudden but just wastes steps/motion inside trying to get his man off balance and isn't real creative with his pass rush.
Impression: Doesn't possess the kind of physical or athletic tools to consistently win inside in either the run or pass game at the next level.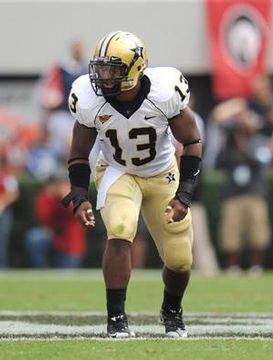 ICONMarve is a tackling machine inside.
ILB Chris Marve: No. 13 (6-0, 235)
A tough kid who is the leader of the Vanderbilt defense. Is instinctive inside and plays the game with a fire and has the willingness to fight through pain and be effective when not at 100 percent. Displays good instincts inside. Reads and reacts well to the football, picks his way through traffic and exhibits a natural burst when asked to attack downhill take on the lead guy. Isn't a real stack and shed backer, but plays with natural leverage, can create a pop for himself and anchor with some consistency when taking on lead blocks. However, is much better suited to slip blocks/run around them inside. Possesses good coordination/ change of directions skills and knows how to keep himself clean in tight areas. Will take himself out of plays at times trying to avoid blocks and looks limited to more of a run and hit scheme. Showcases good range in pursuit, can run sideline-to-sideline, plays fast because of read and react ability and seems to always be around the football. Is a solid tackler, not the most overpowering guy and will slide off ball carriers when trying to shed and make a play through the hole. Nevertheless, breaks down well in a phone booth and in space.
Looks comfortable in zone coverage, keeps his feet under him in his drop, redirects wells laterally and exhibits a burst out of his breaks in pursuit. Needs to do a better job feeling routes develop around him in zone and keeping his head on a swivel, especially on those underneath crossers. Is physical off the line in man coverage, as well, keeps his feet under him, maintains balance and extends his arms well. Never looks overextended and can make it tough for backs/tight ends to separate initially when trying to release into their routes.
Impression: He's a natural leader, plays with a passion for the game and can win in both the run and pass game. His size is the one negative to his game, but reminds me some of Brian Rolle, the linebacker from Ohio State last season, and if given an opportunity in a Cover 2-type scheme, the guy has a chance to play early and eventually start.
CB Casey Hayward: No. 19 (6- 0, 185)
Possesses good height and a thin build, but has the frame to add additional girth without losing much athleticism. Displays a natural feel for the pass game in zone coverage. Keeps his head on a swivel, feels routes develop around him and displays the fluidity in his hips to quickly open up and make a play on the football. Is at his best in off coverage where he can sit in routes, read and react, and can simply undercut throws. Displays some natural click and close ability when driving on passes in front of him. However, gets too upright in his drop, doesn't consistently keep his base under him and waste too much motion out of his breaks. Not as clean as he could be driving on the football. Picked off 6 passes last year and recorded 17 passes defended. But displays only slightly above-average ball skills. Will leave some picks on the field and I don't think his ball skills are quite as good as his stats make them out to be. Needs to do a better job catching the football more consistently.
Not real comfortable in man coverage at this stage however. Lacks great straight-line speed and doesn't seem to trust himself on an island. When he plays closer to the line likes to prematurely open up his hips in order to keep receivers from quickly getting behind him, will give up routine separation underneath. Gets upright when asked to turn and run, doesn't possess the type of second gear to quickly get back up to speed and can easily be taken advantage of by vertical speed. Gets leggy out of his breaks as well trying to re-direct because of his high pad level.
He does locate the football well in all areas of the game, possess good balance when asked to adjust to the throw and possesses the coordination to make a play at the highest point. But, is only an average drag down tackler, takes good angles toward the football, gives an honest effort, but lacks much pop into contact.
Impression: A smart, productive corner who can make plays on the football. Doesn't have quite the ball skills his stats would leave you to believe and I don't think he's a guy who can consistently hold up in man on the outside in the NFL. Looks more like a potential starter in a zone scheme where he doesn't have the consistently turn and run.
SS Sean Richardson: No. 21 (6-2, 215)
A tall, physical safety prospect who plays hard, likes to tackle and displays some natural thump on contact. Is at his best when asked to attack downhill. Runs the alley well, for the most part takes good angles in pursuit and uses his length to wrap on contact. Also inside the box he does a nice job defeating blocks through contact and working his way toward the football. Generates some thump on contact, keeps his pad level down and has a nose for the football. Possesses good enough range in pursuit. More of a straight-line athlete, but once he gets up to speed can track the ball carrier with some success. However, struggles to break down in space, is tight in the hips and can be exposed at times as a last-line defender.
Plays upright in coverage, isn't real fluid when asked to redirect and struggles to generate a burst clicking and closing on the throw. Takes far too long to change directions and drive on passes. Isn't a guy who can hold up in space at the next level on a consistent basis in man or zone. The more space he's in the worse chance he has. Takes good angles when driving on throws downhill in the pass game. Will lay the wood and can disengage ball from man, but doesn't have the ability to consistently put himself in position to make plays on the football itself. However, does possess some savvy as a blitzer, is comfortable near the line, times up the snap count well and uses his length the slip blocks and keep himself clean toward the corner.
Impression: Is always around the football, plays fast vs. the run game and will stick as a tackler. Isn't a guy who will hold up in space at the next level, but as a core special teams guy and thumper in some big nickel packages I think he has a chance to make a roster.
Follow me on twitter: @WesBunting