July 16, 2010 -
National Football Post
NFP Scouting Series: Wake Forest
For the rest of the summer, the National Football Post will be breaking down every team in the Football Bowl Subdivision (formerly known as Division I-A) to identify players who could warrant the most interest from NFL teams in the 2011 draft.
Therefore, today we take a look at the Wake Forest Demon Deacons.
Offense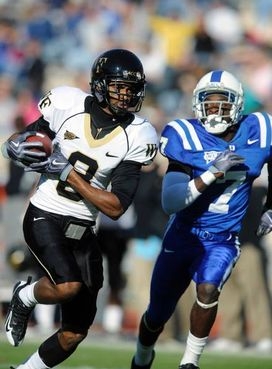 IconWilliams has the makings of becoming one of the top senior wide out prospects in the nation.
WR Marshall Williams: No. 8 (6-1, 186)
A thinner wide receiver prospect, but possesses good overall height for the position and has a frame that he can continue to fill out. Exhibits an explosive first step off the snap and quickly is able to get into his routes and reach top-end speed. Isn't an elite straight-line guy, but is fast enough on tape to consistently get on top and run by corners vertically. Isn't overly physical vs. press either, but has the lateral ability to gain a step off the line and accelerates extremely well away from cornerbacks out of his breaks. However, it's his short-area quickness, balance and flexibility that really pops out on tape. Does a great job cleanly changing directions and is really sudden when asked to separate vs. man coverage. Always seems to maintain his balance and keep his feet under him even at top-end speed and is a really clean route runner at this stage.
Now, isn't real physical and can be pushed around and handled a bit in the underneath passing game once a defender is able to get his hands on him. Struggles to shrug off defenders quickly and can be slowed trying to fight his way off contact. Also, needs to do a better job plucking the football with his hands, has a tendency to let throws get into his frame and can get lost with the ball after the catch. However, exhibits some real wiggle with the ball in his hands, can consistently make his defender miss one-on-one and create in the open field.
Impression: Needs to continue to get stronger and add a little more power to his game. However, he has the speed, balance and acceleration to mature into a very good route runner and separate vs. man coverage consistently at the next level. A senior wideout who I really like. I think big things are in store for him in 2010.
RB Josh Adams: No. 27 (5-11, 179)
An undersized, thinly put-together back with a skinny set of legs. Exhibits a good first step when asked to press the hole and exhibits some natural fluidity through his hips when changing directions in space. Possesses clean footwork and has the ability to quickly break down and make a man miss, even behind the line. Displays only average straight-line speed in the open field and is more quick/sudden than fast. Isn't real instinctive when asked to run in tighter quarters and is easily tripped up and brought down on any type of contact. Runs a bit upright inside, exposing a good bit of his frame — especially through the legs — and can be easily knocked off balance by any kind of arm tackle.
Now, he does display a natural feel in the pass game. Looks comfortable not only plucking the football out of the backfield, but is also a pretty coordinated route runner when asked to separate vs. linebackers in man. Exhibits good balance and coordination out of his breaks and has a real savvy of how to uncover and work his way back toward the quarterback. However, isn't an effective blocker at this stage. Lacks the power/strength to anchor on contact and doesn't even exhibit much in the way of balance/body control when trying to cut defenders down off the edge.
Impression: His ability to catch the football out of the backfield will give him a chance at the next level. But, he doesn't look like anything more than a third-down back, and guys with his lacking girth always seem to have a tough time making an NFL roster, unless they are extremely dynamic with the ball in their hands, which he is not.
C Russell Nenon: No. 72 (6-4, 286)
A tall, lean center prospect who exhibits good overall flexibility in his lower half and knows how to sit into his stance. Does a nice job keeping his base down and getting off the line quickly in pass protection while maintaining balance and extending his arms into contact. However, needs to do a better job getting his hands inside the chest plate of defenders, consistently gets his hands outside the frame and can be easily disengaged from inside. Lacks ideal power/strength in his lower half and really struggles to anchor vs. the bull rush. Exhibits above average lateral mobility inside and works until the whistle. Looks comfortable sliding his feet through contact and initially can stick to his man. But, just isn't real heavy-handed when asked to lock out and can easily be overwhelmed/driven into the backfield at the point of attack.
Works hard in the run game, has some nasty to his game and loves to finish blocks. However, lacks the type of power in his lower half to win at the point of attack. Is consistently stalemated on contact when asked to block as an in-line guy and doesn't have the power in his lower half to create much movement off the ball. Now, does look natural when asked to snap and scoop block around defenders inside. However, again, fails to consistently stay on blocks through the play because of his lack of lower body and hand strength.
Impression: Honestly, he's not that far away from becoming a potential NFL player. He's a natural bender who is comfortable sliding his feet and knows how to extend his arms into contact. However, he needs to continue to add strength and girth to his lower half to have a chance of holding up at the next level.
Follow me on twitter: @WesBunting
Ready for fantasy football? Click here to purchase the 2010 Total Access Pass/Draft Guide from the NFP.