July 11, 2011 -
Barry Dorey
NFP Scouting Series: Washington
For the rest of the summer, the National Football Post will be breaking down every team in the Football Bowl Subdivision to identify which players could warrant the most interest from NFL teams in the 2012 NFL draft.
Therefore, today we take a look at the senior class of the Washington Huskies.
Offense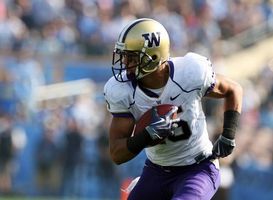 ICONKearse is a talented kid, but needs to put it all together.
WR Jermaine Kearse: No. 15 (6-1 210)
A strong, muscular, well-put together kid who certainly looks the part. Possesses a gifted skill set and has the power, size and speed to create for himself at the next level. However, still has a long ways to go. Isn't real sudden/physical off the line vs. press coverage. Doesn't seem to really like contact, doesn't use his hands well and seems content to try to run around the press. Re-routes himself at times, is slow to escape physical defenders and despite his skill set isn't very effective cleanly getting into his routes. Does a good job eating up the cushion however vs. off, displays a powerful stride, an initial burst out of his stance and has the ability to shrug off defenders vertically and track the football. Isn't a real polished route runner at this stage, struggles to generate much of a burst on sharply breaking routes and has a tendency to chop his feet and gear down before changing directions. Looks too tight in the hips to ever routinely separate vs. NFL defenders in this area of the game.
Is better suited working vertical routes, is used a lot on the slot where he can create miss-matches. However, is inconsistent using his body to shield defenders. Gets caught looking for the safety too often and doesn't routinely pluck the football way from his frame. Has the ability to do so, but looks content to let throws get into his frame and will put the ball on the ground.
Can be physical after the catch. Secures the ball quickly, snaps his head around and will break tackles after the completion. Doesn't have a ton of wiggle to his game, but is physical, balanced and explosive. Can win battles for you on the outside vs. the run game, but doesn't seem to have a real passion to be physical and dominate the way his body type would lead you to believe.
Impression: Looks like a guy who should be able to dominate at the college level. However, he seems a bit disinterested at times, isn't as physical in any area of the game as his frame would indicate and isn't a guy I would trust on the outside in the NFL to make plays for me.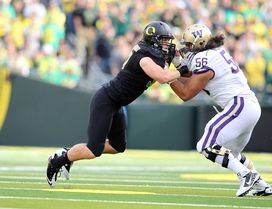 ICONDespite being raw with his footwork, Kelemete can bend and displays good hand placement.
OG Senio Kelemete: No. 56 (6-3, 305)
A former defensive lineman who made the move to guard in 09' before switching to left tackle as a junior in 2010. Possesses a naturally strong frame with a thick lower half. Won the teams offensive lineman weight room honor in 2010 and plays up to his weight room numbers. Is still learning the tackle position, but is a gifted athlete with good range, can bend and possesses natural anchor strength. Is inconsistent in his stance, at times gets a bit hunched over at the waist or doesn't sit into his base properly, but the guy can bend. Displays the ability to keep his pad level down from a two point stance in the run game and drops his base well into contact. Possesses a quick first step off the line, isn't technically sound with his footwork at this stage and looks content to simply side shuffle his feet laterally toward the corner, is still developing his kick slide. However, exhibits "plus" range toward the edge, can routinely reach speed and re-directs well in space. Is lose in the hips, quick footed and demonstrates natural mirror ability. Showcases very good hand quickness/placement as well, Routinely is able to get his hands into the chest plate of defenders and anchor. Will get a bit ahead of himself through contact and lose balance, but has the quickness to make up for a false step.
Looks very natural on the move in the run game. Has the range to routinely reach block and seal the edge. Displays impressive range getting out to the second level and can breakdown. However, struggles to routinely locate his target and will allows his man to run free at times, but again I think that can be improved with more experience. Is a sticky player through contact. Can create leverage for himself off the ball in the run game, doesn't waste much motion into contact and there is a real snap through his hips. You can tell he's a former defensive lineman because of his initial quickness off the ball and pop into contact. Likes to finish, plays with some nasty and gets after it until the whistle.
Impression: A gifted athlete with a strong base, strong hands and a passion for the game. Needs to clean up his footwork and his body type makes me think he's more of a guard only prospect. But has the skill set to fly up draft boards and if he improves he's technique could be one of the first guards selected in 2012.
Defense
DT Alameda Ta'amu: No. 74 (6-3, 335)
A massive presence inside, possesses elite natural width and girth through his lower half, but doesn't look soft at all, as he carries his weight very well. Displays the ability to sit into his stance, keeps his base under him and generate a snap off the football. At times gets a bit upright doubles over at the waste into blocks in order to stay low, but he can gain natural leverage bending at the knees. Doesn't have the initial quickness to threaten gaps off the football and penetrate. However, for his size displays a good initial burst, gets into blockers quickly and does a nice job getting under the pad level of opposing blockers and using his hands to gain leverage and fight his way through contact. Displays very good anchor strength inside. Has the ability to eat up the double, sit into his base and is tough to get a push on off the football. Is also very coordinated when asked to play off slide down blocks down the line, using his combination of short area quickness, balance and power he routinely can fend off blocks and works extremely hard for a guy his size in pursuit. Lacks ideal range closing from the backside, but the work rate is most definitely there. Now, is tight in the hips and isn't a guy who can quickly re-direct, shed and work his way back toward the football. However, initially there is some short area quickness in order to keep himself clean –especially in quick set situations- and uses his power to fight through blocks once he gains any kind of step. Possesses only average ball awareness at this time and will take himself out of some plays, but seemed to improve as the season went on.
Isn't going to be a consistent pass rushing threat at the next level. However, has the ability to come off the ball quickly, keep his base down and push the pocket on his bull rush. Works his hands well through contact, is a bit slippery for a big guy and has the motor to fend off blocks and work his way toward the quarterback. Doesn't have great closing speed, but is a tireless worker who has a motor that doesn't stop. Struggles to breakdown consistently on ball carriers and can be side stepped even in a phone booth when in position to create a negative play.
Impression: This is the ki nd of guy who has the ability to anchor the middle of an NFL defense in either a 3-4 or 4-3 front. Needs to do a better job finding the football, but overall he looks like a starter you can win because of in the NFL.
CB Quinton Richardson: No. 28 (6-0, 204)
A tall, long legged corner who sits so low into his stance he almost looks unnatural because isn't that kind of a natural bender. Pops upright consistently off the line and either gets leggy in his drop or prematurely looks to turn and run. Too often opens up the gate and gives up inside leverage when he can't get his hands on a receiver off the line. Displays some physicality in press man and is patient on his punch. However lacks ideal foot quickness, struggles to mirror off the line and too often gets over extended and gives up his fair share of separation laterally out of the breaks. Isn't a guy who is real fluid or compact when he has to turn and run. Gets upright, struggles to reach top end speed quickly and needs to collect himself before creating a slight burst for himself down the field. Nevertheless, too often allows defenders to get behind him. Is slow to click and close, doesn't generate a burst out of his breaks and is too upright to quickly drive on throws in front of him.
Doesn't seem to have a great feel in zone coverage either. Rarely gets early jumps on the football and doesn't have the balance or short area quickness to quickly re-direct and close on the football. Despite his size and isn't as physical in the run game as his dimensions would leave to believe. Can too often be sealed on the outside away from the football and doesn't routinely put himself in position to breakdown and tackle.
Impression: A big kid who plays tall, lacks ideal quickness and isn't a guy who will be able to hold his own in an NFL secondary consistently.
Follow me on twitter: @WesBunting