July 15, 2011 -
Barry Dorey
NFP Scouting Series: Washington State
For the rest of the summer, the National Football Post will be breaking down every team in the Football Bowl Subdivision to identify which players could warrant the most interest from NFL teams in the 2012 NFL draft.
Therefore, today we take a look at the senior class of the Washington State Cougars.
Offense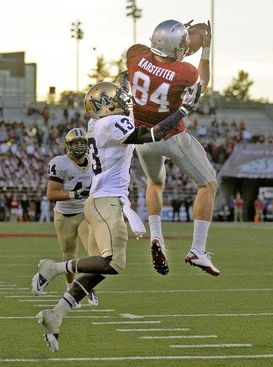 ICONKarstetter can make plays on the football.
WR Jared Karstetter: No. 84 (6-3, 208)
A savvy, well-built receiver. Isn't real explosive off the line even from his low, track like stance, but does do a nice job stemming his route and not advertising his breaks early. Isn't a threat to quickly get on top of defenders and run by anyone vertically. However, he does a nice job getting into the body of the corner, giving himself additional grass along the sideline and adjusting to the football on the fade. Possesses impressive awareness, quickly snapping his head around and using his coordination to make a play on the throw. Is also a "plus" vertical route runner as he sets up his routes well and is clean out of his breaks. Routinely is able to use his subtle head fakes to get defenders off balance and work his body between the ball and defender on the post/slant. Doesn't generate much burst out of his breaks and isn't every going to separate routinely at the next level. However, he has the hands to consistently pluck off his frame and secure the catch.
Limited as a route runner on sharply breaking routes. Is tighter in the hips, needs to gear down in order to get out of his breaks and doesn't create much of a burst from defenders. Again, has some savvy and will set up his routes well and has some snap on the comeback. But, needs to round off his breaks when trying to separate at speed and is going to have a time creating space for himself in the NFL vs. man coverage. Has a tendency too often to let the ball get into his frame when he creates some space, but consistently secures the football. Lacks much wiggle after the catch and isn't going to make anyone miss. But is a hard working kid who will work on the outside in the run game and fight to stay on blocks and set the edge.
Impression: Possesses a big frame, knows how to play the game and catch the football. Athletically he's limited and isn't ever going to separate a ton at the next level. But could be in store for a strong senior year and his work ethic could endear him to an NFL coaching staff. Nevertheless, isn't worth a pick.
Defense
LB Alex Hoffman-Ellis: No. 17 (6-1, 242)
A shorter, stocky linebacker who doesn't have a ton of experience at the position. Comes from a troubled past and only started playing football his senior year in high school. Ended up at Washington State via the JUCO route. Isn't overly instinctive inside vs. the run game and despite his "plus" straight-line speed struggles to make a ton of impact plays because he's slow to read and react. Has a passion for the game, which shows up with his raw emotion on the field, but doesn't have a great motor. And when you combine the at times inconsistent motor and substandard instincts he doesn't make as many plays in prusite as his skill set would lead you to believe. Breaks down well on contact however, taking good angles, drops his pad level and wraps, generating a snap as a tackler. But, isn't a guy who can stack and shed quickly at the point. Gets upright into contact, doesn't have a real long set of arms and can easily be overwhelmed/sealed inside. Doesn't display great short area quickness either, struggles to keep himself clean vs. lineman getting out to the second level and making his way through traffic.
Displays good depth in his drop off the line and he can open up his hips when looking to re-direct. However, is a bit mechanical/stiff, gets overextended with his footwork and doesn't create much of a burst when asked to close, as he's too often force to chop his feet in order to regain balance. Seems to get caught in no man's land at times in zone coverage and looks a lot more comfortable in man where he can use his straight-line speed to run with backs out of the backfield.
Impression: Has been productive with only limited years of experience and can run and tackle. However, isn't real instinctive, struggles to stack and shed and needs to earn his way on from special teams to have a chance.
Follow me on twitter: @WesBunting