July 01, 2011 -
Barry Dorey
NFP Scouting Series: Wisconsin
For the rest of the summer, the National Football Post will be breaking down every team in the Football Bowl Subdivision to identify which players could warrant the most interest from NFL teams in the 2012 NFL draft.
Therefore, today we take a look at the senior class of the Wisconsin Badgers.
Offense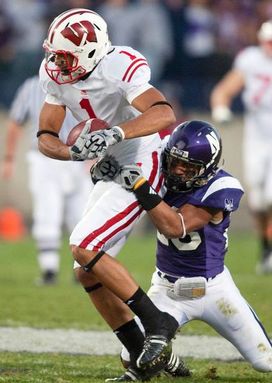 ICONToon has a physical element to his game after the catch.
WR Nick Toon: No. 1 (6-2, 215)
A tall, physically put together wideout with a good-sized frame, long arms and strong hands. Possesses a sudden element to his game off the line laterally. Knows how to set up defenders, uses his short-area quickness to beat press, shrugs off contact well and can separate quickly away from his man. Doesn't have a great burst in and out of his breaks, but is sharp, uses his body well to shield defenders and adjust cleanly to the football. Has a tendency to chop his feet and will waste some motion when trying to get out of his breaks. But, widens/tightens his angles as he sees appropriate giving the QB more room to throw in all areas of the game. Does a nice job adjusting to throws, using his long arms to pluck off his frame and securing the catch. Gets a bit lazy at times letting throws get into his frame, but for the most part is a sound plucker.
His combination of power and short-area quickness allows him to create somewhat for himself after the catch. Isn't a burner who can outrun angles and consistently make plays vertically behind corners. But secures the catch well, drops his pad level and can break tackles through contact. Isn't a real gifted vertical threat, but does have some jump ball ability. Is balanced, can be physical and will go up and make a play on the ball at its highest point. Hasn't been overly productive however, which a lot has to do with the offense and in a different scheme his numbers could be vastly different.
Impression: I like his size, short-area quickness and ability to adjust to the football. Isn't a guy who is going to create consistently down the field. But knows how to gain enough separation, pluck and create after the catch. Looks like a guy who can play on the outside as a legit number two wideout running the inward breaking routes with some time, but isn't ever going to be a dynamic playmaker.
TE Jake Byrne: No. 82 (6-4, 262)
A tall tight end prospect who is a bit narrow-framed in the lower half. Doesn't look overly girthy through the base and can get rocked backward at the point of attack. Possesses the ability to keep his base down and bend when sitting into his stance. However, keeps his feet too far under him, taking away from his ability to really fire off the football in the run game. Seems to really roll his hips into contact, gets upright and is more of a step and seal guy who struggles to stick at the point. Does have some good short-area quickness off the line, can seal defenders off his frame when reaching blocking. However, gets overextended, his weight is too often on his toes and can be shed easily through the play.
Looks tight hipped when trying to sit into his base in pass protection. Tries to bend, but struggles to really keep his butt down and anchor. Doesn't possess ideal natural power in his lower half, is more of a catcher and lacks the lateral ability to slide through contact. Seems content to lunge into defenders once he loses a step and try to simply push them past the pocket. Isn't going to hold up consistently in pass protection vs. backers in the NFL. Isn't much of a pass-catching threat either. Had only five catches in 2010. Isn't a real explosive athlete in space or tight areas and doesn't strike me as the caliber of athlete capable of separating in the NFL.
Impression: A big body who needs to win on the line as an in-line guy. However, isn't as powerful as his frame would suggest and doesn't warrant a pick in my view.
OG Kevin Zeitler: No. 70 (6-4, 320)
A good-looking guard prospect with a thick trunk and natural girth through his base. Sits into his stance well, displays natural bend, can keep his base under him off the football and create an initial snap into contact. Isn't overly powerful as an in-line guy, but creates good initial movement, works his legs hard through the play and extends his arms well into defenders. Displays very good hand placement, consistently is able to gain inside leverage and stick to blocks well through the play. Demonstrates above-average balance as well through the play making him tough to disengage from. Is also coordinated on the move. Possesses good short-area quickness for his size when asked to pull from the backside, displaying solid range. Breaks down well and can hit a target off his frame and eliminate on contact.
Needs to do a better job getting off the ball consistently in the pass game. Too often is one of the last linemen moving and will allow defenders to threaten gaps off his frame or get into his body. Possesses natural anchor strength when he can get his hands on you, but when he's late off the ball will get rocked on contact and doesn't display the type of athleticism to quickly recover. Possesses average lateral quickness when asked to mirror. At his best when engaged and showcases some shuffle and slide ability through contact with good hand placement. However, isn't overly laterally gifted in space and will lose balance into blocks trying to get his hands on defenders and will overextend. Works well in tandem, sits into his stance well and can keep the pocket clean when picking up the blitz. Displays good awareness and keeps his head on a swivel.
Impression: A tough, strong in-line guy who you can run behind and also has some coordination on the move. Not as effective in the pass game, but can mature into an average NFL pass blocker if he learns to get off the ball more consistently. Looks like a gritty type starter early on in his NFL career to me.
Defense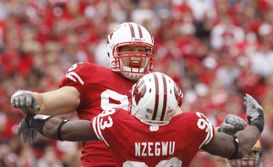 ICONSenior defensive linemen Butrym and Nzegwu need to have big years.
DT Patrick Butrym: No. 95 (6-3, 290)
Possesses a stouter frame than his height/weight numbers would indicate. Displays average bend when asked to sit into his stance, but isn't real explosive off the snap. Isn't a guy who can consistently threaten gaps consistently off the ball and is tight hipped, limiting him as a pass rusher. Isn't real laterally sudden when asked to slip/disengage from blocks on through contact. Is at his best working the bull rush where he extends his arms, pumps his legs and can gain some leverage on contact. Isn't overly physical through the play, gets a bit overextended and doesn't show much in the way of slipping the block. However, does a nice job using his opponent's momentum against him and pulling the rug out through contact.
Works hard vs. the run game. Lacks the size to routinely hold up inside vs. the double team and can be overwhelmed at the point. Comes off the ball on time for the most part, however, one-on-one seems to lose the leverage game too often. I wouldn't say he plays high, but routinely allows linemen to get under his pad level on contact and routinely takes an initial jolt inside. Does have some power in his hands when asked to shed, but isn't a guy can routinely anchor/shed and make a play of f his frame and his range is limited. Makes most of plays in pursuit on effort and tenacity.
Impression: An overachiever who doesn't seem to have the skill set needed to win consistently in the run or pass game at the next level. Will have a tough time making a roster.
DE Louis Nzegwu: No. 93 (6-3, 248)
A long armed defensive lineman with a naturally muscular build and certainly looks the part of an athletic pass rushing type DE or rush backer. However, isn't a real explosive kid off the line, doesn't have the type of bend to consistently sit into his stance and lacks the explosion to threaten the corner with his edge speed. Struggles to keep his base down when trying to flatten out around the edge, allowing his pad level to get upright exposing his frame and can easily be pushed past the quarterback. Lacks much power on contact into his bull rush and isn't the type of sudden lateral athlete to quickly re-direct and slip blocks off his speed rush. Needs to collect himself before changing directions, gear down and extend his arms in order to work back toward the quarterback. Can eventually fight his way off blocks due to his length, but there is no real quickness to his counter. Loves to work his spin move in order to disengage, however, he's too upright, doesn't change directions well and too often gets jolted in the back when trying to pull it off.
Displays some discipline vs. the run game, stays at home from the backside and has a good initial burst when asked to close. Wraps up well and uses his length to get into ball carriers. Also, can use his length to fight his way off blocks and slip lineman who lunge into contact. However, if you can get your hands on him the battle is over, lacks anchor strength, plays high and routinely can be washed out on contact vs. the run.
Impression: Looks the part, but doesn't have the kind of balance, bend or burst to be effective getting after the QB in the NFL.
CB Antonio Fenelus: No. 26 (5-8, 193)
A tough, instinctive little corner who lacks ideal size for the position. Isn't a guy you can trust to press on the outside and play up near the line of scrimmage. Works hard to stay in plays vs. the run game, but can be rag dolled at times on the edge and sealed from the action easily. Is a willing tackler however on the outside who takes good angles and will chop down ball carries on contact, but at times will struggle to get into the body of his target.
Displays the ability to sit into his drop, keep his feet under him and click and close on the football cleanly. Looks comfortable in off/zone concepts, reads the game well in front of him, doesn't waste much motion when breaking on a throw and gets his hands on a lot of footballs. Possesses good straight-line speed vertically. Allows his pad level to get a bit upright when asked to turn and run, but he's fluid in the hips and can get back to speed quickly. Obviously will struggle with bigger receivers down the field in jump ball situations. When playing up near the line in press bail displays good change of directions skills and footwork from a trail technique. Doesn't get real overextended, will chop his feet at times, but collects himself quickly and has a burst out of his breaks. Displays good ball skills, adjust to the football and can create turnovers.
Impression: A good football player who looks limited to more of a zone/off scheme because of his size. If he were a couple inches bigger I think he'd be a potential starter, but as is, looks like a potential later round pick who could make a roster and fight for time inside.
FS Aaron Henry: No. 7 (6-0, 211)
A solidly built safety prospect who made the move from corner following the 2009 season and has some natural cover skills. Does a nice job sitting into his drop, staying compact with his footwork and has some click and close ability when asked to drive on throws under him. Isn't afraid to play in the slot, is patient off the line keeping his body square in his backpedal and takes good angles on passes under him. Possesses only average straight-line speed when asked to turn and run, but is physical in man, does a nice job getting a bump initially and can re-rout receivers and throw off their timing if they try to run by him. Exhibits some natural fluidity in the deep half as well when asked to get over the top. However, isn't real instinctive in any area of the game. Doesn't get many early jumps on the football, has a tendency to stop his feet when trying to read and react and takes himself out of far too many plays. Isn't a real ball hawk or playmaker at this stage. Now, has only played the position one year and has some room to grow, but he's a very reactive player at this stage, not proactive.
Generates a thump into contact when attacking the line of scrimmage. Squares his shoulders well, brings his legs and there is a snap into contact. Is patient as a last line defender as well, using the sideline to funnels ball carries, but isn't overly aggressive and again never really seems to be on the offensive, doesn't quite trust himself to just let it lose at this stage.
Impression: A good-sized kid with some natural cover skills and range, but is still learning the mental nuances of the game. It will be interesting to see how he develops during his second seasons as a safety. But as of now his skill set says potential starter, his overall instincts says special teams guy. Therefore, as of now I would place him somewhere in the middle.
Follow me on twitter: @WesBunting