February 12, 2013 -
Erik Oehler
NFP takes a closer look at the character concerns surrounding Georgia LB Alec Ogletree.
Every draft has a number of prospects who draft stock is affected by their off-field behavior. Sometimes it is numerous arrests and other times it is less obvious as it is based on a player's work ethic and leadership according to sources at their school. While some teams remove many players from their draft boards due to character concerns, others remove few and just adjust a prospects spot on the draft board to reflect the point at which they feel the potential reward makes the risk worth taking. Each week we are going to take a close look at a prospect whose draft status could be affected by character concerns and what we are hearing about their actual status. This week we look at Georgia inside linebacker Alex Ogletree who came out early for the 2013 NFL Draft.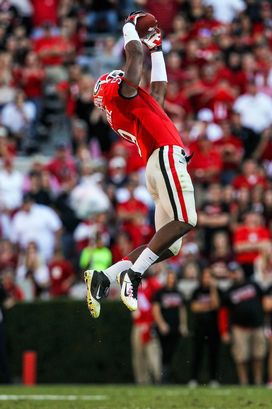 US PRESSWIREGeorgia linebacker Alec Ogletree shows off his jumping ability going up to make a great interception.
While it is never a hard decision for NFL teams to remove a borderline prospect from their draft board due to character concerns, when the player is an elite physical talents it makes teams decisions much harder. Manti Te'o may well be the more well-known linebacker, but Ogletree is viewed by us and the NFL as a far superior talent. As an underclassman who came out early for the Draft, NFL teams are still working to gather all the information about Ogletree's background to determine if he is a good kid who just needs to make better decisions or if he has real character concerns.
After missing half the 2011 season due to a broken foot, 2012 was expected to be Ogletree's breakout season where he not only made big plays for Georgia's defense, but also put himself on the map as a future high NFL draft pick. That was delayed when he was suspended to begin the 2012 season for what is rumored to be a failed drug test. While one failed drug test is not the end of the world in terms of a player's future in the NFL, it definitely raises concerns on a few fronts. First and foremost teams want to find out if the player has a real problem with drugs or if this was more of a young person making a poor decision. Important to note that while failing a drug test in school is not good, it would be more damaging to his NFL prospects if he fails the drug test at the Combine.
The reality is that if this was the only trouble that Ogletree had ever gotten in at Georgia then there would be fewer worries. However, Ogletree was also suspended for one game to begin his freshman year after being arrested on a misdemeanor theft-by-taking charge. While an incident like this rarely would affect a prospect's draft status if he never ran into trouble again, Ogletree's suspension this past season definitely raises questions about his maturity and decision making.
Having spoken to a number of NFL personnel who evaluated Ogletree and checked into his background, they seem to believe that these incidents will not keep him from being a first round pick. They expressed to me that Ogletree's rare physical talent and consistently high level of production when he was on the field will enable him to overcome these character concerns. In the end, there is little doubt that Ogletree's past indiscretions raise questions about his ability to stay on the straight and narrow during his career, but they will not cause him to fall out of the first round because these errors in judgment/decision-making are not enough to make teams pass on his potential to become a game changing NFL defender. I firmly believe that Ogletree will turn out to be a dynamic, playmaking linebacker who upgrades the defense dramatically.

Email Russ at Russelllande@yahoo.com and Follow Russ on Twitter @RUSSLANDE