March 07, 2011 -
National Football Post
NFP updated prospect rankings
With the NFL Combine now complete, it was time to make some slight changes to our rankings as we move a step closer toward the NFL Draft. Therefore, here are some nuggets you can look for on our new big board this week.
No changes were necessary. There wasn't a quarterback who really blew me away to force a slight rise up the boards. And as for the prospects who didn't have a great day, I feel like I have a solid enough evaluation of them to keep them exactly where they are.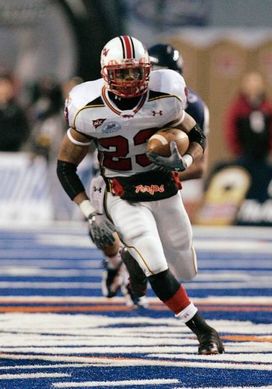 ICONMaryland's Da'Rel Scott improved his stock at the combine.
Auburn's Mario Fannin and Maryland's Da'Rel Scott both saw a slight boost in their stock because they both ran faster than I anticipated, whereas Miami back Graig Cooper saw a bump because of his short-area quickness/explosion during positional drills and his short-shuttle times.
The size/speed combination of Alabama's Julio Jones was enough for him to improve his overall grade slightly. However, it's not enough to overtake Georgia's A.J. Green in my mind.
After a good week in Mobile, San Diego State wideout Vincent Brown saw his stock stumble after posting a 4.7 40 time. He's a natural receiver who can go get the football, but he doesn't look anything more than a solid slot contributor, but not a real dynamic one at that.
Southern Cal's Jordan Cameron continued to make his rise up draft boards with another solid postseason performance. He not only was one of the fastest straight-line guys at the position, running in the 4.5 range, but also displayed impressive short-area quickness and balance throughout and has the skill set to mature into a starter in the NFL. Plus, he looked more natural sitting into his stance and getting off the line in both the run and pass game.
Not much movement from the top of the offensive tackle group, as they all performed about how I expected. However, I came away a bit disappointed in TCU's Marcus Cannon, who looked a bit tight and heavy footed when asked to change directions. I didn't think he was nearly as athletic as some of the other 2nd tier tackles.
Also, Utah's Zane Taylor saw a bump in his stock. He displayed good strength, is well strapped together and in this weaker center class, he's one guy who is worth a long look at in the later rounds.
I still have major questions about the guy's character. However, anyway you look at it North Carolina's Marvin Austin has been impressive all postseason long. He carries his weight well, possesses good strength and looks like an intriguing boom or bust type top-100 pick.
Speaking of North Carolina standouts, DE Robert Quinn displayed an explosive initial burst, was fluid and clean when changing directions and is in a tight race for the top defensive end in the class. Quinn gets the nod in my book.
On the other hand Georgia's Justin Houston strikes me as a down defensive lineman only. He doesn't quite look fluid/balanced enough to drop off into coverage and play on his feet and was dropped a bit because of it.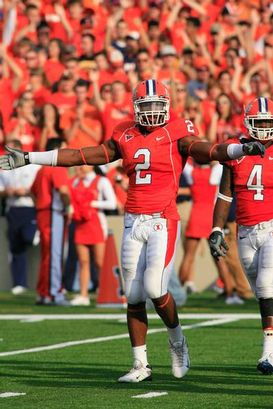 ICONMartez Wilson is a gifted athlete and could be a steal in the draft.
In this weaker linebacker class, Illinois' Martez Wilson continues to rise. I don't see him as a MLB because of his high cut, Y-shaped frame. But he's a gifted athlete who runs well in pursuit and could get looks both as an OLB in a 3-4 or 4-3 scheme.
Mississippi State's K.J. Wright had a very average workout. He's a bigger backer, but is thinner in the lower half and I wasn't real impressed watching him try to bend and change directions in space. He's a bit more limited athletically than I initially thought.
If you can't run, it's tough to play defensive back in the NFL. Therefore, guys like Florida's Will Hill and Ahmad Black both saw their stock fall a bit, as well as North Carolina's Kendric Burney.
Being stiff isn't a good thing, either, which is why West Virginia's Robert Sands took a bit of a tumble as well and might now end up being moved to OLB on our next round of rankings.
However, small-school corner Buster Skrine once again stood out with his straight-line speed and fluidity at the cornerback position. He's one guy who has done nothing but boost his draft stock this postseason.
Follow me on Twitter: @WesBunting