September 04, 2012 -
National Football Post
NFP Week 1 Power Rankings
Every week, the National Football Post brings you our NFL Power Rankings: a breakdown of how we stack up the league.
Here is how we see the NFL to start the 2012 season…
1. Green Bay Packers: The Packers invested in young defensive talent via the draft, but we still see them as the No. 1 because of Rodgers and the multiple weapons on the offensive side of the ball.
2. New England Patriots: We are curious to find out how the Pats will game plan with WR Brandon Lloyd on the field, but it still comes back to Brady and his ability to target Gronkowski and Hernandez.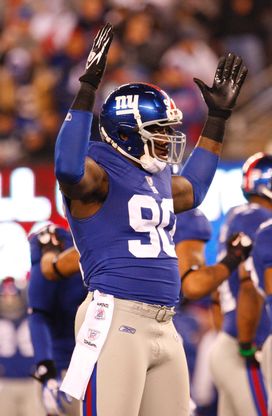 US PRESSWIREPierre-Paul and the rest of the Giants defensive front is the best in the NFL.
3. New York Giants: The defending champs have the best defensive front four in football—and that makes them the team to beat in the East.
4. Baltimore Ravens: If the Ravens want to challenge for a Super Bowl championship, it falls on the shoulders of QB Joe Flacco.
5. Houston Texans: Do the Texans have the best defense in football? We think so.
6. San Francisco 49ers: The Niners return their entire starting defense and added new talent at the WR position, but can QB Alex Smith win a title?
7. Atlanta Falcons: Does Matt Ryan take a step forward and enter the discussion as one of the top QBs in the NFL?
8. New Orleans Saints: Should we have Brees and the Saints ranked higher? Probably, but we want to see them play without Sean Payton first.
9. Pittsburgh Steelers: The defense is older and Todd Haley is calling the plays for Ben Roethlisberger and the offense, but we still see the Steelers as one of the AFC favorites.
10. Philadelphia Eagles: We want to buy the Eagles, but can Michael Vick stay healthy for a playoff run?
11. Cincinnati Bengals: Second year for Andy Dalton and A.J. Green. Look for big numbers.
12: Chicago Bears: The Bears now have the ability to throw the ball down the field with Brandon Marshall, but they need a healthy Brian Urlacher to compete with Green Bay.
13. Detroit Lions: The Lions will score points. We know that. However, do they have enough talent in the secondary?
14. Denver Broncos: Are the Broncos the AFC West favorite? If Manning stays on the field it is hard to count them out.
15. Kansas City Chiefs: Multiple playmakers back from injury and a defense that could be one of the AFC's best.
16. Buffalo Bills: The Bills loaded up on talent along the D-Line for one reason: to get pressure on Tom Brady and the Pats.
CLICK TO PAGE 2 TO SEE THE REST OF OUR POWER RANKINGS