November 06, 2012 -
National Football Post
NFP Week 10 Power Rankings
Every week, the National Football Post brings you our NFL Power Rankings: a breakdown of how we stack up the league.
Week 10 Rankings (previous rankings in parenthesis)
1. (1) Atlanta Falcons (8-0): The league's only unbeaten squad made the fourth quarter plays to beat the Cowboys on Sunday night.
2. (3) Houston Texans (7-1): Look for a physical game Sunday when the Texans travel to Chicago to play Lovie Smith's squad under the lights.
3. (4) San Francisco 49ers (6-2): After seeing Randy Moss turn a basic hitch route into a TD last Monday night, will the WR be more involved in the game plan the second half of the season?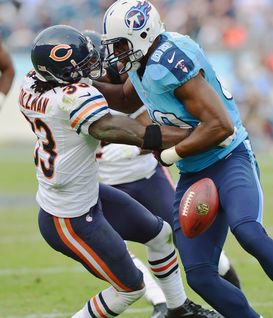 US PRESSWIRECharles Tillman forced 4 fumbles in Chicago's 51-20 win over Tennessee.
4. (5) Chicago Bears (7-1): Charles Tillman continues to make his case for the DPOY award.
5. (6) Green Bay (6-3): More injuries in Green Bay, but as long as No. 12 is on the field this team can play with anyone.
6. (2) New York Giants (6-3): No fourth quarter comeback this time as the Giants blow a late lead to the Steelers at home.
7. (10) Pittsburgh Steelers (5-3): A note to NFL secondaries: Steelers WR Mike Wallace can run.
8. (7) New England Patriots (6-3): The Patriots could roll up some points (again) this week with the Bills coming to Foxborough.
9. (8) Denver Broncos (5-3): Peyton Manning looks really comfortable throwing the ball to Eric Decker right now.
10. (9) Baltimore Ravens (6-2): Will the Ravens' defense show us something in the second half of the season?
11. (11) Seattle Seahawks (5-4): Pete Carroll's team continues to remind everyone that it's not easy to beat the Seahawks when you travel out west.
12. (14) Detroit Lions (4-4): Two wins in the last two weeks have kept the Lions in the NFC mix.
13. (17) Tampa Bay Buccaneers (4-4): Doug Martin lit up the Raiders on Sunday.
14. (21) Indianapolis Colts (5-3): Andrew Luck plays like a veteran—and the Colts are in the playoff discussion because of it.
15. (12) Miami Dolphins (4-4): Tough loss for the Dolphins, but we think this squad will compete all year.
16. (21) San Diego Chargers (4-4): The Bolts needed a win. Must have been nice to have K.C. on the schedule.
CONTINUE TO PAGE 2 FOR THE REST OF OUR POWER RANKINGS