September 11, 2012 -
National Football Post
NFP Week 2 Power Rankings
Every week the National Football Post brings you our weekly NFL Power Rankings—a breakdown of how we stack up the league.
Week 2 Rankings (previous rankings in parenthesis)
1. (2) New England Patriots (1-0): Brady, Gronkowski and Hernandez can still produce points, but how about that Patriots' defense in the win over the Titans?
2. (4) Baltimore Ravens (1-0): How tough will the Ravens be if they can get this type of production from Joe Flacco and the offense in Baltimore?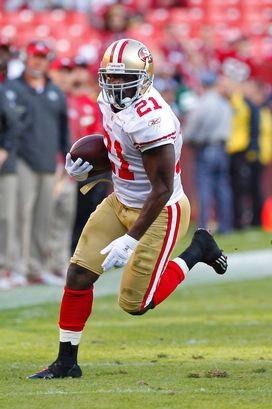 US PRESSWIREGore and the 49ers put it on the Packers up at Lambeau in Sunday's win.
3. (5) San Francisco 49ers (1-0): Make no mistake about it: the Niners physically whipped the Packers at Lambeau.
4. (1) Green Bay Packers (0-1): Should Packers' fans already have some concerns with their secondary?
5. (6) Houston Texans (1-0): The Texans' defense made QB Ryan Tannehill look like a rookie in his first start as a pro.
6. (7) Atlanta Falcons (1-0): Send a memo out to the league that Matt Ryan and Julio Jones are going to put up big numbers this season.
7. (3) New York Giants (0-1): Jason Pierre-Paul might be the best rush end in the NFL, but where was the rest of the Giants' D-Line in the second half during the loss to Dallas?
8. (14) Denver Broncos (1-0): Maybe we had the Broncos ranked to low to start the season, but after watching Manning run that offense in Denver it was easy to bump them up.
9. (11) Chicago Bears (1-0): The Bears now have the ability to challenge secondaries in the NFL with Brandon Marshall and Alshon Jeffery outside of the numbers.
10. (9) Pittsburgh Steelers (0-1): We aren't going to bury the Steelers after a tough road loss to Manning and the Broncos with a couple of key defensive veterans on the sidelines.
11. (8) New Orleans Saints (0-1): Are the Saints missing Sean Payton already after the loss to the Redskins?
12. (17) Dallas Cowboys (1-0): Tony Romo quieted plenty of critics (for at least one week) after his production in New York vs., the Giants.
13. (13) Detroit Lions (1-0): The Lions escaped the Rams at home after three Matthew Stafford INTs.
14. (10) Philadelphia Eagles (1-0): Michael Vick can throw four interceptions and still get a win vs. the Browns, but that won't sell against the rest of the NFC East.
15. (21) New York Jets (1-0): When you score in all three phases of the game (offense, defense, special teams) expect to get a win.
16. (19) San Diego Chargers (1-0): The Chargers are going to sling the ball around no matter who lines up at wide receiver.
CLICK TO PAGE 2 FOR THE REST OF OUR POWER RANKINGS