September 18, 2012 -
National Football Post
NFP Week 3 Power Rankings
Every week, the National Football Post brings you our weekly NFL Power Rankings: a breakdown of how we stack up the league.
Week 3 Rankings (previous ranking in parentheses)
1. (3) San Francisco 49ers (2-0): As long as Alex Smith continues to play at a high level we have no problem calling the 49ers the best team in the league.
2. (4) Green Bay Packers (1-1): When was the last time we talked about the Packers playing a dominant defensive game?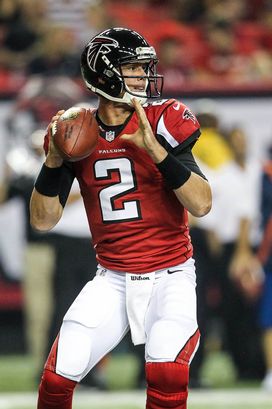 US PRESSWIREMatt Ryan and the Falcons look legit after a hot start to the season.
3. (6) Atlanta Falcons (2-0): Matt Ryan went to work on the Broncos' defense and the Falcons secondary was all over Peyton Manning in the Atlanta win.
4. (1) New England Patriots (1-1): Did Arizona just expose more flaws in the Patriots' O-Line during the upset win in Foxborough?
5. (14) Philadelphia Eagles (2-0): A big jump for Philly in our rankings after the win over the Ravens, but the turnovers are still an issue for Vick and the offense.
6. (4) Baltimore Ravens (1-1): The Joe Flacco talk has slowed down this week after the Eagles limited the Ravens' QB in the second half.
7. (5) Houston Texans (2-0): Anyone surprised to see the Texans defense beat up on Blaine Gabbert and the Jags?
8. (10) Pittsburgh Steelers (1-1): Forget the final score, the Steelers handled the Jets on Sunday.
9. (7) New York Giants (1-1): Eli Manning threw for over 500-yards and the Giants scored 25 fourth quarter points to avoid starting in an 0-2 hole.
10. (8) Denver Broncos (1-1): Turn the ball over on the road and you will usually get on the plane with a loss. Poor night from Manning and the Broncos.
11. (26) Arizona Cardinals (2-0): How many teams will copy the Cards' defensive game plan vs. the Patriots?
12. (16) San Diego Chargers (2-0): Norv Turner and the Chargers are 2-0, but let's hold off on the hype until San Diego faces some top competition.
13. (13) Detroit Lions (1-1): Detroit need to get healthy in the secondary.
14. (18) Cincinnati Bengals (1-1): The Bengals got the win over Cleveland, but after two weeks they lead the league is sacks given up (10).
15. (27) Seattle Seahawks (1-1): The Seahawks whipped the Cowboys on defense and special teams. That sells at home.
16. (9) Chicago Bears (1-1): The Bears still don't have an answer for Packers' defensive coordinator Dom Capers
<p>
CLICK TO PAGE 2 FOR THE REST OF OUR RANKINGS