September 26, 2012 -
National Football Post
NFP Week 4 Power Rankings
Every week, the National Football Post brings you our NFL Power Rankings: a breakdown of how we stack up the league.
Week 4 (previous ranking in parentheses)
1. (3) Atlanta Falcons (3-0): The Falcons are rolling after beating up the Chargers in San Diego.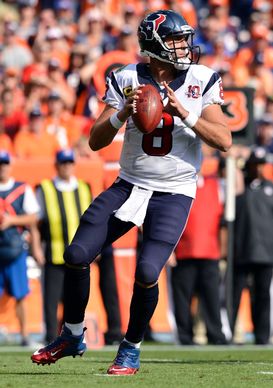 US PRESSWIRESchaub and the Texans moved to 3-0 with a win over the Broncos.
2. (7) Houston Texans (3-0): We could have easily put the Texans on the top line after they moved to 3-0 with a win over Manning and the Broncos.
3. (1) San Francisco 49ers (2-1): We didn't see the Niners losing in Minnesota, but when you turn the ball over on the road it leads to trouble in the NFL.
4. (6) Baltimore Ravens (2-1): When the Ravens needed Joe Flacco on the final drive the QB went down the field to set up the winning FG.
5. (9) New York Giants (2-1): The Giants were missing some key players in Carolina, but that didn't stop them from whipping Cam Newton and the Panthers.
6. (4) New England Patriots (1-2): Two straight losses for Brady and the Pats. That hasn't happened since the 2003 season.
7. (2) Green Bay Packers (1-2): The Packers were robbed in Seattle, but that doesn't hide the offensive issues for Mike McCarthy's club.
8. (11) Arizona Cardinals (3-0): The defense is legit in 'Zona, but can they get consistent play at the QB position to stay hot?
9. (15) Seattle Seahawks (2-1): The Seahawks secondary is tough. Just ask the Packers.
10. (18) Dallas Cowboys (2-1): Does Rob Ryan have the league's top defense? The numbers say he does.
11. (16) Chicago Bears (2-1): Jay Cutler still looks rattled, but the Bears' D-Line continues to hit the QB.
12. (5) Philadelphia Eagles (2-1): Keep turning the ball over and this thing could get ugly for Reid, Vick and the Eagles.
13. (14) Cincinnati Bengals (2-1): Must be nice to have A.J. Green outside of the numbers in Cincy.
14. (10) Denver Broncos (1-2): I'm sure John Elway didn't envision a 1-2 start when he opened his wallet for Peyton Manning this offseason.
15. (8) Pittsburgh Steelers (1-2): What happened to the Steelers defense in the fourth quarter out in Oakland?
16. (12) San Diego Chargers (2-1): Maybe the 2-0 start wasn't really that impressive after the Chargers laid down this past Sunday.
CLICK TO PAGE 2 FOR THE REST OF OUR POWER RANKINGS