October 03, 2012 -
National Football Post
NFP Week 5 Power Rankings
Every week, the National Football Post brings you our weekly NFL Power Rankings—a breakdown of how we stack up the league.
Week 5 (previous rankings in parenthesis)
1. (2) Houston Texans (4-0): After 4 weeks, the Texans sure look like the most complete team in the NFL.
2. (1) Atlanta Falcons (4-0): The Falcons stay unbeaten thanks to Matt Ryan's 59-yard throw to Roddy White—from their own 1-yard line—to set up the wining FG vs. Carolina.
3. (3) San Francisco 49ers (3-1): The 49ers bounced back from the Week 3 loss by whipping the Jets 34-0 in New York.
4. (4) Baltimore Ravens (3-1): It wasn't pretty vs. the Browns, but that's AFC North football.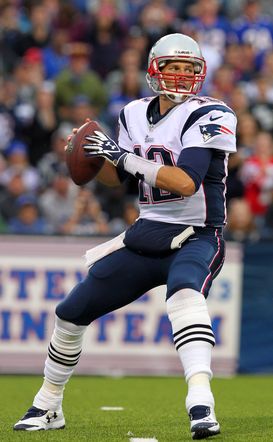 US PRESSWIREBrady and the Patriots put on a clinic in the second half during their win over the Bills in Buffalo.
5. (6) New England Patriots (2-2): The Patriots went on a second half run as they continue to own the Bills.
6. (7) Green Bay Packers (2-2): The Packers kept Aaron Rodgers off the ground and he responded with 4 TD passes in a win this club needed after the suspect loss in Seattle.
7. (12) Philadelphia Eagles (3-1): Go ahead and question Reid, Vick and the Eagles' defense, but this is a 3-1 team that just knocked off the champs.
8. (8) Arizona Cardinals (4-0): The Cards' needed a late Kevin Kolb TD to force OT vs. the Dolphins, but they still got thw win to stay unbeaten.
9. (5) New York Giants (2-2): No fourth quarter comeback this time for Eli and the Giants in Philly.
10. (11) Chicago Bears (3-1): The Bears are playing consistent defense and forcing turnovers. Sound familiar under Lovie Smith?
11. (14) Denver Broncos (2-2): No need to question Manning's arm strength after the Broncos' QB poured it on the Raiders.
12. (13) Cincinnati Bengals (3-1): The Bengals have quietly ripped off three straight wins after the blowout loss on Monday night in Week 1 vs. the Ravens.
13. (16) San Diego Chargers (3-1): A week after getting rolled at home by the Falcons, the Chargers go on the road and beat up on the Chiefs.
14. (19) Minnesota Vikings (3-1): Did anyone think the Vikes would be tied for first place in the NFC North after four weeks?
15. (15) Pittsburgh Steelers (1-2): The Steelers come back from the bye to host the Eagles in a game they need after the 1-2 start.
16. (9) Seattle Seahawks (2-2): Three interceptions from rookie QB Russell Wilson on the road isn't going to get it done.
CLICK TO PAGE 2 FOR THE REST OF OUR POWER RANKINGS