October 10, 2012 -
National Football Post
NFP Week 6 Power Rankings
Every week, the National Football Post brings you our NFL Power Rankings: a breakdown of how we stack up the league.
Week 6 rankings (previous ranking in parenthesis)
1. (1) Houston Texans (5-0): Too early to hand J.J. Watt the Defensive Player of the Year award?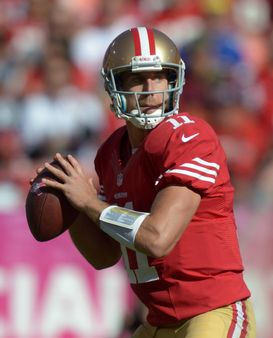 US PRESSWIREAlex Smith and the 49ers poured it on the Bills in their 45-3 win.
2. (3) San Francisco 49ers (4-1): The Bills didn't even belong on the same field with Alex Smith and the 49ers on Sunday.
3. (2) Atlanta Falcons (5-0): The Redskins found out that Tony Gonzalez can still fill up the box score.
4. (4) Baltimore Ravens (4-1): That was an ugly win in K.C., but it still counts for the 4-1 Ravens.
5. New England Patriots (3-2): With the production in the running game, the Patriots might be the toughest offense in the NFL to game plan for.
6. (9) New York Giants (3-2): After a slow start, Ahmad Bradshaw and the Giants ran all over the Browns.
7. (10) Chicago Bears (4-1): Two more defensive scores and over 500-yards of total offense for the Bears as they whip the Jags 41-3.
8. (14) Minnesota Vikings (4-1): Percy Harvin is making plays, A.P. is running hard and the defense continues to show up for the 4-1 Vikings.
9. (15) Pittsburgh Steelers (2-2): The return of RB Rashard Mendenhall is an upgrade for the Steelers' offense.
10. (8) Arizona Cardinals (4-1): The Cards have real issues on the O-Line and now need help at the RB position. Time to jump off the bandwagon?
11. (7) Philadelphia Eagles (3-2): Michael Vick has to protect the ball--because the amount of turnovers in Philly are ridiculous.
12. (16) Seattle Seahawks (3-2):
13. (6) Green Bay Packers (2-3): The Packers blew a 21-3 lead and lost RB Cedric Benson in Indianapolis on Sunday. That's not good with Houston up next.
14. (13) San Diego Chargers (3-2): A rough night for the Chargers' secondary in New Orleans.
15. (21) St. Louis Rams (3-2): This defense can play in St. Louis, but someone needs to step up on offense while WR Danny Amendola is on the shelf.
16. (11) Denver Broncos (2-3): That had to be a tough tape for the Broncos' defense to watch after they were shredded up front in New England.
CONTINUE TO PAGE 2 FOR THE REST OF OUR POWER RANKINGS