October 17, 2012 -
National Football Post
NFP Week 7 Power Rankings
Every week the National Football Post brings you our NFL Power Rankings—a breakdown of how we stack up the league.
Week 7 Rankings (previous rankings in parenthesis)
1. (3) Atlanta Falcons (6-0): Are the Falcons a dominant squad? We don't see it that way, but they continue to win and make plays in crucial situations.
2. (6) New York Giants (4-2): We bumped the Giants up the list after they whipped Harbaugh's club out in San Francisco.
3. (1) Houston Texans (5-1): The Texans' secondary was beat up all night by the Packers in the 42-24 loss.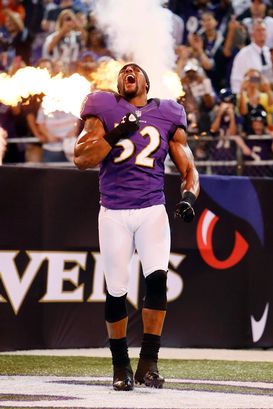 US PRESSWIREThe Ravens will be without Ray Lewis and Lardarius Webb for the rest of the season.
4. (4) Baltimore Ravens (5-1): The injuries to Lardarius Webb and Ray Lewis are a major blow to a defense that was already suspect in Baltimore.
5. (2) San Francisco 49ers (4-2): Three interceptions from Alex Smith put the Niners in a hole they couldn't climb out of vs. the Giants.
6. (7) Chicago Bears (4-1): The Bears come off the bye with a matchup vs. Calvin Johnson and the Lions on Monday night.
7. (12) Seattle Seahawks (4-2): If you didn't buy into the Seahawks before, the win over the Patriots should help.
8. (13) Green Bay Packers (3-3): Are the Packers back in the mix? No question when Aaron Rodgers throws from six TDs vs. one of the league's top defenses.
9. (5) New England Patriots (3-3): Poor coaching decisions, turnovers and lousy secondary play. That will get you beat on the road.
10. (16) Denver Broncos (3-3): Peyton Manning put on a show in the second half during the Broncos comeback win on Monday night in San Diego.
11. (8) Minnesota Vikings (4-2): The Vikings couldn't contain RGIII out in D.C.
12. (11) Philadelphia Eagles (3-3): Defensive coordinator Juan Castillo was fired on Tuesday in a panic move by Andy Reid after the loss to Detroit.
13. (18) Washington Redskins (3-3): As long as RGIII stays healthy, the 'Skins will be one of the toughest offenses to game plan for.
14. (10) Arizona Cardinals (4-2): After a hot start, the Cards have dropped two straight behind an O-Line that has some major issues.
15. (9) Pittsburgh Steelers (2-3): The Steelers suffered more injuries during a bad loss down in Nashville.
16. (20) Detroit Lions (2-3): The Lions can get right back in the NFC North discussion with a win at Chicago this week.
CONTINUE TO PAGE 2 FOR THE REST OF OUR RANKINGS