October 24, 2012 -
National Football Post
NFP Week 8 Power Rankings
Every week the National Football Post brings you our NFL Power Rankings: a breakdown of how we stack up the league.
Week 8 (previous rankings in parenthesis)
1. (1) Atlanta Falcons (6-0): An interesting matchup for the Falcons coming off the bye when they head to Philly to take on Vick and the Eagles.
2. (2) New York Giants (5-2): A big play late in the game from Eli Manning and Victor Cruz? Nothing new for the Giants.
3. (3) Houston Texans (6-1): The Texans played like the team we hyped up all summer as they beat up the Ravens 43-13.
4. (6) Chicago Bears (5-1): No one takes the ball away like the Lovie Smith's defense in Chicago.
5. (5) San Francisco 49ers (5-2): This team is physical, they play defense and there is no questioning the run game. But can Alex Smith make a big throw when they need it?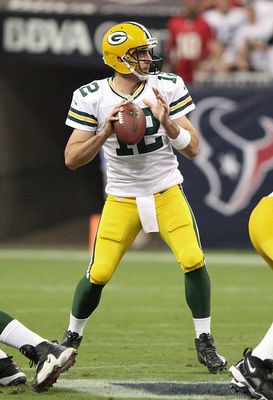 US PRESSWIRERodgers has thrown nine TD passes in his last two games.
6. (8) Green Bay Packers (4-3): Aaron Rodgers put the rest of the league on notice with his production the last two ball games.
7. (9) New England Patriots (4-3): There is plenty to clean up in New England, but the Pats are still one of the favorites in a weak AFC field.
8. (4) Baltimore Ravens (5-2): Terrell Suggs' return didn't change the results for the Ravens' defense.
9. (10) Denver Broncos (3-3): Brees vs. Manning this Sunday. That's good football.
10. (11) Minnesota Vikings (5-2): The schedule is going to get much tougher for the Vikes—will they stick in the top 10?
11. (7) Seattle Seahawks (4-3): The game vs. the 49ers was the style of football we should expect all season in the NFC West.
12. (15) Pittsburgh Steelers (3-3): Solid night for CB Ike Taylor in a game they Steelers had to win on the road in Cincy.
13. (12) Philadelphia Eagles (3-3): Juan Castillo is out and Todd Bowles is in as the Eagles' new defensive coordinator. Let's see how it plays out.
14. (13) Washington Redskins (3-4): RGIII continues to impress, but the Redskins have to close out that game in N.Y.
15. (14) Arizona Cardinals (4-3): After three straight losses (and atrocious O-Line play) this club is going backwards.
16. (17) San Diego Chargers (3-3): That had to be a long bye week in San Diego after blowing the 24-0 lead vs. the Broncos last Monday night.
CONTINUE TO PAGE 2 FOR THE REST OF OUR RANKINGS