October 30, 2012 -
National Football Post
NFP Week 9 Power Rankings
Every week, the National Football Post brings you our NFL Power Rankings: a breakdown of how we stack up the league.
1. (1) Atlanta Falcons (7-0): Matt Ryan lit up the Eagles' secondary as the Falcons remained perfect on the season.
2. (2) New York Giants (6-2): The Giants blew a 23-point lead down in Dallas, but they went home with a 6-2 record.
3. (3) Houston Texans (6-1): Arian Foster could have a big day this Sunday vs. the Bills' defensive front.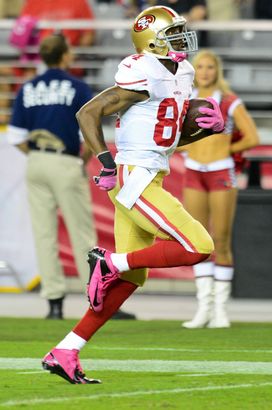 US PRESSWIRERandy Moss and the 49ers beat the Cardinals 24-3 on Monday night.
4. (5) San Francisco 49ers (6-2): The 49ers stomped the Cardinals last night and Randy Moss showed us he can still run.
5. (4) Chicago Bears (6-1): We didn't think the Bears would need a last second FG to knock off the Panthers at home—but that's five straight wins for Lovie's team.
6. (6) Green Bay Packers (5-3): How many sacks will Clay Matthews produce vs. the Cardinals O-Line this Sunday?
7. (7) New England Patriots (5-3): The Rams didn't have an answer for Brady and Gronkowski over in London.
8. (10) Denver Broncos (4-3): Peyton Manning rolled up some numbers vs. the Saints, but how about the Broncos' defense?
9. (8) Baltimore Ravens (5-2): The Ravens run defense will be tested—again—by Trent Richardson this Sunday.
10. (12) Pittsburgh Steelers (4-3): The uniforms were hideous, but the Steelers are back in the AFC mix with another win.
11. (11) Seattle Seahawks (4-4): Pete Carroll's club is just 1-4 on the road this season.
12. (17) Miami Dolphins (4-3): The Dolphins blasted the Jets with Matt Moore coming in off the bench to produce.
13. (10) Minnesota Vikings (5-3): That hot start doesn't look too good right now with the way Christian Ponder is playing for the Vikings.
14. (20) Detroit Lions (3-4): Did Titus Young's TD catch to beat the Seahawks save the season for the Lions?
15. (11) Philadelphia Eagles (3-4): Andy Reid has to be real careful not to lose that locker room in Philly.
16. (14) Washington Redskins (3-5): Mike Shanahan should question his decision to run RG3 on fade routes.
CONTINUE TO PAGE 2 FOR THE REST OF OUR POWER RANKINGS