February 01, 2013 -
Erik Oehler
NFP's final look at players that struggled at the Texas VS The Nation Practices.
Now that all of the practices for the Texas versus the Nation game have been completed, all that is left for the players is to prove themselves in the game on Saturday. However, after watching three days of practice, it is clear which players helped and hurt their draft stock this week. Below is a breakdown of five players who did not perform well in practice and hurt their draft status. They will all need to step over the next few months during testing to be drafted.
1. MarQueis Gray, TE, Minnesota (6035, 239 and 4.65 E): As the prospect that came to Allen with the chance to move up draft boards more than any other player, Gray had a disappointing week. Having dominated athletically at Minnesota, it was expected that his athleticism would jump out and allow him to separate from the other players, but he did not look like the same athlete. He was upright running routes, throttled down to get in and out of his cuts and lacked explosiveness out of his cuts to consistently get separation. Although he played some receiver at Minnesota late in his career, he looked uncomfortable running routes and trying to find open space. Most concerning throughout the week of practice was Gray's hands as he struggled to consistently catch the ball and dropped way too many easy ones. For a player many believed could work his way into the third or fourth round before this week began, Gray's performance will make it an uphill battle for him to be drafted.
2. Josh Kline, OG/OT, Kent State (6027, 309 and 5.25 E): Highly productive at Kent State, Kline struggled much of the week in Texas. Despite solid size, Kline struggled all week holding ground vs power rushers and too often was jolted and driven backwards. While getting jolted backwards initially is not good, the bigger concern is that he was unable to re-set and anchor which is vital for success in the NFL. In addition to struggling with strength, Kline did not display the athleticism to handle quick change of direction pass rush moves or to block effectively out in space. Although Kline was not viewed as an elite prospect before this week, his performance this week will likely keep him from being selected before the sixth or seventh rounds, if he is drafted at all.
3. P.J. Lonergan, C, LSU (6037, 302 and 5.25 E): For a player that started at center for LSU, I was surprised at how much Lonergan struggled this week. While he looks the part "on the hoof," Lonergan struggled to hold ground vs "bull rushers" and could not get movement on in-line run blocks. He did not play with leverage consistently and too often stopped feet at contact and ended up leaning and reaching to maintain contact, which led to him falling off and losing blocks. It surprised me that for a player who played on dominating teams in the SEC, Lonergan lacks the athleticism NFL teams want in an interior offensive lineman. I expect that he will be drafted, as Mike Brewster of Ohio State was in 2012, based on his size, competitiveness, intangibles and experience starting in a major conference, but it will not be until the late round.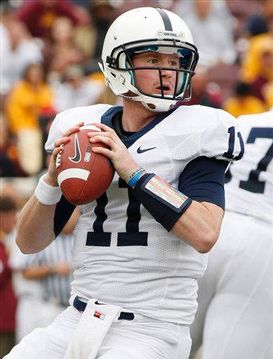 Penn State QB Matt McGloin goes through his progressions trying to find an open receiver.
4. Matt McGloin, QB, Penn State (6005, 203 and 4.95 E): McGloin struggled throughout this week and did not show the physical skills to be a productive NFL quarterback. Obviously, his lack of ideal size is an issue, but more concerning is his lack of arm strength and overall passing skills. His release is average in terms of quickness and when combined with what seems to be slow decision making, McGloin's passes are often late getting out of his hand which allows defenders to break and close on them. The ball does not come out of his hand with zip and tends to flutter and hang in the air too much. In addition to lacking good arm strength and release quickness, McGloin's accuracy was inconsistent all week. McGloin may get drafted, but based on what we saw this week there are many small school quarterbacks with more physical talent that we would take a chance on before him.
5. Dan Moore, FB, Montana (5100, 236 and 4.75 E): In today's pass crazy NFL, fullbacks have become less and less significant and those that lack the skills to make an impact as blockers, receivers and ball carriers have little value. Moore clearly has spent a ton of time working hard in the weight room by his appearance and he is not afraid to use his body to deliver violent blows to defenders. He struggles however to block with good leverage and often bends at waist to make contact, which leads to him lunging and missing block. Additionally, while he caught nearly every pass thrown his way this week, he did not catch the ball cleanly and often seemed to fight the ball. Moore is not likely to be drafted, but with his thick build, competitiveness and willingness to block he should get a chance as a free agent after the draft.
Email Russ at Russelllande@yahoo.com and Follow Russ on Twitter @RUSSLANDE