December 07, 2012 -
National Football Post
NFP's Look At Prospects in the New Era Pinstripe Bowl.
Now that the regular season is pretty much behind us, it is time to look ahead to the bowl games. Each of the next five weeks I will analyze the top prospects to see in one of five bowl games that have a number of NFL prospects (The New Era Pinstripe Bowl, Rose Bowl, Fiesta Bowl, Cotton Bowl and the BCS Championship Game). Below is a breakdown of the New Era Pinstripe Bowl:
The New Era Pinstripe Bowl
West Virginia -vs- Syracuse
West Virginia Prospects – QB Geno Smith (Senior), WR Tavon Austin (Senior) and WR Stedman Bailey (Jr).
Syracuse Prospects – QB Ryan Nassib (Senior), WR Alec Lemon (Senior), WR Marcus Sales (Senior) and OT Justin Pugh (Junior)
In a season without a quarterback who is locked in to be the first overall pick, this game features two quarterback prospects that are well liked and considering intriguing by NFL scouts. Smith rocketed up draft boards with a great start to the 2012 season, but came back down to earth during an up and down second half of the season. Based on film evaluation, Smith displays the arm strength to make every NFL throw and when his footwork is good he is a very accurate passer who does not force passes into bad spots. However, scouts are concerned with his unrefined throwing motion/release, which is a little deliberate, and inconsistent footwork, both of which hinder his consistency and production. Nassib on the other hand has not received much publicity, but is viewed as a "sleeper" amongst the second grouping of quarterbacks. Solidly built with deceptive athleticism, Nassib has flashed the ability to be a very accurate passer who makes big throws in key situations. Having carried Syracuse's offense on his back, scouts like that he can handle being "the man" and has stepped up in key situations. Concerning however are his delivery/release, which is considered deliberate, and his penchant for throwing interceptions (18 INT's in 24 Games in 2011 and 2012). While Smith and Nassib will definitely get a lot of attention in this game, the receivers they will be throwing too may have even more eyes on them.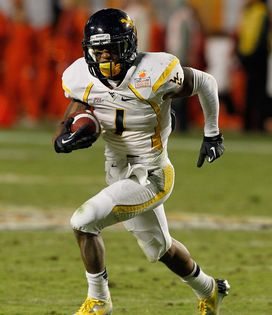 US PRESSWIREWest Virginia WR Tavon Austin making play in the open field.
Many receivers across the country have received more press than West Virginia's Tavon Austin, but Austin is sitting near the top on most draft boards around the league. Lacking the size NFL teams prefer, Austin is one of the few short receivers with the rare athletic skills to make NFL teams overlook his height issue. Blessed with the ability to get to full speed faster than nearly every receiver, Austin has consistently been able to get behind defenses to make big plays. Additionally, once Austin gets the ball in his hands his speed to out-run angles, elusiveness to make tacklers miss and natural run instincts make him a touchdown threat whether he catches a pass, takes a handoff or returns a punt/kickoff. Playing alongside Austin often leads to Stedman Bailey being over-looked, but you can be sure NFL teams know who he is. While he would be best suited to return to West Virginia for his senior season, he has shown the skills to make it in the NFL as a slot receiver. A quicker than fast receiver who runs sharp routes, knows how to get open and catches nearly every pass thrown in his direction, Bailey has the skill to contribute as a slot receiver early in his NFL career. When West Virginia's defense comes on the field they will have to deal with Syracuse's receiver tandem of Lemon and Sales.
Although they are not on the same level athletically as Austin and Bailey, Lemon and Sales have been highly productive in college and are going to be drafted. At over 6'0, Lemon has the height NFL teams want with excellent hands, concentration and body control to make tough catches. He does not have the blazing speed to out-run defenders and take plays the distance, but is a strong and competitive runner after the catch that consistently runs hard and gets every yard possible. After missing the 2011 season due to injury, Sales returned to the field with a strong final campaign. Not an explosive athlete and lacking great size will keep him from being a high draft pick. But his strong build, hands, toughness and competitiveness will likely get him drafted and give him a chance to stick as a backup receiver and special teams player. Even though most of the scouts attention at this game will be focused on the skill players, when Syracuse has the ball some eyes will turn to left tackle Justin Pugh.
US PRESSWIRE
Syracuse OT Justin Pugh pass blocks against West Virginia.
It took a few games for Pugh to get the rust off after missing the first four games of 2012 due to an injury, but once he did he displayed the athleticism and blocking ability that had caught the eye of scouts in 2011. A smart and highly competitive blocker who uses excellent technique, Pugh is an under-rated athlete who has the feet to protect the corner and to block effectively on an island. Although he is expected to return to Syracuse for his senior season, if he has a strong showing vs West Virginia he will have to consider coming out because offensive tackles always are drafted higher than expected and could lead to him being a solid second round pick.
Email Russ at Russelllande@yahoo.com and Follow Russ on Twitter @RUSSLANDE