April 11, 2013 -
Erik Oehler
NFP's Over-Rated & Under-Rated prospects
Over-Rated Prospect: Margus Hunt
Round I expect Hunt to be Drafted: First
Round I believe Hunt should be Drafted: Third
Margus Hunt, DE, SMU, Senior (6081, 277 and 4.60): For a player who has been hyped for the last two seasons at SMU, he did not disappoint when he blew up the Combine with a ridiculous testing display. However the issue is that Hunt is not the football player that you would expect based on his athleticism.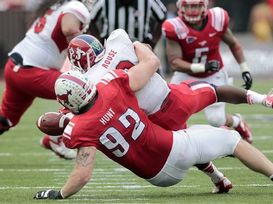 SMU DE Margus Hunt makes tackle.
As a pass rusher, Hunt relies almost exclusively on his explosiveness and speed as he tries to beat the OT around the corner at the expense of using his length and strength to his advantage. He flashes the ability to explode off the ball and out race the OT around the corner and is most productive rushing the passer when he has space to move to beat OT with quickness. His tendency to get upright and lose leverage when rushing the passer would be a bigger issue if he tried to bull/power rush often, but he does not consistently try to bull rush the OT. When he uses good technique and maintains proper pad level he is a dominant bull rusher, but the consistency is just not there. For a player with limited football experience, it is impressive the variety of pass rush moves in his arsenal, but he needs to be more aggressive rushing the passer to be a consistently productive NFL pass rusher. Not surprisingly, many of the issues that limit Hunt's production rushing the passer also hurt him against the run.
When he maintains good pad level, uses hands aggressively and identifies the play correctly he can be a dominant run defender who jolts OL upright, anchors, tosses blocker aside and make tackle on runs to his side of the field. In addition, when teams leave him unblocked on the backside, he has rare speed for a huge defensive end chasing down the ball carrier in pursuit. However, despite showing the ability to be an elite run defender he is not consistent enough. He does not differentiate between run / pass quickly enough, which leads to him getting upright and losing leverage while he looks for the ball. When he does this, he can be tied up and sealed out of the play easily and is a non-factor on runs at him. He will need to improve his play identification and maintain better pad level / leverage to be a consistent run defender in the NFL.
While I like Hunt's potential and believe he should become a good starting defensive end in the NFL, I feel he is not close to being a dominant player whose production warrants being selected in the first round, which is where I believe he will be selected. I think his on-field production warrants more of a third round selection and if he is chosen in the first round the expectations will be hard for him to play up too early in his career.
Under-Rated Prospect: Sylvester Williams
Round I expect Hunt to be Drafted: Second
Round I believe Hunt should be Drafted: First (Top fifteen overall)
Sylvester Williams, DT, North Carolina, Senior (6025, 313 and 5.02): With all the talk of Sharrif Floyd and Star Lotulelei being the top two defensive tackles in the draft, Williams has flown under the radar despite being an elite talent. After choosing to stay in school for his senior season, Williams was a dominating player throughout the 2012 season because he played with good leverage and technique much more consistently.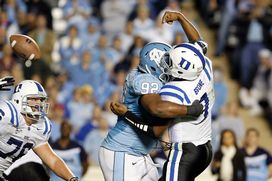 US PRESSWIRENorth Carolina DT Sylvester Williams delivers big hit to Duke QB.
For a 310+ pound DT, Williams's explosiveness off the ball to both get on top of OL before they can get set and to shoot the gap to blow up play behind the LOS is remarkable. While most DT's excel rushing the passer either as a bull rusher or with pass rush moves, Williams does both. When he maintains good pad level, his explosiveness off the ball and aggressive hand use enables him to jolt and drive the pass blocker backwards "as if he were on skates," can disengage and pressures/sacks QB. However, he also shows the ability to defeat pass blocker with a variety of pass rush moves; especially a very quick "slap and right arm-over move." Although few interior DL are impact pass rushers, even fewer are productive as pass rushers and run defenders.
Williams' explosive first step helps him to get his hands on OL before they can get set, which makes him able to control the blocker consistently. In addition, he is able to jolt run blocker upright, anchors, sheds and makes tackle on inside runs. Unlike most big DT's, Williams makes it look easy getting gap penetration to blow up running plays behind the LOS. Not only productive on runs between the OT's, Williams is quick getting inside the "reach block," keeps blocker shielded and has the speed down the LOS to make the tackle.
Even though many are sure that Sharrif Floyd and Star Lotulelei will be the first two DT's drafted, we think Williams should be in consideration to be the first one selected. And we are not alone as more than one NFL team has told us that they have Star and Williams pretty much tied atop the DT rankings on their respective team's draft boards, so do not be shocked when he ends up as a top fifteen selection despite being discussed primarily as a second or third round selection.
Email Russ at Russelllande@yahoo.com and Follow Russ on Twitter @RUSSLANDE