December 11, 2012 -
National Football Post
NFP's Top 200 Draft Prospects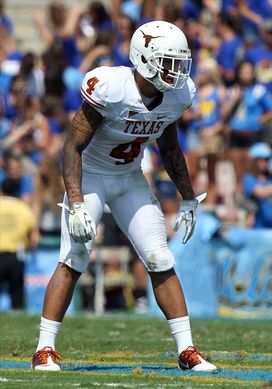 ICONTexas safety Kenny Vaccaro surveys the field against UCLA.
Top 200 Prospects for the 2013 NFL Draft
As most NFL teams are preparing for the college all star season which kicks off later in December with some lesser known games, we have compiled the following list of top prospects. This list will not match up with any you read on other websites as our list is based on our film evaluation and what we have found out from NFL personnel over the last four months. As an example, although nearly everyone has Georgia outside linebacker Jarvis Jones rated as one of the Top Ten prospects in the country, we do not include him in our Top 32. Additionally, while I am confident that both Matt Barkley and Geno Smith will be first round picks, neither one is rated in my Top 32 prospects as I view them as good quarterback prospects, but not elite ones. So take a look at the list below and know that it is coming from someone who scouted in the NFL and realize it will likely change a little between now and the Draft in April. Players with a * next to their name are underclassmen.

Email Russ at Russelllande@yahoo.com and Follow Russ on Twitter @RUSSLANDE