December 25, 2012 -
Erik Oehler
NFP's Top 200 Draft Prospects – Version 2.0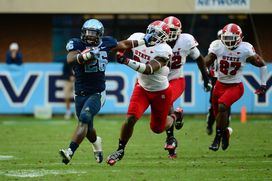 US PRESSWIRENorth Carolina RB G. Bernard runs away from the N.C. State defense.
With the bowl season underway, the winter/spring scouting schedule is about to hit full speed. Over the next few months players will be moving up and down Draft boards around the league based on their performances at the All Star Games, Combine, Pro Day workouts and many other factors. Below is an updated list of the Top 200 prospects as of today in our eyes. This list is not based on what order we feel the players will be drafted, but rather on our evaluation of their play in college and how good I expect them to become in the NFL. You may not see some under-classmen on this list that you would expect and that is because I have been told that they are more likely to stay in school as of today. Additionally, there will be certain players, like Jarvis Jones, that I have listed much lower than others and that is based strictly on my evaluation of their play on film. So take a peak and let me know what you think:

To see 101-200 go to page 2!