October 17, 2012 -
National Football Post
NFP's Top Five Defensive End Prospects
In order to play good defense in today's NFL you must be able to pressure the quarterback, which has raised the value of defensive ends even higher than it always was. As you read through the list below you will likely be shocked not to see Georgia's Jarvis Jones, but that is because he is my number one ranked outside linebacker (I think he fits better as a 34 outside linebacker than as a 43 defensive end). Below is a look at the top five defensive ends in the country at the mid-way point of the 2012 season. Measureables listed below are all verified (Meaning taken by an NFL scout) unless notated with an "E" which stands for estimated.
1. Bjoern Werner Junior Florida State 6040 E 255 E 4.70 E Projected 1st Round Pick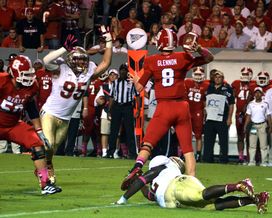 US PRESSWIREFlorida State DE B. Werner (#95) closes in on N.C. State QB M. Glennon.
Always the first defensive linemen moving at the snap, Werner is able to jolt the offensive tackle before they can get set to block. His initial quickness helps him consistently beat man to the corner and he flashes a good "rip" move with his inside arm to turn corner. However, he needs to become quicker and tighter turning the corner as he can be ridden around pocket too often at times. Able to play with excellent leverage and his violent hand use make it easy for Werner to drive pass blocker backwards when he "bull rushes" and to anchor, shed and make the tackle on running plays to his side. Werner's rare competitive spirit and intensity show up in his consistent production chasing plays down in pursuit all over the field. When I was done evaluating Werner I could not help but think of current Rams' defensive end Chris Long as they are such similar players coming out of college.
2. Sam Montgomery* Junior LSU 6050 E 265 E 4.75 E Projected 1st Round Pick
One of the most improved defensive players halfway through the 2012 season is Montgomery and that says a lot considering I viewed him as a possible first round pick entering the season. Prior to this season he was viewed as a dominant run defender who needed to improve his quickness off the ball and overall pass rush. Well, so far this season Montgomery has displayed more polish and variety rushing the passer, while maintaining his dominance against the run. He does not have the explosive first step of many premier pass rushers, but is quick enough to threaten the corner, has long arms to defeat the pass block and the strength to be a good power rusher.
3. Barkevious Mingo* Junior LSU 6050 E 240 E 4.55 E Projected 1st / 2nd Round Pick
Despite his struggles against the run vs. Florida, Mingo is still viewed in good eyes by NFL teams because of his natural talent. While he looks more like a linebacker than a defensive end, he is much more effective attacking the play and rushing the passer than he is playing off the line. Despite his inconsistencies rushing the passer so far in 2012, he has still flashed the rare first step explosiveness and speed to beat offensive tackles around the corner with ease. He definitely needs to develop more counter pass rush moves to avoid being a "one trick pony" as a pure speed, edge rusher. His lack of bulk/strength hinders his ability to shed and get free from blockers once they get ahold of him and makes him a liability against the run at him. Overall, Mingo has the talent to be an elite 43 defensive end or 34 outside linebacker if he can play with base/leverage more consistently, improve his playing strength and develop a more varied pass rush repertoire.
4. William Gholston* Junior Michigan State 6070 E 278 E 4.85 E Projected 2nd Round Pick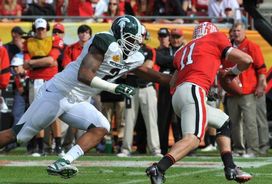 Michigan State DE W. Gholston (#2) about to make tackle vs Ohio State.
As opposed to all the other defensive ends on this list, Gholston is a massive man at 6'7 and 278 pounds with long arms and excellent natural strength. Lack of quickness off the ball will keep Gholston from being a dangerous edge pass rusher in the NFL, but he fits the mold of a 34 defensive end perfectly. When he stays focused on playing with leverage and aggressiveness, he can jolt and drive pass blockers backwards into the quarterbacks' lap with shocking ease. Additionally, as long as he plays with good base he has the strength to anchor vs. big run blockers, sheds and makes tackle on runs to his side of the field. For such a big man he has surprising speed chasing down ball carriers along the line in pursuit. Overall, Gholston has the complete physical package to be the first 34 defensive ends drafted, but he must play with better intensity and aggressiveness to become a quality starter in the NFL.
5. Cornellius Carradine Senior Florida State 6044 E 255 E 4.65 E Projected 2nd / 3rd Round Pick
Knowing little of Carradine when I began evaluating Florida State, his great use of hands to stay free from blocks and explosive closing burst jumped off the film immediately. While his first step off the ball is just adequate, once he is moving he gets to full speed in a heartbeat and can get and turn the corner with surprise ease. Despite lacking ideal bulk/weight, Carradine's ability to maintain good leverage and use hands so well enables him to consistently play strong against blockers. He punches run blockers upright, sheds and burst to ball to make tackles on runs to his side. When offenses try to "reach block" him his speed helps him get under the blocker and he can run away from blocker to make tackle in pursuit. Carradine is going to shine at the Senior Bowl and likely will work out like a star at the Combine, which should put him in position to be a second round pick come April.
Email Russ at Russelllande@yahoo.com and Follow Russ on Twitter @RUSSLANDE