April 19, 2011 -
National Football Post
Nick Fairley + New England Patriots = Pro Bowler
As I've said before and will say again, I think Auburn DT Nick Fairley is the most talented defensive lineman in this year's draft. It's rare to find a 6-4, 295-pound kid with the movement skills that he possesses. He possesses natural pass-rushing skills, is powerful on contact, sudden when asked to disengage and closes extremely well for his size. Overall, I think from a talent perspective he has All-Pro type ability.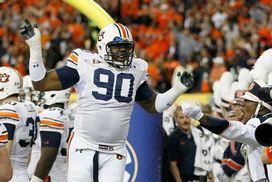 ICONFairley is an elite talent.
Therefore, why is he falling?
Here are some quotes I have received from NFL talent evaluators on Fairley…
"He still acts like a JUCO kid."
"He's immature."
"He acts likes a rapper."
"He draws attention to himself."
"Questionable work ethic and didn't compete hard in all the drills at the Combine."
Get the point?
Overall, he's a 23-year-old kid who still has a lot of maturing and growing up to do. But, in all honesty, what 23-year-old doesn't? So often we look at where the maturity level of a kid like Fairley is now only, and automatically assume he's never going to change. However, what if you put him in an environment with structure? Leadership? Veteran mentors? I'm not saying that Fairley hasn't had that during his upbringing or time at Auburn, but when I watch this guy on tape I just don't buy into the fact he doesn't have a passion for the game.
Sure, his motor runs both hot and cold at times -- like plenty of NFL defensive linemen -- but when a play is needed to be made, that motor is on high and he makes it.
Therefore, teams that have questions about the leadership in their locker room and don't have a real respected veteran voice along the defensive line should pass on Fairley as I think it's best for both sides.
However, if this guy begins to slide at all on draft day, a team like the Patriots, who have had success with outcast players buying into the system and consistently get the most out of talented defensive linemen, would be smart to potentially make a run at Fairley and use some of those draft picks to go up and get him.
Honestly, from a physical/athletic standpoint, he might be the closest thing to Richard Seymour since Richard Seymour and I can see Fairley not only maturing as a person under the leadership in place in New England but also developing into one of the league's best defensive linemen during his time there as well.
The case of Nick Fairley will be an interesting one to watch come draft weekend and ultimately where he ends up will end up playing a major role on just how good he becomes at the next level.