September 15, 2011 -
Barry Dorey
No rush to judgment
Opening Statement
I apologize, in advance, for today's relatively brief Philanthropist, as yours truly has been crushed by projects that have nothing to do with fantasy football; and that's a shame, since I desperately need a platform to address the misguided owners who accept the far-fetched notion that whatever happened in Week 1 -- good or bad -- will play out the same way for Weeks 2-17. On the flip side, I've actually dealt with one person who's willing to bench San Diego's Mike Tolbert against New England ... on the hunch that he won't score three touchdowns in consecutive games. Gee, you think?
Listen, I know fantasy owners want to stay ahead of the curve when constructing rosters and choosing lineups; but just like Week 1, it's important that no one becomes paralyzed from overthinking. And short of Tolbert breaking his leg while parachuting into the Boston metro area on Saturday night (from the Chargers' team plane) ... you start him in Week 2 before tackling more pressing issues. As I mentioned in the National Football Post's Week 1 Revelations, Tolbert is one-half of fantasyland's best 1-2 running punch (along with Ryan Mathews) and warrants starting consideration every week -- until further notice.
Pros And Cons
1. What's up with Frank Gore? If this segment was a retro Frosted Mini-Wheats commercial, "the kid in me" would tout the 28-year-old Gore (8,775 total yards, 44 career TDs) as a great bounce-back candidate for Week 2 ... whereas "the adult in me" would point to Gore's middling production against Seattle (78 total yards on 25 touches), his track record for getting hurt and that he still seems peeved about his revised contract from last month. I'm no expert in the field of analyzing body language ... but did you happen to catch Gore after QB Alex Smith's rushing TD against the Seahawks? Upon Smith crossing the goal line, Gore half-heartedly raised his arms in triumph before trudging back to the 49ers bench -- without congratulating Smith or any of the O-linemen for a job well done. Call it a baseless, yet educated hunch, but Gore's days as top dog on coach Jim Harbaugh's watch may be numbered ... and backup RB Kendall Hunter's shot at glory might come sooner than later.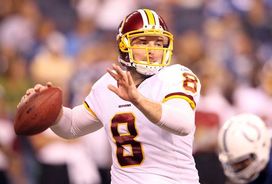 Will Rex Grossman continue to produce big numbers for fantasy owners?
2. Rex Grossman was in a history-making mood on Sunday. Of Grossman's 38 NFL starts, he has thrown for 300 yards in consecutive games just once -- and against the same team. For Week 17 last year, Grossman capped the season with a 336-yard effort against the Giants; and then for Week 1 last Sunday, Grossman again torched the Giants for 305 yards and two TDs -- this time leading the Redskins to an impressive home victory. I bring this up not to mock Grossman for past failures or exaggerate his current standing as a decent QB2 in fantasyland. It's merely a prime example of how fantasy owners should not expect another record-breaking week from quarterbacks. (For Week 1, 14 different QBs threw for 300 yards or more -- an NFL record.)
3. Statistically speaking, Cam Newton has nowhere to go ... but down. Newton could play 15 NFL seasons and lead the Panthers to five division titles, two Super Bowls and one championship. It's hard to imagine that Newton will again collect 422 passing yards this season -- if ever. Think about it: To break the 400-yard barrier, a quarterback (not named Tom Brady) traditionally must 1) be playing from behind, 2) connect on four catches of at least 40 yards OR 3) compensate for a barren, non-existent running game. In other words, Week 1 was a perfect storm for the high-upside rookie QB. And while DeAngelo Williams and Jonathan Stewart certainly struggled against the Cardinals (56 combined rushing yards, zero TDs), they remain a solid bet for 2,000 rushing yards by season's end.
4. Donovan McNabb can't be this bad, right? There's no way to put a positive spin on 39 yards passing ... especially on a sun-splashed SoCal afternoon. So why even try? (Ryan Leaf's 1-completion, 4-yard meltdown from 1998 occurred in a monsoon.) But I will say this: In his first game with the Redskins in 2010, McNabb threw for only 171 yards and zero TDs ... only to rebound for a 426-yard performance in Week 2. Simply put, the man has too much pride (and tangible talent) to fall on his face in consecutive weeks, especially for Minnesota's home opener; and once he figures out how to best utilize Percy Harvin, Adrian Peterson, Visanthe Shiancoe and rookie Kyle Rudolph, he'll be spared the Steve Blass Disease or Johnny Unitas-as-a-Charger (circa 1973) references.
Week 2: QB Locks For 275 Yards and/or 3 TDs
1. Matt Schaub @ Miami
2. Chad Henne vs. Houston
3. Philip Rivers @ New England
4. Tom Brady vs. San Diego
5. Drew Brees vs. Chicago
6. Michael Vick @ Atlanta
7. Tony Romo @ San Francisco
8. Matt Ryan vs. Philadelphia
RB Locks For 120 Total Yards and/or 2 TDs
1. Jamaal Charles @ Detroit
2. Matt Forte @ New Orleans
3. Peyton Hillis @ Indianapolis
4. Adrian Peterson vs. Tampa Bay
5. Rashard Mendenhall vs. Seattle
6. Darren McFadden @ Buffalo
7. Tim Hightower vs. Arizona
8. Ray Rice @ Tennessee
9. Ahmad Bradshaw vs. St. Louis
WR Locks For 110 Yards and/or 1 TD
1. Andre Johnson @ Miami
2. Calvin Johnson vs. Kansas City
3. Reggie Wayne vs. Cleveland
4. Miles Austin @ San Francisco
5. Roddy White vs. Philadelphia
6. Greg Jennings @ Carolina
7. Hakeem Nicks vs. St. Louis
8. Larry Fitzgerald @ Washington
9. Malcom Floyd @ New England (sleeper pick)
Kicker Locks For 3-Plus Field Goals
1. Sebastian Janikowski @ Buffalo
2. Ryan Succop @ Detroit
3. Nick Folk vs. Jacksonville
4. Ryan Longwell vs. Tampa Bay
5. Graham Gano vs. Arizona
6. Matt Prater vs. Cincinnati
7. Neil Rackers @ Miami
Would You Like To Play A Game?
The National Football Post has once again partnered up with the good folks at FanDuel.com to offer weekly fantas y football contests throughout the regular season. Here's a breakdown of how the FanDuel Game works: Players are given a $60,000 salary cap to assemble a starting lineup comprising 1 QB, 2 RBs, 3 WRs, 1 TE, 1 kicker and 1 D/ST. Most points wins; and if you put up more points than NFP honcho Joe Fortenbaugh, you'll be eligible for big cash prizes. Enter today!
Where Mountain Men Runneth, Catcheth
Here is my revised top-30 listing of tight ends in standard-scoring leagues:
1. Antonio Gates, Chargers
2. Jason Witten, Cowboys (could rise to No. 1 with another top-flight effort)
3. Jermichael Finley, Packers
4. Vernon Davis, 49ers
5. Dallas Clark, Colts (Clark's drop has everything to do with Kerry Collins)
6. Kellen Winslow Jr., Buccaneers
7. Jimmy Graham, Saints
8. Aaron Hernandez, Patriots
9. Brandon Pettigrew, Lions
10. Rob Gronkowski, Patriots (a red-zone magnet)
11. Owen Daniels, Texans
12. Marcedes Lewis, Jaguars
13. Jermaine Gresham, Bengals (on the cusp of being fantasy-relevant every single week)
14. Greg Olsen, Panthers
15. Dustin Keller, Jets
16. Tony Gonzalez, Falcons
17. Fred Davis, Redskins (a freakish athlete who has noticeably slimmed down)
18. Benjamin Watson, Browns
19. Zach Miller, Seahawks
20. Scott Chandler, Bills (let's see how Chandler handles his newfound fame against Oakland)
21. Ed Dickson, Ravens
22. Heath Miller, Steelers
23. Anthony Fasano, Dolphins
24. Lance Kendricks, Rams
25. Visanthe Shiancoe, Vikings
26. Jared Cook, Titans
27. Chris Cooley, Redskins
28. Brent Celek, Eagles
29. Leonard Pope, Chiefs
30. Todd Heap, Cardinals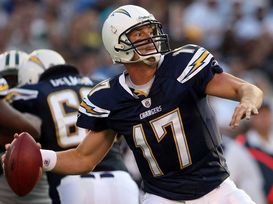 Philip Rivers and the San Diego Chargers came through in Week 1.
Survivor Act Of Self-Preservation
Fantasy gamblers, there's still time to enter survivor pools, where contestants are asked to select one lead-pipe cinch for wins in Weeks 1, 2, 3, 4, etc. -- with the caveat of only using a particular club once per season (in victory, at least). For example, I astutely had San Diego defeating Minnesota at home in Week 1. By virtue of that, I cannot designate the Chargers to win in Weeks 2-17. The same holds true for Dallas (over Washington) in Week 3; after that game, I can no longer pick the Cowboys to prevail the rest of the way. Any incorrect picks automatically knock a contestant out of the pool; and if anyone should be left standing by Week 17 -- an impossible task for me last year -- they're entitled to all or some of the winnings (which can be quite lucrative in some leagues).
My revised survivor locks:
Week 1 -- San Diego over Minnesota (CORRECT)
Week 2 -- N.Y. Giants over St. Louis
Week 3 -- Dallas over Washington
Week 4 -- Chicago over Carolina
Week 5 -- Pittsburgh over Tennessee
Week 6 -- Oakland over Cleveland
Week 7 -- Miami over Denver
Week 8 -- Baltimore over Arizona
Week 9 -- Houston over Cleveland
Week 10 -- Philadelphia over Arizona
Week 11 -- Green Bay over Tampa Bay
Week 12 -- Seattle over Washington
Week 13 -- New Orleans over Detroit
Week 14 -- N.Y. Jets over Kansas City
Week 15 -- St. Louis over Cincinnati
Week 16 -- New England over Miami
Week 17 -- Arizona over Seattle
Survivor Rules To Live By
1. Above all, target a home team to win that week.
2. When in doubt, exploit bottom-feeder clubs on the road (Seahawks, Vikings, Jaguars, Bengals, Panthers, etc.).
3. Don't be afraid to pick the champion Packers to lose on the road -- especially when playing indoors.
4. It's best to avoid primetime games between teams of similar stature.
5. Don't use the Packers, Ravens or Saints in Week 17 -- after they've clinched playoff spots.
6. Avoid picking against the Lions early in the season (with Matthew Stafford wreaking havoc).
7. Avoid picking against the schizophrenic Raiders at any point of the season.
8. Only pick home upsets from games involving intra-divisonal opponents.
9. Don't be afraid to pick against the Giants in the latter half of the season (big run of daunting opponents).
10. Don't get sucked into revenge games involving Kevin Kolb, Albert Haynesworth, Steve Smith (Eagles) or Donovan McNabb -- either in victory or defeat.
Questions From The Audience, Part I
Crabuki: Of Roddy White, Santonio Holmes, Robert Meachem, who would you sit for Week 2?
Answer: I don't care if Nnamdi Asomugha and Asante Samuel are double-teaming Roddy from the opening kickoff to the final gun, you HAVE to start White at home against Philly. Yes, he'll encounter a few obstructions on Sunday, but a top-3 receiver like Roddy should get the call every week, regardless of opponent. Besides, you don't think he'll want to play a starring role in the Falcons' revenge grudge match with Michael Vick? As for the other spot, I'd start Santonio at home against the Jags.
joffreyorquia: Same scenario as last week. Please pick three from Frank Gore, Jahvid Best, Tim Hightower, Felix Jones, Ben Tate.
Answer: This is obviously a solid quintet of backs -- all of whom will be attractive trade pieces sooner than later, if you should take that route; but the hierarchy, from week to week, still involves playing Gore, Best and Hightower over Felix and Ben Tate (unless Foster sits). For PPR and standard-scoring leagues, this trio remains the greatest weekly threat for 20 touches and 100 total yards each.
nategrover8: I just traded Eli Manning to Peyton Manning's owner and need a new backup for Matthew Stafford -- Colt McCoy, Rex Grossman, Chad Henne?
Answer: As I've been saying for months, I have great confidence in Henne and WR Brandon Marshall enjoying bounce-back campaigns in 2011; and after watching Miami's anemic goal-line offense on Monday night, I'm even more convinced that Henne is a stealth candidate for 3,500 yards and 20-plus TDs.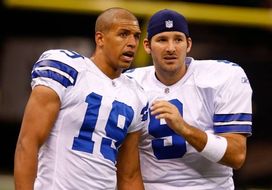 Will Romo get Austin more involved in the offense this weekend?
FredrickNijm: For PPRs, would you trade Miles Austin/Steven Jackson to get Chris Johnson? I already have Ray Rice, Mark Ingram, Brandon Lloyd, Steve Smith, Julio Jones.
Answer: With PPR-friendly stars like Rice, Lloyd, Steve Smith and Julio ... I'd probably take the chance on Johnson here. And while I don't have grandiose expectations for CJ against Baltimore this week, I would be shocked if he didn't launch a sustainable run of 100-yard games in Week 3 (Denver). The Titans are best built for success when Johnson is running at full capacity ... and for you, he's worth the risk of losing Austin and S-Jax, even when healthy.
fanfootballpro: Should I trade Ben Tate for Austin Collie ... now that Arian Foster is practicing again? Foster's owner offered it. He also owns Vincent Jackson, Anquan Boldin, Michael Crabtree.
Answer: I don't see the rationale in immediately shedding Tate (116 yards rushing, 1 TD vs. Indy) for a good receiver (Collie) who's suddenly trapped in a bad offense; and the fact that Owner B has Arian Foster makes me despise this potential trade even more. Make the other guy/gal sing for their fantasy supper ... make 'em go all out just for the opportunity of handcuffing Tate to Foster.
The Relentless Pursuit Of Perfection
Here's my idea of a perfect fantasy lineup for Week 2:
QB Matt Schaub
RB Peyton Hillis
RB Jamaal Charles
WR Calvin Johnson
WR Andre Johnson
RB/WR Adrian Peterson
TE Antonio Gates
PK Neil Rackers (Texans)
D/ST N.Y. Jets
Target Practice
Here are the 30 wideouts who drew at least 8 targets in Week 1:
1. Brandon Marshall, Dolphins -- 13 Targets
2. Roddy White, Falcons -- 13 Targets
3. DeSean Jackson, Eagles -- 12 Targets
4. Wes Welker, Patriots -- 12 Targets
5. Andre Johnson, Texans -- 11
6. Brandon Lloyd, Broncos -- 11
7. Hakeem Nicks, Giants -- 11
8. Steve Smith, Panthers -- 11
9. Mike Thomas, Jaguars -- 11
10. Mike Wallace, Steelers -- 11
11. Reggie Wayne, Colts -- 11
12. Kenny Britt, Titans -- 10
13. Santonio Holmes, Jets -- 10
14. Calvin Johnson, Lions -- 10
15. Mike Williams, Buccaneers -- 10
16. Miles Austin, Cowboys -- 9
17. Deion Branch, Patriots -- 9
18. Antonio Brown, Steelers -- 9 (VERY encouraging sign for wideout on the cusp of prominence)
19. Plaxico Burress, Jets -- 9
20. Marques Colston, Saints -- 9 (I'm not expecting him back in 4 weeks -- broken collarbone)
21. Devery Henderson, Saints -- 9
22. Jerome Simpson, Bengals -- 9
23. Hines Ward, Steelers -- 9
24. Dwayne Bowe, Chiefs -- 8
25. Dez Bryant, Cowboys -- 8
26. Malcom Floyd, Chargers -- 8
27. Greg Jennings, Packers -- 8
28. Robert Meachem, Saints -- 8
29. Santana Moss, Redskins -- 8
30. Jordy Nelson, Packers -- 8
Questions From The Audience, Part II
DaveWelty: Hey Jay, I was offered Antonio Gates for Beanie Wells. My starting tight end is Greg Olsen, and my other running backs are Arian Foster, Ben Tate, Maurice Jones-Drew, BenJarvus Green-Ellis. Any thoughts?
Answer: As much as I love Beanie's potential with the Cardinals, it'd be foolish to turn down a healthy Gates for a RB3 or RB4 -- especially since you've got the all-important Foster/Tate handcuff in Houston. As you may recall, Gates tallied 10 TDs in only 10 games last year ... and any glimpse of that all-world form would be enough to overtake Wells, on his best day. It's hardly a no-risk venture, but I'd ride with Gates here.
HankStorm: I need 2 running backs, 2 receivers and a RB/WR flex from Jamaal Charles, Peyton Hillis, Cadillac Williams, Steve Johnson, Hakeem Nicks, Jordy Nelson, Jeremy Maclin, Johnny Knox, Antonio Brown.
Answer: I realize you're giving me the full picture with your squad, but there's really no need to mention Charles or Hillis when choosing lineups. When fully healthy, they are rubber-stamp starters against any opponent; and for Week 2, they might post the best numbers of any other superstar tandem. For the WR slots, I'd go Nicks, Nelson and Steve Johnson. Let's give Jeremy Maclin another week or two to shake off the training-camp rust and find his proverbial sea legs in the Philly offense.
RespectableNeal: Jacoby Jones or Robert Meachem as my WR2? And what about Cadillac Williams, Fred Jackson, Willis McGahee at the flex spot?
Answer: I sincerely doubt that Cadillac will amass 140 total yards in two or more games from Weeks 2-17 -- even if Steven Jackson is sidelined for a sustained period. That leaves us with F-Jax and McGahee ... for which I'd start Jackson every time. When he gets 18 touches, he's essentially a lock for 105 total yards. As for the receivers, I'm not a Jacoby Jones fan ... and I love Drew Brees' potential for a big game on Sunday. Go with Meachem.
NickDblU: Tim Hightower or Dez Bryant at the flex? And what about Jimmy Graham or Brandon Pettigrew at tight end?
Answer For my Week 2 "locks," I am expecting big things from Hightower (97 total yards, 1 TD last week) -- and not because he wants to exact cold, hard revenge on his old team (which can never be underrated). I simply love how well Hightower fits in the Redskins' zone-blocking scheme ... and admire how quickly he's garnered the trust of Mike/Kyle Shanahan.
MrCorreia619: For a non-PPR league, I just traded Matthew Stafford/Marshawn Lynch for Jahvid Best, Miles Austin and Kyle Orton. What do you think?
Answer: If you have faith that Orton will throw for 22-plus touchdowns and remain the Broncos' starter until at least Week 16, this isn't a bad deal for the owner who needs Austin and Best. That said, Lynch's success with the potentially dormant Seahawks will probably determine the trade winner by season's end.
An award-winning fantasy writer w ith Sports Illustrated (2008-2010) before joining the National Football Post, Jay Clemons' Fantasy Philanthropist Blog can be found here every Monday and Thursday during the regular season. Clemons can be reached, day or night, via Twitter.